Documentary storytelling is flourishing like never before – encompassing reportage, memoir, history, humor and more. DOC NYC celebrates this cultural phenomenon and encourages its new directions.
Locations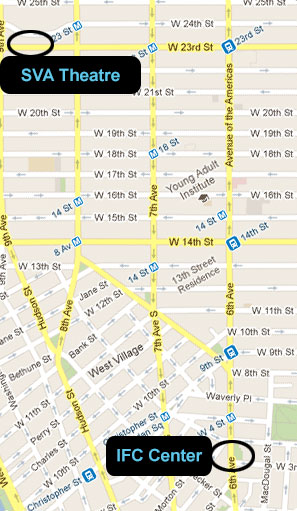 IFC Center
DOC NYC's principle location is in Greenwich Village's IFC Center (on Sixth Avenue at West Third Street).
IFC is easily accessible by subway:
– A/B/C/D/E/F/V trains to W. 4th St./Washington Square
– 1 train to the Christopher St./Sheridan Square.
SVA Theatre
DOC NYC also screens in the heart of Chelsea at the School of Visual Arts Theatre (on 333 West 23rd street, between 8th and 9th Avenues).
SVA is easily accessible by mass transit:
– C/E train to 23rd Street (at Eighth Avenue)
– 1 train to 23rd Street (at Seventh Avenue)
– F or PATH (from New Jersey) (at Sixth Avenue)
– Downtown M11 bus on Ninth Avenue
– Uptown M20 bus on Eight Avenue
– Crosstown M23 bus (stops at Eighth and Ninth Avenues)
Mission Statement
Among its missions, DOC NYCaims to:
CURATE: guide audiences toward inspiring work.
CROSS FERTILIZE: gather practitioners of many fields – filmmakers, writers, photographers and other storytellers to inspire each other.
CROSS GENERATIONS: use the festival's partnership with School of Visual Arts as a means for younger and older voices to communicate.
CULTIVATE NEW AUDIENCES: attract newcomers with the excitement of a festival atmosphere.
EXPAND DISTRIBUTION: help documentary storytellers make the most of emerging technologies such as video downloads, podcasts and electronic readers.
CREATE SOCIAL SPACE: bring people together in theaters, lounges, and discussion spaces in Greenwich Village and Chelsea.
MAKE THE MOST OF NYC: foster fresh connections between residents and expose visitors to the opportunities that happen only in New York.
For the past ten years, the team behind DOC NYC has been building a community around the weekly documentary film series Stranger Than Fiction at the IFC Center. In four years, DOC NYC has become the country's largest documentary festival with over 130 films and events; and over 100 special guests. "DOC NYC has quickly become one of the city's grandest cinema events," wrote the Wall Street Journal.
Meet the Team
Festival Organizers: