DOC NYC in the Press
The word is out: DOC NYC is the place to be!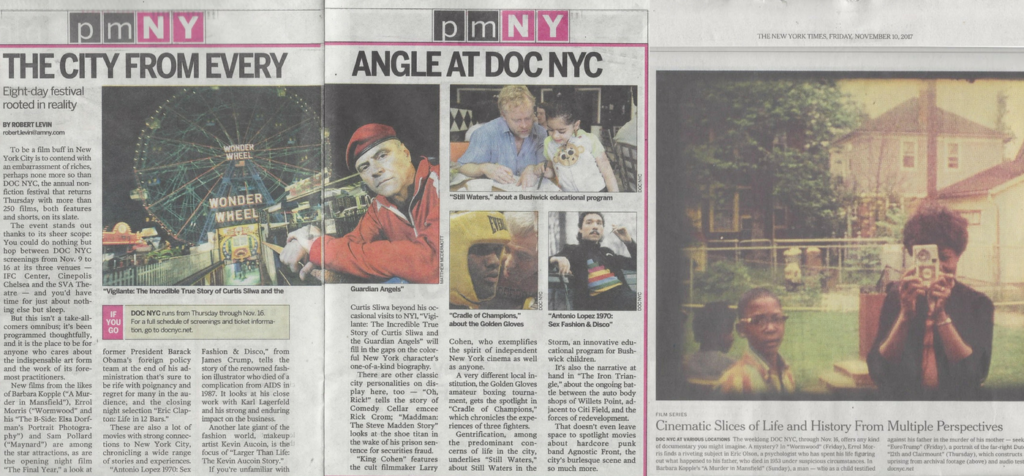 Extra, extra, read all about it. The 8th Annual DOC NYC is where it's at! Here's what they're saying about the fest in the press.
"…the options are unsurprisingly diverse: explorations of global issues, intimate character portraits, science explainers, true-crime investigations, celebrity profiles, snapshots of New York City. Several rock stars of nonfiction cinema are accounted for, in new films by Joe Berlinger, Barbara Kopple, Sam Pollard, and Chris Smith; there's also the debut (in full) of Errol Morris's new six-part Netflix series, Wormwood. " –  DOC NYC Is Back With Another Feast of Nonfiction Riches (Village Voice)
---
"programmed thoughtfully, and it is the place to be for anyone who cares about the indispensable art form and the work of its foremost practitioners." – DOC NYC highlights true stories of city life (AMNY)
---
"…the DOC NYC festival brings a rich collection of 250 documentaries from filmmakers around the world, 50 of them premieres." The 11 essential documentaries of 2017 (Metro)
---
"We're living in a moment when we all have to grapple with assumptions we've made and prejudices that persist. We need to work to make serious change.
But in this room today, let's take a moment to be grateful for the women who have pushed the documentary form to the thriving place it is today." – Thom Powers as published in How Women Made the Documentary Community (IndieWire)
---
"The weeklong DOC NYC offers any kind of documentary you might imagine." – Film Series in NYC This Week (New York Times)
---
"To me, documentary is a way of intensifying your emotions. Maybe it's your passion or your anger, but it's a way to feel more engaged with the world," – Thom Powers, interviewed on What to See at DOC NYC (WNYC)