On Clarity, Controversy, and Covering Uncomfortable Topics at DOC NYC Pro
Filmmaker Amy Berg offers her insight about the craft of documentary storytelling.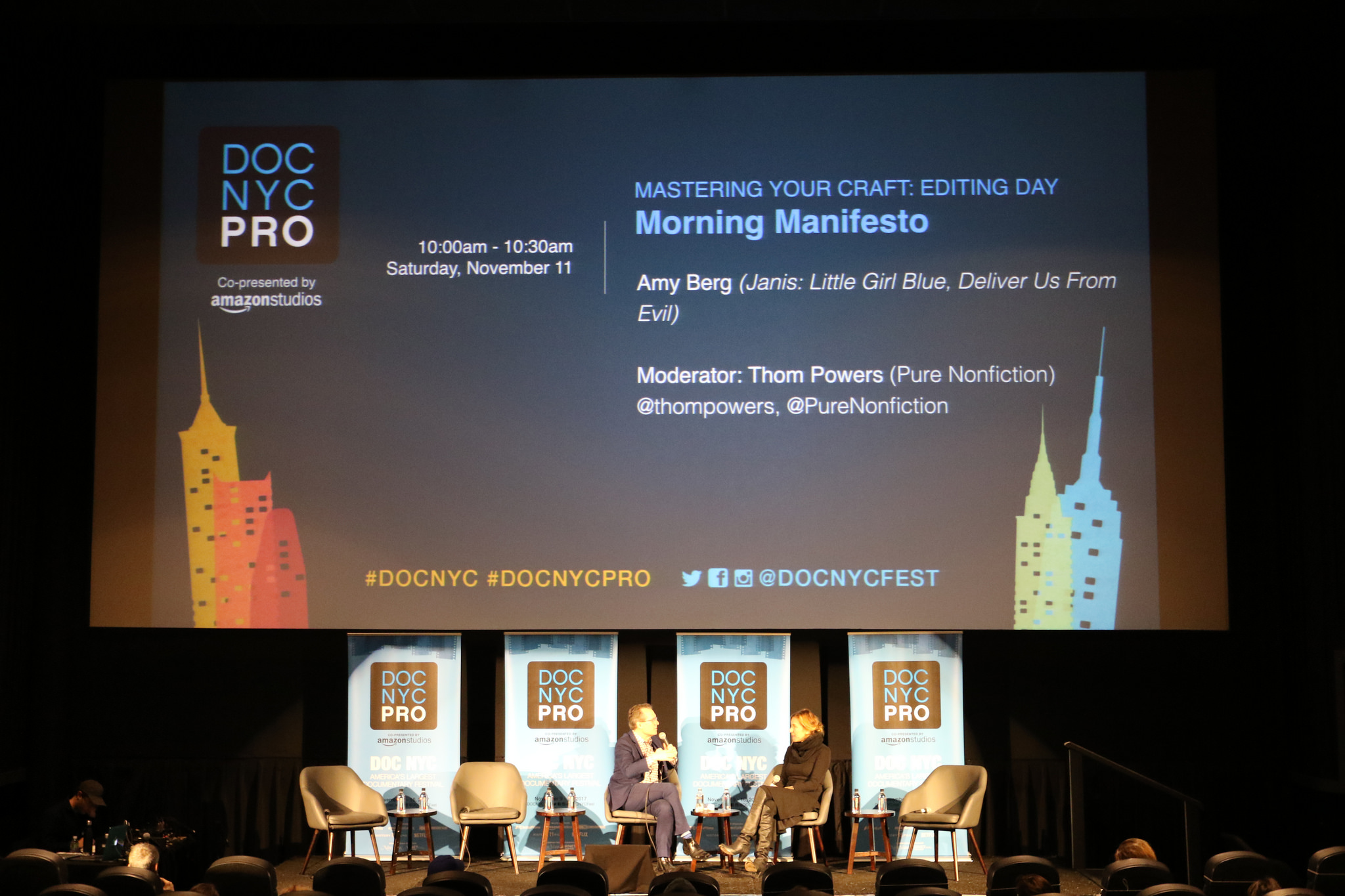 Written by Megan Scanlon
In light of the general lack of gender parity in filmmaking, it's worth noting that DOC NYC strives for diversity across films, programs, and platforms. Suffused with idiosyncratic POVs, and a convivial verve and pluck, the spectrum of talent who took to the Cinepolis stage for the five panels of Mastering Your Craft: Editing Day at DOC NYC Pro shared stories and insights that heartened, empowered, and motivated filmmakers and doc lovers alike.
Co-presented by the Asian American Documentary Network and the Ford Foundation, the Morning Manifesto for Day 3 of DOC NYC Pro woke up Saturday's participants with the energizing Amy Berg, director of Janis: Little Girl Blue in conversation with DOC NYC Artistic Director Thom Powers for the Morning Manifesto.
The conversation delved into the thorniness of Berg's work. She broke ground tackling pedophilia in Hollywood with 2014's An Open Secret (available on Vimeo for another week) and in the Catholic Church in Deliver Us From Evil, she traversed the legal waters of working with Janis Joplin's estate, and she continues to pave the way in illuminating challenging issues with clarity and precision.
Covering pedophilia is inherently uncomfortable. When Berg began her research into young actors who were abused, she "started hearing about coaches, managers, and agents. We found thirteen pedophiles working in the industry at the time. The Screen Actors Guild has an organization called The Young Performers Union (YPU) and they are the policing organization on set if there's ever an allegation. The head of the YPU, Michael Harrah, was a known pedophile."
The audience gasp was unmistakable, and Berg went on to share that when one of Harrah's victims, also her film subject, confronted Harrah, she taped the call. "It was probably the worst interview I've ever done, it was so uncomfortable and I was so nervous." Powers pointed out the gravity of her comment for the already shocked audience. "For you to say it was the most uncomfortable interview you've done is saying a lot," he said.
Anyone paying attention to the news knows that those abused have been coming forward in droves, and Powers credited Berg with opening those doors when even five years ago abuse was still underreported. Berg spoke of receiving daily threats, taking on the Screen Actors Guild, and personal pressure. "These were ramifications of childhood dreams being taken away by powerful men who can do that— I felt so responsible for the victims of my films."
On having a voice and demanding accountability, she offered, "Maybe the most empowering part of having Donald Trump in the White House right now is that we are so angry, that women are taking over, and that now we have this moment."
See more photos from DOC NYC Pro on Flickr
Megan Scanlon is the North American Representative at the American University of Beirut. She is a frequent contributor to the DOC NYC and Stranger Than Fiction blogs, sits on the Bronx Documentary Center programming committee, and teaches at Yoga to the People. Follow her on instagram and twitter @meganscanlon5