Visionaries Tribute Honorees Announced
DOC NYC announced key honorees for the third annual Visionaries Tribute lunch, taking place Nov. 10 at City Winery.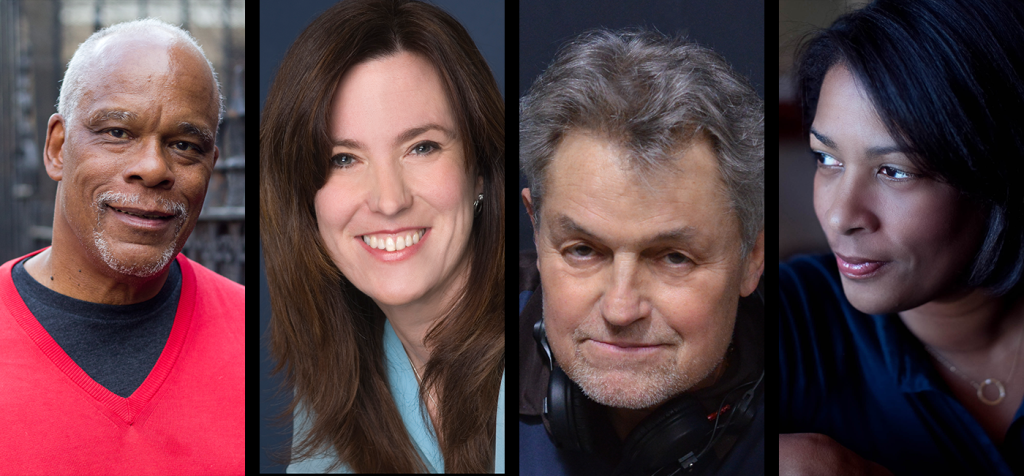 Lifetime Achievement Awards are given for a distinguished output of documentaries. This year's two recipients are:
– Jonathan Demme who has consistently interspersed his acclaimed fiction films with a remarkable body of nonfiction work. His documentaries split between performance films such as Stop Making Sense, Swimming to Cambodia, Neil Young: Heart of Gold, and his latest work, Justin Timberlake + The Tennessee Kids; and profiles such as Cousin Bobby, The Agronomist, Jimmy Carter: Man From Plains, and I'm Carolyn Parker.
– Stanley Nelson who has distinguished himself both as a filmmaker and as a champion of nurturing new voices through his organization Firelight Media. His directing credits include Black Panthers: Vanguard of the Revolution, Freedom Summer, Freedom Riders, Wounded Knee, Jonestown: The Life and Death of Peoples Temple, A Place of Our Own, The Murder of Emmett Till,and Marcus Garvey: Look for Me in the Whirlwind.
Past Lifetime Achievement recipients are Jon Alpert, Chris Hegedus, Barbara Kopple, Albert Maysles, DA Pennebaker and Fred Wiseman.
The Robert and Anne Drew Award for Documentary Excellence goes to a mid-career filmmaker distinguished for observational cinema who will receive a $5,000 cash prize sponsored by Drew Associates. This year's recipient is:
– Dawn Porter, whose latest film Trapped, about abortion providers struggling to stay open in the South, screens at DOC NYC as part of this year's Short List and previously won a Sundance Special Jury prize for Social Impact Filmmaking. Her previous films include Gideon's Army and Spies of Mississippi. The award's name celebrates Robert Drew, who pioneered the documentary style that came to be known as American cinema vérité, and his wife Anne, who was his filmmaking partner for more than four decades.
Jill Drew, the general manager of Drew Associates, who helped select the recipient, said "My father- in-law Robert Drew felt the best documentary stories were told up-close with people under pressure making difficult choices of real consequence. Dawn's work does just that. It doesn't matter which side of an issue you're on, her subjects are true-to-life riveting."
Past recipients of the Robert and Anne Drew Award for Documentary Excellence were Kim Longinotto and Laura Poitras.
The Leading Light Award is given to a mid-career professional who has served documentary in a role outside of filmmaking. This year's recipient:
– Molly Thompson who is the founder and head of A&E IndieFilms, the feature documentary division of A+E Studios. Her credits as an executive producer include the Academy Award® nominated films, Cartel Land, Jesus Camp, and Murderball, as well as American Teen, The September Issue, The Tillman Story, Cave of Forgotten Dreams, Client 9: The Rise and Fall of Eliot Spitzer, Under African Skies, The Imposter, No Place on Earth, The Unknown Known, and two films this year, Author: The JT Leroy Story and Life, Animated.
Past recipients of the Leading Light Award are Dan Cogan and Tom Quinn.
The 2016 Visionaries Host Committee includes: Jon Alpert, Amir Bar-Lev, Joslyn Barnes, Rachel Boynton, Nanette Burstein, Maro Chermayeff, Christine Choy, Marshall Curry, Kate Davis, Carl Deal, Nicholas Doob, Susan Froemke,Liz Garbus, Rachel Grady, Thomas Allen Harris, Chris Hegedus,Matthew Heineman, Judith Helfand, Amy Hobby, Gary Hustwit, Ross Kauffman, Barbara Kopple, Tia Lessin, Marc Levin, Shola Lynch, D.A. Pennebaker, Frazer Pennebaker, Laura Poitras, Sam Pollard, Kevin Rafferty, Bob Richman, Robert Richter, Richard Rowley, Deborah Shaffer, Kirk Simon, Ricki Stern, Robert Stone, Annie Sundberg, Jean Tsien, Elizabeth Chai Vasarhelyi, Pamela Yates.
Leadership Sponsor HBO Documentary Films returns for its third year to co-present the Visionaries Tribute.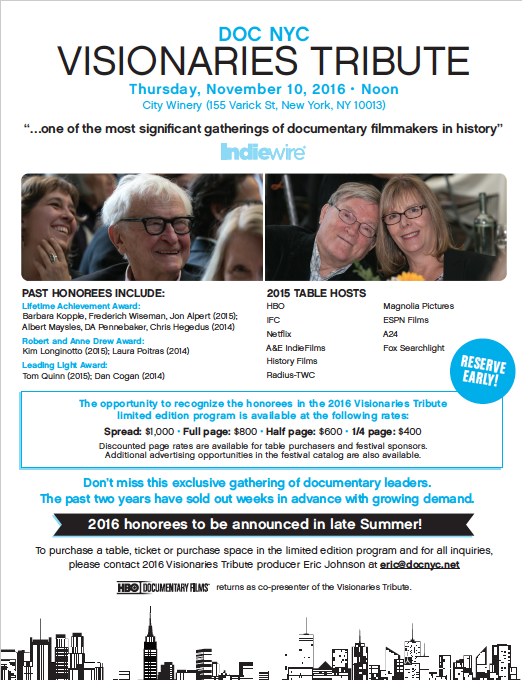 For more information on purchasing a seat or ad, contact eric@docnyc.net