DOC NYC: America's Largest Documentary Film Festival
Now in its 11th year, the festival will continue to bring great documentaries to audiences by moving primarily to an online format for 2020 in response to the Covid-19 pandemic. You can read 

more

 about the 2020 festival plans here

. 
Documentary storytelling is flourishing like never before. DOC NYC is at the center of celebrating and supporting this cultural movement.
Among its missions, DOC NYC aims to:
CURATE: guide audiences, industry and press toward inspiring work.
SUPPORT FILMMAKERS: provide filmmakers with educational, networking and promotional opportunities throughout the year.
CULTIVATE NEW AUDIENCES: attract local and international newcomers with the excitement of a festival atmosphere.
CREATE SOCIAL SPACE: bring audiences and filmmakers together to engage with  documentary.
MAKE THE MOST OF NYC: foster fresh connections between residents and expose visitors to the opportunities that happen "only in New York."
---
HIGHLIGHTS
DOC NYC burst upon the scene in 2010 with an inaugural event that was hailed as "ambitious" (New York Times) and "selective but eclectic" (Village Voice). By 2014, DOC NYC had become America's largest documentary film festival and voted by MovieMaker magazine as one of the "top five coolest documentary film festivals in the world".  Based at the West Village's IFC Center, Chelsea's SVA Theater and Bow Tie Chelsea Cinema, the eight-day festival showcases new achievements in documentary film along with panels and conversations.  It also seeks to make connections that happen "only in New York."
This year, DOC NYC celebrates its 11th edition. Overseen by Executive Director Raphaela Neihausen and Artistic Director Thom Powers, the festival includes 300+ films, episodic content, and events spanning ten days at the IFC Center, SVA Theater and Cinépolis Chelsea, with hundreds of special guests in person.  Past guests include Hillary Clinton, Eric Clapton, Emma Watson, Jim Carrey, Rev. Al Sharpton, Thandie Newton, Susan Sarandon, Martin Scorsese, Itzhak Perlman, Big Bird, Sarah Polley, Jared Leto, Olympia Dukakis, Chris Rock, Seth Myers, Alia Shawkat, Lucas Hedges, Kevin Kline, Heather Graham, Jean Claude Christo, Wim Wenders, Rashida Jones, Darrel Hammond, Ricki Lake, Michael Moore, Michel Gondry, Omar Epps, Errol Morris, Oliver Stone, Jonathan Franzen, Kathleen Hanna, Spandau Ballet, Greil Marcus, Grace Lee Boggs, Bela Fleck, Nat Hentoff, Chuck Workman, and The Mekons. Audience attendees have included Harry Belafonte, Rosario Dawson, Fred Armisen, Jim Jarmusch, Michael Stipe, Martha Stewart, Katie Couric, Russell Simmons, Darren Aronofsky, Cornel West, Naomi Watts, among others.

Highlights Booklets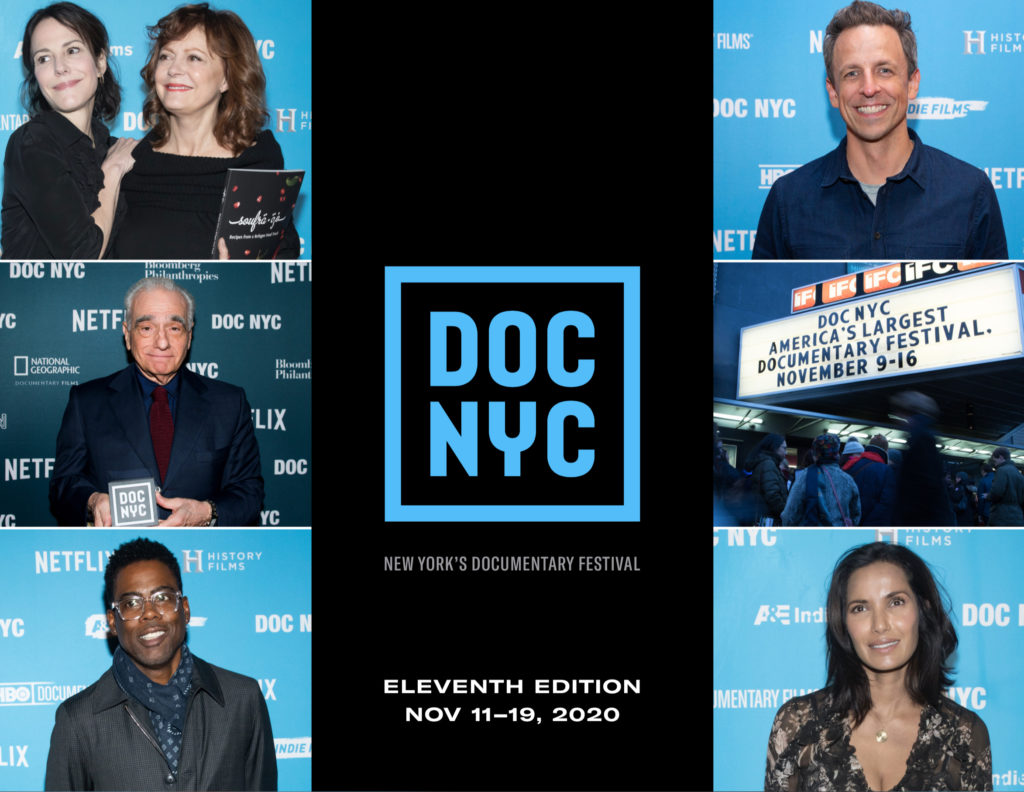 ---
"This cinematic bonanza covers everything new and noteworthy in the world of documentary filmmaking."– The Huffington Post
"DOC NYC has cemented itself as one of our favorite festivals of the cultural calendar." – Flavorpill
"DOC NYC has become an essential summit for all kinds of documentary filmmaking." – Wall Street Journal
"An essential event on the cinephile's calendar." – Time Out New York
"Images that dare you to turn away." – The New York Times
"The best documentaries at DOC NYC will open your eyes, but won't ruin your day." – The Village Voice
"The most comprehensive celebration of the nonfiction form in the five boroughs or anywhere else for that matter." – AM New York
"Bigger isn't always better. But when it comes to DOC NYC, now the largest documentary film festival in the U.S., the five-year-old upstart event has proven itself a worthy new addition […] By all accounts, screenings have been selling out; the country's top documentary filmmakers, from Albert Maysles to D.A. Pennebaker, are showing up for tributes and events; and sales agents are closing deals on select world premieres." – Indiewire
Click to review the 2019 press book.
Click to review our press releases.
---
Between 2014 – 2018, 15 DOC NYC titles were included on the Oscar Short List, including all the Oscar winners and more than half of the actual nominees.
DOC NYC is also an Academy-qualifying festival for short films.  DOC NYC's winning short will qualify for consideration in the Documentary Short Subject category of the Annual Academy Awards® without the standard theatrical run, provided the film otherwise complies with the Academy rules.
Click the below thumbnail to view our 2019 catalog: