Applications & Nominations Now Open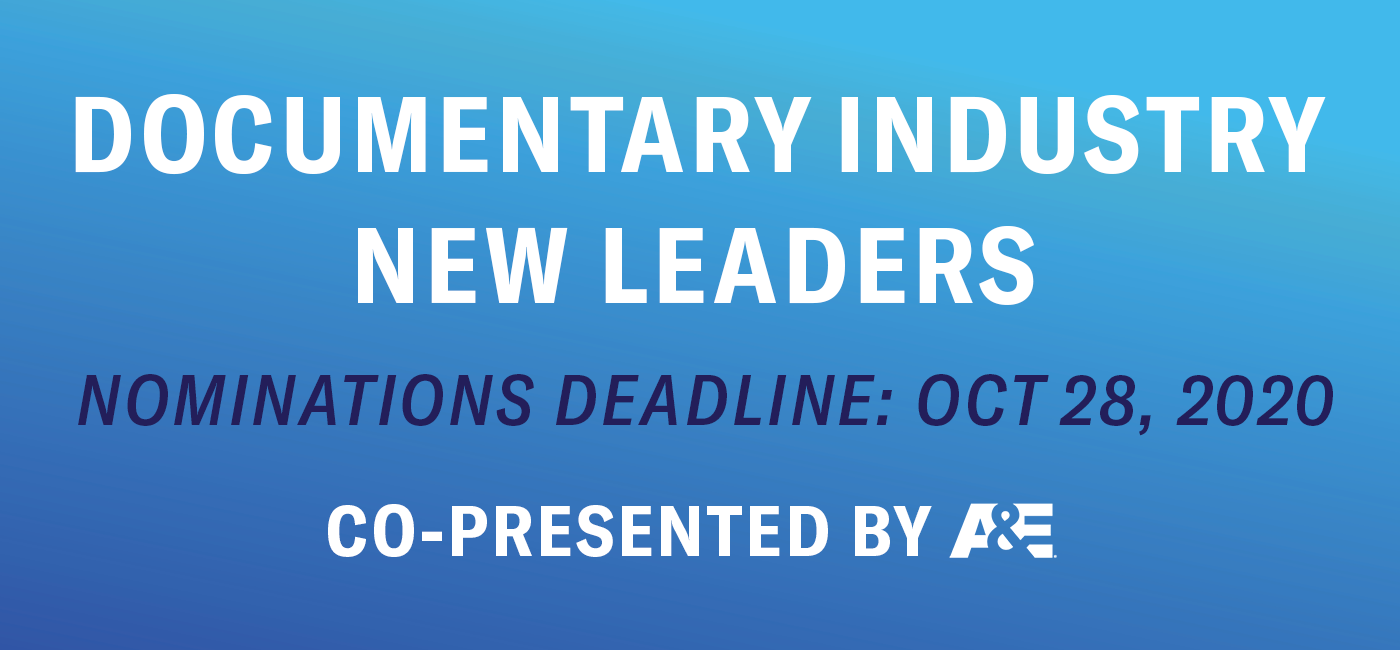 In this new initiative for 2020, DOC NYC will honor 10 figures in the documentary industry whose efforts and fresh thinking on distribution, sales, festivals, and marketing bring greater inclusion and equity to the field. The initiative is co-presented by A&E.
The honorees will represent a range of work experience. Following an open call for nominations and applications, DOC NYC's senior programming team will review applications and nominations to recognize the accomplishments of rising talents who have created positive change in the documentary industry, as well as their potential for future impact.
DOC NYC will announce the 10 New Leaders during the 2020 festival. Over the coming year, the festival will hold intermittent private online gatherings of the New Leaders where they can discuss their challenges, opportunities and hopes for change. During these meetings, DOC NYC will bring in industry mentors to share leadership insights and create sessions for the New Leaders to hold frank conversations. DOC NYC will also create connections between the New Leaders and other sectors of the festival including "40 Under 40" honorees, "Only In New York" works-in-progress and filmmakers in official selection to foster networking. Further perks for the honorees include a complimentary All-Access pass to DOC NYC PRO events happening throughout the year online. When the festival returns to an in person event, the New Leaders class of 2020 will be invited to participate for in-person activities and meetings.
NOMINATION AND APPLICATION PROCESS
The nominations and applications deadline is 6pm ET on Wednesday, October 28.
Candidates may apply directly or be nominated by colleagues by completing the form below. There is no cost to apply. To be eligible for consideration, the candidate must have at least three years of work experience in the documentary field. It's expected that some candidates may aspire to transition from one area (e.g. production) to another (e.g. distribution).
Eligible experience includes working in large companies, small businesses, non-profits, independent production and grassroots organizing. Much of this work is invisible to the public, so we rely on testimonials from those who have witnessed behind the scenes championing of underrepresented voices.
Candidates from the U.S. and Canada will be considered regardless of age, race, gender or other demographic factors. We're looking for people who inject fresh perspectives into the field, including from geographic areas outside of the coastal media capitals.
Nominators may submit forms for consideration for up to four candidates.
All applications will be reviewed by the selection committee of senior DOC NYC programming staff. The honorees will be announced during the festival dates of November 11-19, 2020.