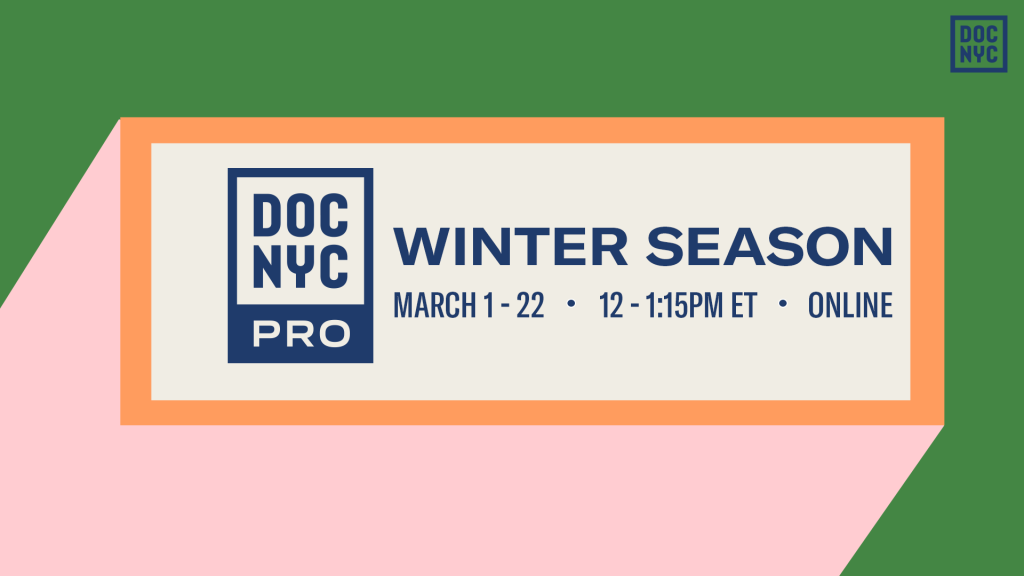 The Winter 2023 season focuses on vital areas in the early stages of the filmmaking process, featuring invaluable insight from award-winning independent filmmakers and experts from the independent doc community. Covering topics from story development and funding, to thinking through using archival footage, finding international co-producers and grant writing, the program will educate and empower documentary filmmakers to help turn their vision into a film. Season passes and tickets for individual sessions are now on sale.
All registrants may participate in the live session and will also receive access to the recorded event, a written transcript, and a copy of any slide presentations after the livestream. Attendees may purchase individual tickets or a discounted Winter 2023 season pass good for all four sessions. Tickets are non-refundable. If you have questions about registration, please email ticketing@docnyc.net.
Additionally, we have a special two-day Grant Writing Workshop presented in two 90-minute sessions on April 5-6. This workshop is a live, online event and will not be recorded.
Winter 2023 Individual Events: $19 (available at links below)
Winter Season Pass: $55
Grant-Writing Workshop: $59

DOC NYC PRO is co-presented by:

DOC NYC PRO Winter 2023 Lineup
Developing Your Story
Wednesday, March 1 from 12-1:15 pm ET (online)
Funding Your Documentary
Wednesday, March 8 from 12-1:15pm ET (online)
Using Archival to Shape Your Story
Wednesday, March 15 from 12-1:15 pm ET (online)
Finding and Securing an International Co-Production
Wednesday, March 22 from 12-1:15 pm ET (online)
Additional Two Part Workshop
Grant Writing: A Two Part Workshop with Tracie Holder
Wednesday, April 5 and Thursday, April 6 from 12 – 1:30pm ET (online)
Accessibility
Live ASL interpretation and CART services are available upon request. To inquire about accessibility for any DOC NYC events, please email accessibility@docnyc.net.
Gift Passes
If you are interested in purchasing a gift PRO Winter 2023 Season Pass for someone other than yourself, complete your purchase here.
Past Events
Recordings of past seasons' DOC NYC PRO classes are available as individual event recordings.