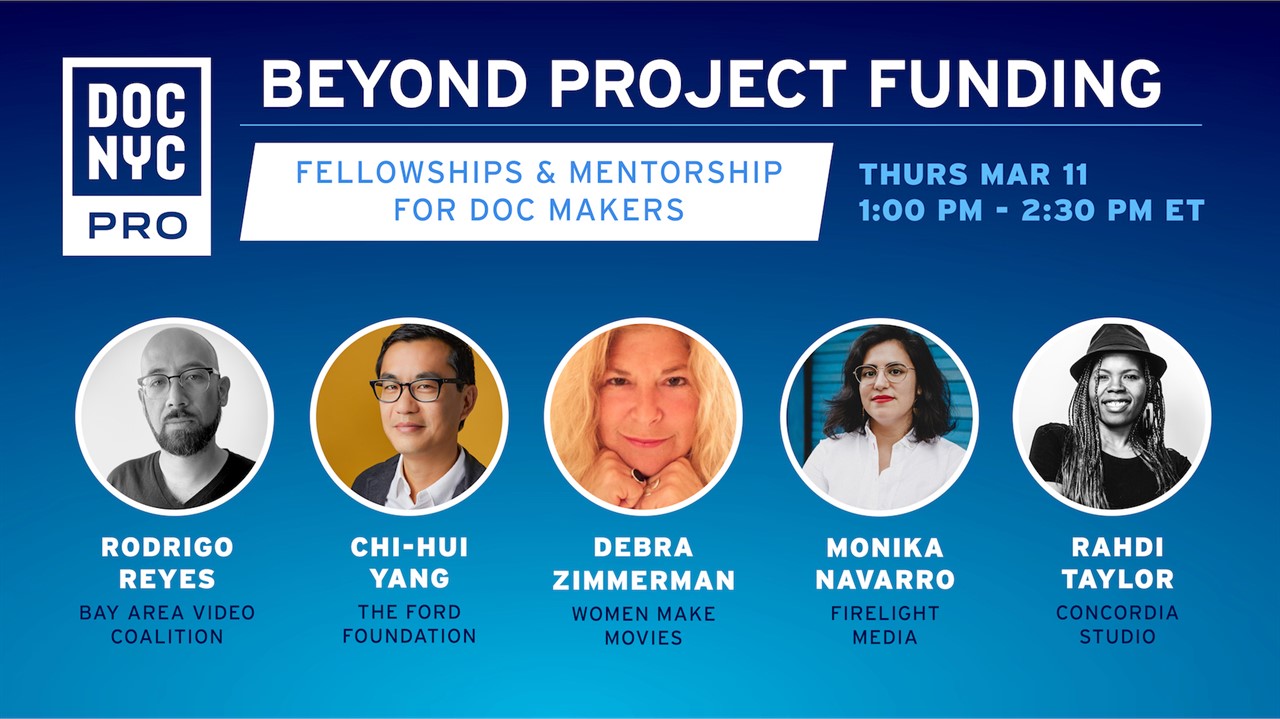 Beyond Project Funding: Fellowships & Mentorships
2021
This event was recorded live on Thursday, March 11, 2021.
Join DOC NYC PRO for a 90-minute panel about the organizations and programs that support filmmakers' creative careers and professional development, beyond project-based funding–and the importance of such programs, particularly to women filmmakers, filmmakers of color, and other historically underfunded groups within the industry. Guests include Rodrigo Reyes, Co-Creative Director of the MediaMaker Fellowship at the Bay Area Video Coalition; Chi-hui Yang, Senior Program Officer at JustFilms, The Ford Foundation; Debra Zimmerman, Executive Director of Women Make Movies; Monika Navarro, Senior Director of Artist Programs at Firelight Media; and Rahdi Taylor, EVP of Artists in Residence at Concordia Studio. Panelists will discuss the mentorship, fellowship and career development programs they offer under the umbrellas of their own organizations, and discuss the broader role of such programs in advancing the documentary field. The panel discussion will include a 30-minute moderated Q&A.
Thank you to our friends at SONY for sponsoring live captioning / CART services for this event.
Tickets for this event are $19, or get access to all ten events in DOC NYC PRO's winter season by registering for the Winter 2021 Season Pass.
All registrants may participate in the live session, and will also receive access to the recorded event, a written transcript, and a copy of the slide presentation after the livestream. Tickets are non-refundable. 
If you have questions about registration, please email ticketing@docnyc.net. For questions about accommodations and accessibility, including requests for live ASL interpretation, please email accessibility@docnyc.net.