Evyenia Constantine
Head of Social Impact, Odyssey Impact
Evyenia Constantine is the Head of Social Impact at Odyssey Impact® where she leads the impact team, and strategy and execution for all impact campaigns and initiatives. She is a graduate of Northwestern University's School of Communication where she earned a Master's degree in Leadership for Creative Enterprises, graduating summa cum laude. She holds a Bachelor's degree, summa cum laude, from The New School in New York City where she majored in Film and Media Studies, concentrating on all aspects of screenwriting. She holds a certificate in Negotiation Mastery from Harvard Business School. She has produced Award-winning films with KaplaniKid Productions, which have had their debut screenings at the Festival de Cannes.
Evyenia has held positions at various film and media companies, including Media Strategist at Spark Foundry, and handling Acquisitions and Development Strategy for film streaming start-up, Flix Premiere. She is a member of IDA, ACLU, NAACP and the Impact Guild, and a very proud and active member of both The New School Alumni Association and the Northwestern University Alumni Association, where she serves on the Alumni Admissions Council.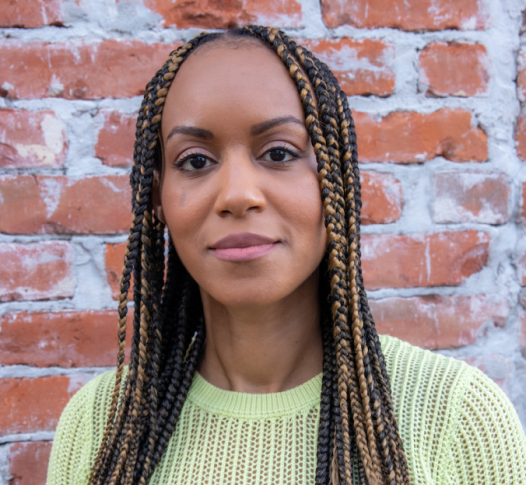 Nailah Jefferson
Nailah Jefferson is a native New Orleans filmmaker whose fiction and nonfiction work explores the enduring human spirit. Nailah's debut documentary Vanishing Pearls: The Oystermen of Pointe a la Hache, told the story of the little known African American oyster fishing community in Louisiana in the aftermath of the 2010 BP Oil Spill. In 2017, Nailah's short documentary Essence Magazine's Black Girl Magic Episode 4 was nominated for a National Magazine Ellie award. That same year, Nailah's first narrative film Plaquemines was chosen as an American Black Film Festival HBO Shorts finalist and streamed on HBO platforms.  In 2021, Nailah's short documentary Descended From A Promised Land: The Legacy of Black Wall Street screened at the 2021 DOC NYC and Martha's Vineyard Black Film Festival. Nailah is currently wrapping the feature documentary Commuted about Danielle Metz, a woman whose triple life plus twenty year drug sentence was commuted by President Obama in 2016 after serving 23 years in prison. Commuted is the winner of the 2019 Black Public Media PitchBlack competition. The project is also supported by the Sundance Institute, Tribeca Film Institute, Chicken & Egg Pictures, Perspective Fund, Southern Documentary Fund, Black Public Media, ITVS and Firelight Media. Nailah's latest documentary Donyale Luna: Supermodel is a co-production between Lightbox Entertainment and the American Black Film Festival and will be distributed by HBO Fall 2023.
Creating and Executing an Impact Campaign
Wednesday, April 12 12-1:15pm ET
Documentary filmmaking has a long tradition of working to effect social change, but what can you do to make sure your work has an impact? How do you craft an impact campaign from start to finish that is tailor made to elevate the issue your film illuminates? Partnering with local and national organizations is a key ingredient to create lasting change, but how do you initiate and sustain these relationships? Join Odyssey Impact's Evyenia Constantine and director Nailah Jefferson (Descended from the Promised Land: The Legacy of Black Wall Street) who will share their insights on how to elevate your film to inspire action and offer examples of films with effective campaigns.
Tickets for this event are $19. If you are interested in purchasing a Spring 2023 Season Pass, which will include live and recorded access to all April & May 2023 PRO programs, click here.
All registrants may participate in the live session, and will also receive access to the recorded event, a written transcript, and a copy of the slide presentation after the livestream. Tickets are non-refundable.

If you have questions about registration, please email ticketing@docnyc.net. For questions about accommodations and accessibility, including requests for live ASL interpretation, please email accessibility@docnyc.net.
DOC NYC PRO is co-presented by: