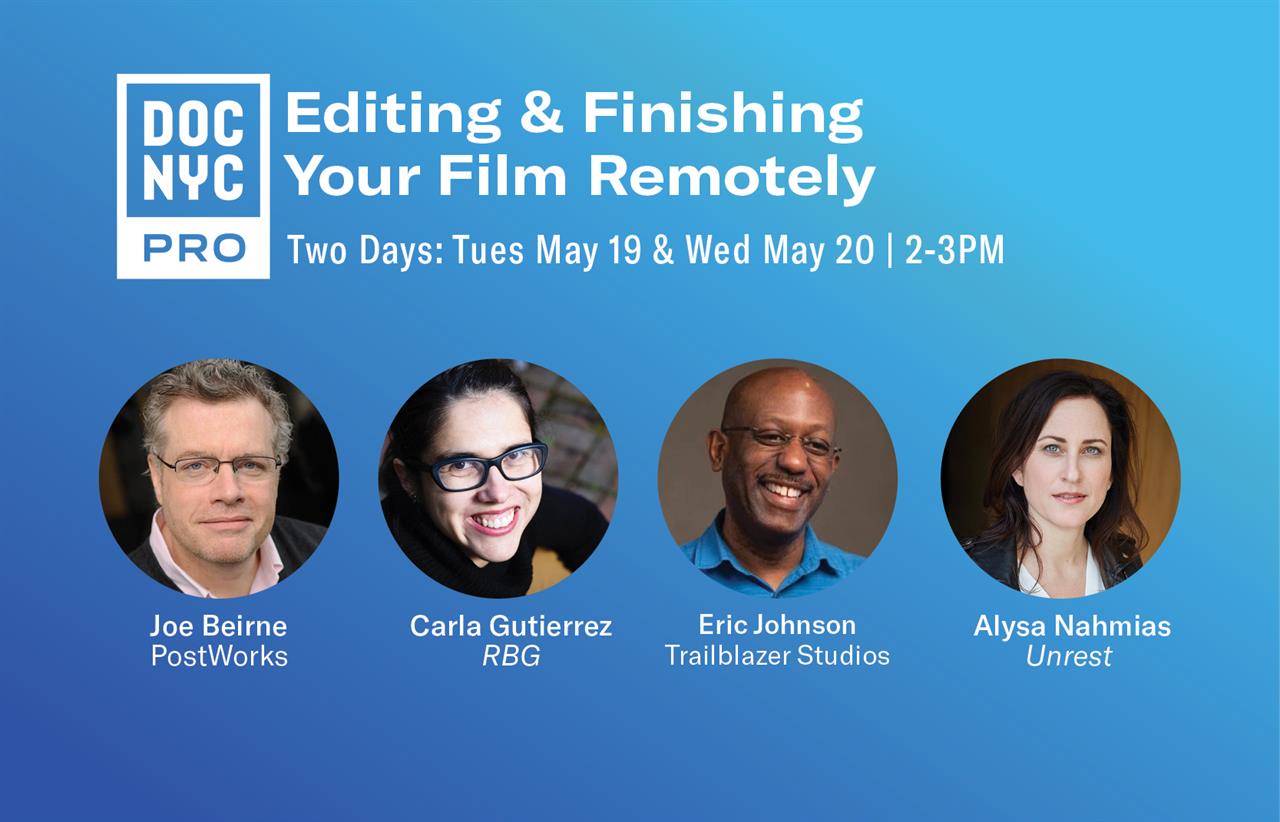 Editing & Finishing Your Film Remotely


This event was recorded live on May 19 & 20, 2020.
DOC NYC PRO held this Immersive webinar program on May 19 & 20, 2020 – a two-session deep dive into an extremely timely topic: the process of editing and finishing a film when all work must be done remotely. Guests included editor Carla Gutierrez; director/producer Alysa Nahmias; Eric Johnson of Trailblazer Studios; and Joe Beirne from Technicolor – PostWorks.
On Day 1, we heard from Oscar-, Emmy- and ACE Eddie-nominated documentary editor Carla Gutierrez (RBG, Pray Away, The Last Out), who continues to edit from her home in Montclair, New Jersey. She is joined by Los Angeles-based director/producer Alysa Nahmias (The New Bauhaus, Unrest, Unfinished Spaces), who was embarking on a months-long collaborative animation process for her forthcoming film Krimes, with editor Miranda Yousef and animator Molly Schwartz, when the pandemic hit. How can directors and editors establish rapport and build trust when they can't be in the same room? How can teams use technology to work together in real time? And how does virtual editing impact the work itself, both practically and emotionally? Carla and Alysa will share current experiences and offer insights and peer support to filmmakers navigating the same waters.
On Day 2, we came back to hear from Technicolor – PostWorks CTO Joe Beirne, and from Eric Johnson, Senior VP of Sound and Engagement at Raleigh (NC)'s Trailblazer Studios. Beirne shares how PostWorks is adjusting to the current context from within the epicenter of the pandemic. Johnson talks about the trends in post-production that were afoot before the coronavirus pandemic, including the evolution of tech and tactics that have made sound mixing and editing, coloring and finishing a film possible to do remotely. We'll explore the new challenges presented by lockdown orders; the tools that make socially distanced post-production possible; and how film teams can find the posthouse that's right for their unique timeline and situation without waiting for the current crisis to pass.
Moderated by DOC NYC Director of Industry and Education, Caitlin Boyle.
Tickets are $15 and include both sessions; registrants have access to recordings after the livestream. A transcript of each session will be made available to registrants after the livestream as well. Tickets are non-refundable.

If you have questions about registration, please email caitlin@docnyc.net. For questions about accommodations and accessibility, please email accessibility@docnyc.net.