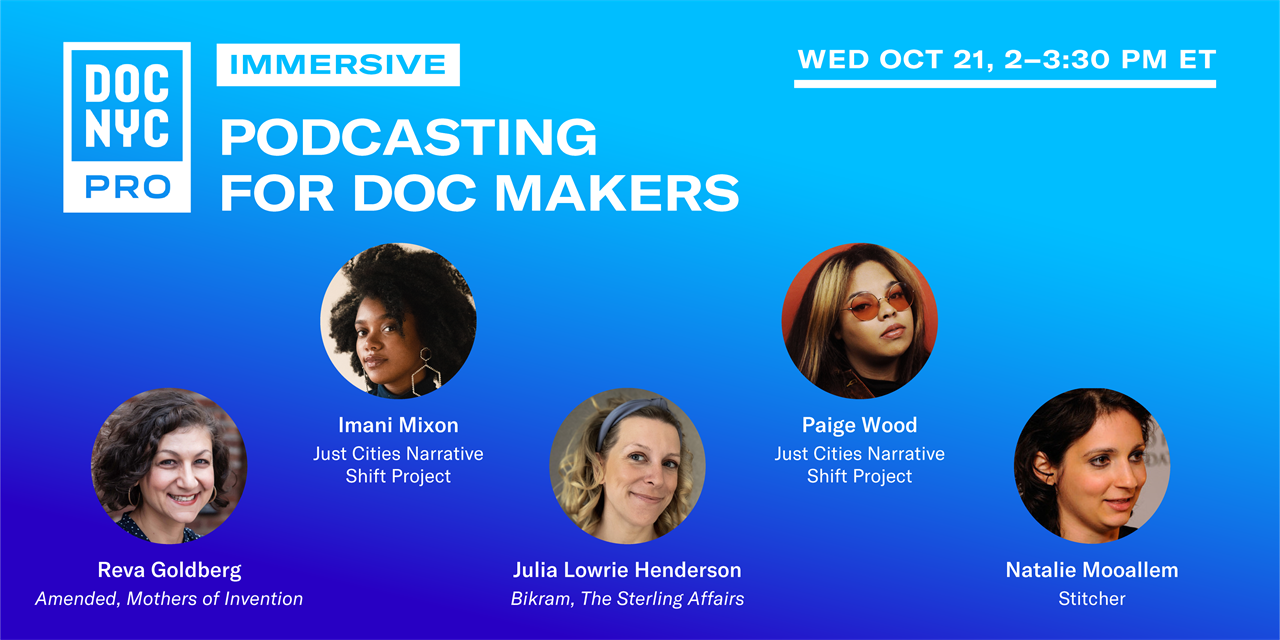 DOC NYC Immersive: Podcasting for Doc Makers
This event was recorded live on Wednesday, October 21, 2020.
Join DOC NYC PRO for a 90-minute session exploring the interplay between podcasting and documentary film, including guests who have successfully pivoted between film producing and podcast producing. The panel discussion will feature both producers and podcast platform execs, and will include a 30-minute moderated Q&A.
Guests include Imani Mixon and Paige Wood (Just Cities Narrative Shift Project), who talk about the dual hats they wear as both audio and film producers. They're joined by independent audio producer Reva Goldberg (Amended, Mothers of Invention) and ESPN's Senior Editorial Producer for 30 for 30 Podcasts Julia Lowrie Henderson (Bikram, The Sterling Affairs), who discuss navigating freelancer roles as well as staff roles inside major podcasting and radio outlets. The conversation is moderated by Stitcher's VP of Business Development, Natalie Mooallem, who herself transitioned from a role in the film industry to become a podcasting exec.
Tickets are $15; all who register prior to the live event will receive access to the livestream; all registrants also receive access to the recorded session, a written transcript and a copy of the slide presentation. Tickets are non-refundable. If you have questions about registration, please email caitlin@docnyc.net.
To purchase a pass to DOC NYC PRO's entire Summer/Fall 2020 line-up, register here; passes are $150 and include access to recordings and transcripts for all past events.
For questions about accommodations and accessibility, please email accessibility@docnyc.net.