DOC NYC 2013 Award Winners Announced
November 16, 2013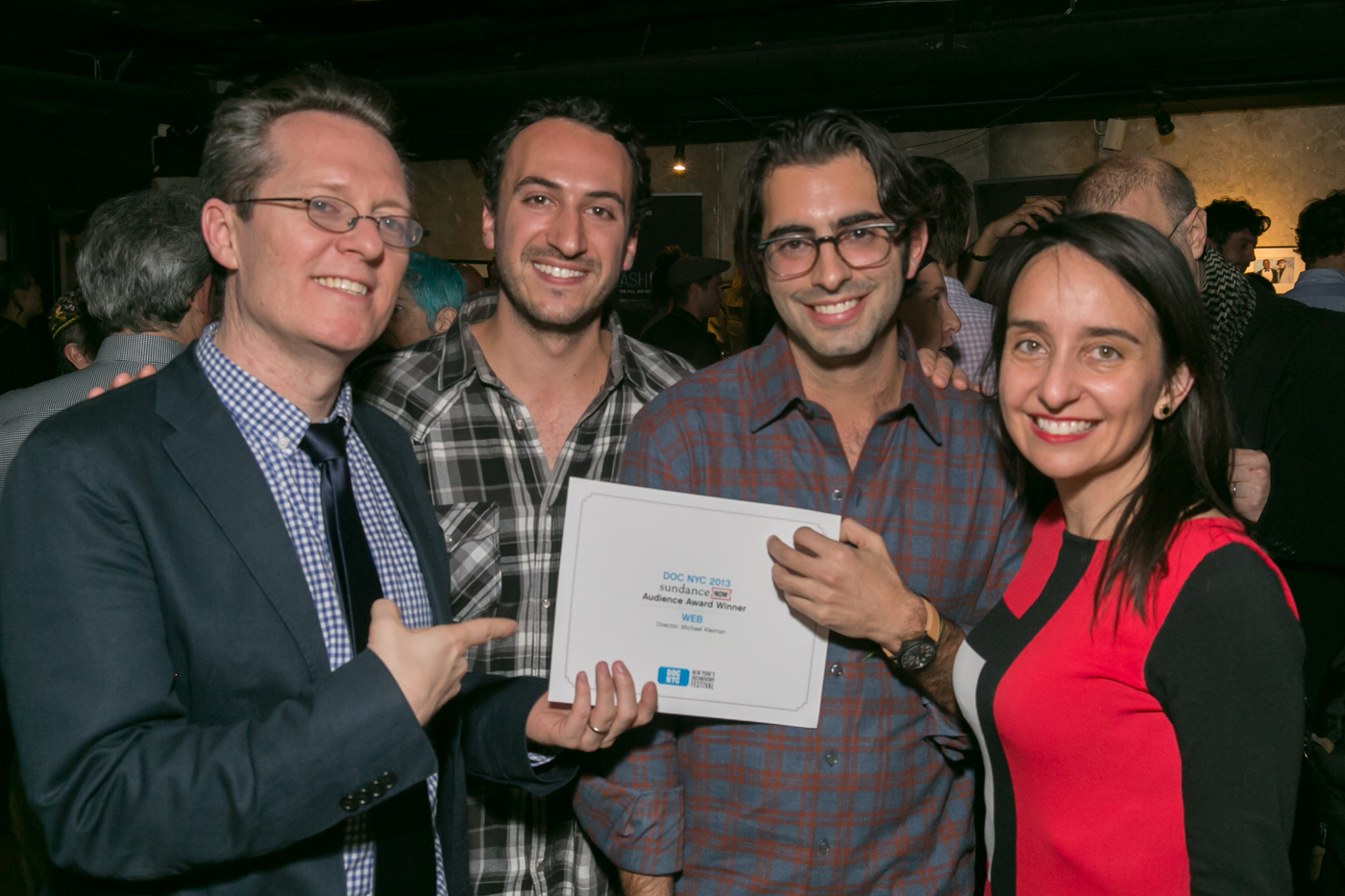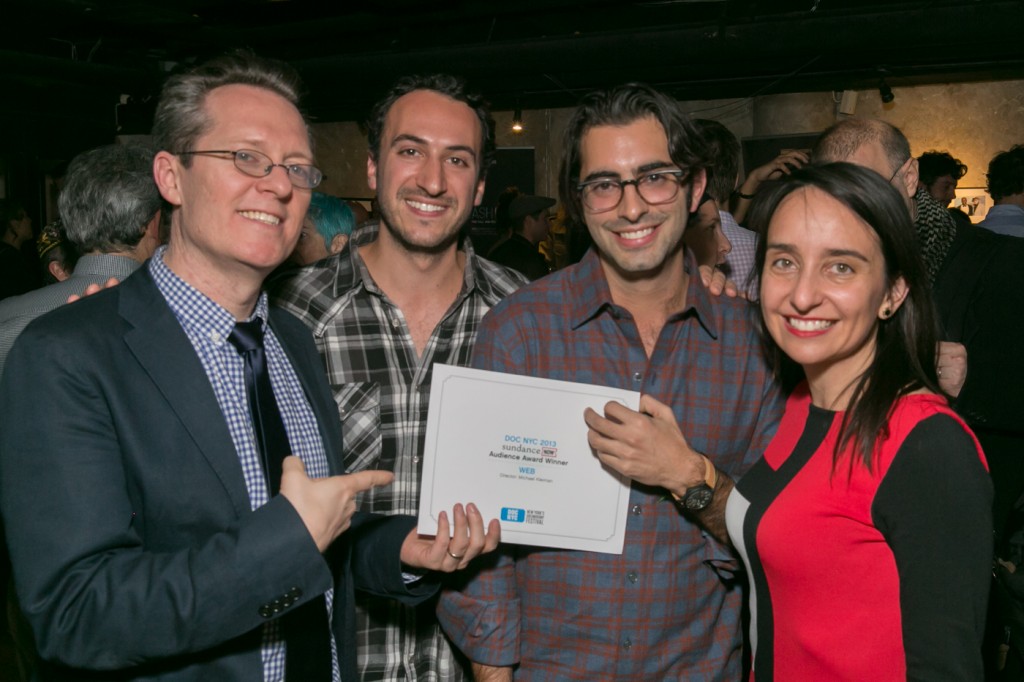 On the eve of its final day of programming, at a filmmaker reception hosted by HBO Documentary Films, DOC NYC announced the 2013 award-winners as well as news of record attendance and expansion. Now in its fourth edition, with 132 films and events, the festival has quickly established itself as the largest documentary festival in the US. This year's festival chalked up banner ticket sales, with a 25% increase in attendance, reflecting more than 36 sold out screenings and close to 20,000 attendees.
Among the 73 feature-length documentaries featured from November 14-21 at IFC Center and the SVA Theatre were 11 world premieres, 10 US premieres and 34 New York City premieres, along with 39 short films and 20 panels and masterclasses. The festival's many special guests this year included Errol Morris, Noam Chomsky, Michel Gondry, Oliver Stone, Sarah Polley, Jonathan Franzen, Kathleen Hanna, Philip Gourevitch, The Mekons, Michael Moore, Andrew Jarecki, Greil Marcus, Ricki Lake, Grace Lee Boggs, Chuck Workman, and Nat Hentoff.
"The festival grew in wonderful ways this year," said DOC NYC artistic director Thom Powers. "We had terrific audience responses across the board for films making their World, US and New York City premieres as well as for our Doc-A-Thon panels and for the Short List section showcasing 10 of the year's most acclaimed docs. We're extremely proud to have presented a roster of truly diverse, engrossing and entertaining nonfiction work that attracted our biggest audiences ever, including such notable figures as Harry Belafonte, Rosario Dawson, Cornel West, Naomi Watts, Andrew Sullivan, Phil Donahue and Martha Stewart – the kind of crowd that happens only in NYC."
Three awards juries selected films from each of the festival's Viewfinders, Metropolis and Shorts programs to recognize for their outstanding achievements in form and content. Festival audiences voted for the SundanceNOW Audience Award.
Viewfinders Competition: The jury selected from among eight films in this section, chosen by the programmers for their distinct directorial visions.
Grand Jury Prize Winner – A World Not Ours, directed by Mahdi Fleifel, brings a humorous and personal perspective on a Palestinian refugee camp in Lebanon.
Jurors' statement: "The eight films in our category offered a stunning range of subject matter, and an equally stunning array of artistic and directorial visions. It was a privilege to have to select amongst such fine works for this year's winner. The 2013 Viewfinders award goes to a deeply personal story that explores the bonds of family, the tragedies of displacement, and the universal quest for belonging… all set within a Palestinian refugee camp in southern Lebanon.
Director Mahdi Fleifel has drawn on his family's home movies, archival footage, and his own extensive video diaries to invite us into a world completely unfamiliar to most viewers, and one from which most residents cannot leave. Unlike his friends and family who have spent decades living in the camp, Fleifel is free to come and go – but his portrayal of the world of the camp stayed with us long after his film ended."
Jurors: Jeff Cooperman, Managing Producer, The Colbert Report; Debra Fisher, Global Director of Digital Sales, Cinedigm; Lisa Kennedy, Commissioning Producer, Fault Lines, Al Jazeera TV
Films featured in the Viewfinders section: Web, dir. Michael Kleiman; Mission Congo, dirs. David Turner and Lara Zizic; The Dark Matter of Love, dir. Sarah McCarthy; Sole Survivor; dir. Ky Dickens; Uranium Drive-In, dir. Suzan Beraza; A Will for the Woods, dirs. Amy Browne, Jeremy Kaplan, Tony Hale, and Brian Wilson; We Always Lie to Strangers, dirs. AJ Schnack and David Wilson; A World Not Ours, dir. Mahdi Fleifel.
Metropolis Competition: The jury selected from among nine films in this section, which showcases films that exemplify the diverse range of stories in New York City.
Grand Jury Prize Winner – The Pleasures of Being Out of Step, directed by David L. Lewis, profiles Nat Hentoff, the renowned jazz critic and free speech advocate.
Jurors' statement: "Nat Hentoff epitomizes the spirit of New York: an outsider, an underdog, an intellectual and iconoclast. The Pleasures Of Being Out of Step draws a fascinating portrait of a gifted jazz critic, linking the dissonances and syncopation of an American art form with the right to free speech. The film captures, through a series of interviews and great archival footage, the essence of Hentoff and shows how his self-examined life contributed to the cultural and political debates of the mid late 20th century."
Jurors: Julie Anderson, Executive Producer, Documentaries & Development, WNET-THIRTEEN; Yoruba Richen, Documentary Filmmaker (The New Black); Elizabeth Sheldon, Vice President, Kino Lorber, Inc.
Films featured in the Metropolis section: Patrolman P, dir. Ido Mizrahy; Exposed, dir. Beth B; The Sarnos: A Life in Dirty Movies, dir. Wiktor Ericsson; A Fragile Trust: Plagiarism, Power and Jason Blair at The New York Times, dir. Samantha Grant; Here One Day, dir. Kathy Leichter; I Learn America, dirs. Jean-Michel Dissard & Gitte Peng; Lucky, dir. Laura Checkoway; Misfire: The Rise and Fall of the Shooting Gallery, dir. Whitney Ransick; The Pleasures of Being Out of Step, dir. David L. Lewis.
Shorts Competition: All 39 short films featured in the festival were eligible for this jury prize.
Grand Jury Prize Winner – Softening, directed by Kelly O'Brien, explores the filmmaker's relationship with her disabled son.
Jurors' statement: "In her deft mix of vérité, home movies, photographs, recreations, and experimental footage, director Kelly O'Brien bravely presents her own conflicted experience grappling with mothering a disabled child with emotional honesty, integrity and artistry."
Jurors: Kathleen Lingo, Coordinating Producer, Op-Docs, The New York Times; Libby Geist, Producer and Director of Development, ESPN Films; Milton Tabbot, Senior Director of Programming, IFP.
Winners of the Grand Jury Prize in the Viewfinders and Metropolis competitions each received a Digital Cinema Package (DCP) provided by Technicolor-PostWorks New York. All three jury prize winners will also receive a one-week theatrical, awards-qualifying run at IFC Center in 2014.
SundanceNOW Audience Award: Features from both competitive sections were eligible for this award, based on audience balloting at the first screening of each film.
Winner – Web, directed by Michael Kleiman, follows Peruvian children in remote regions who participate in the One Laptop Per Child program.
The winner of the SundanceNOW Audience Award received a selection of 50 DVDs from the IFC Films and Sundance Selects library. SundanceNOW is the home of Doc Club, which features a monthly selection of films curated by DOC NYC artistic director Thom Powers.
DOC NYC is supported by Presenting Sponsors A&E IndieFilms, History Films, New York magazine and CNN Films; Major Sponsors SundanceNOW, Technicolor-PostWorks New York and WNET; and Supporting Sponsor HBO Documentary Films, Netflix, and the Trade Commission of Peru in New York & Prom Peru. The festival is produced by IFC Center.