DOC NYC PRO Line Up
October 06, 2016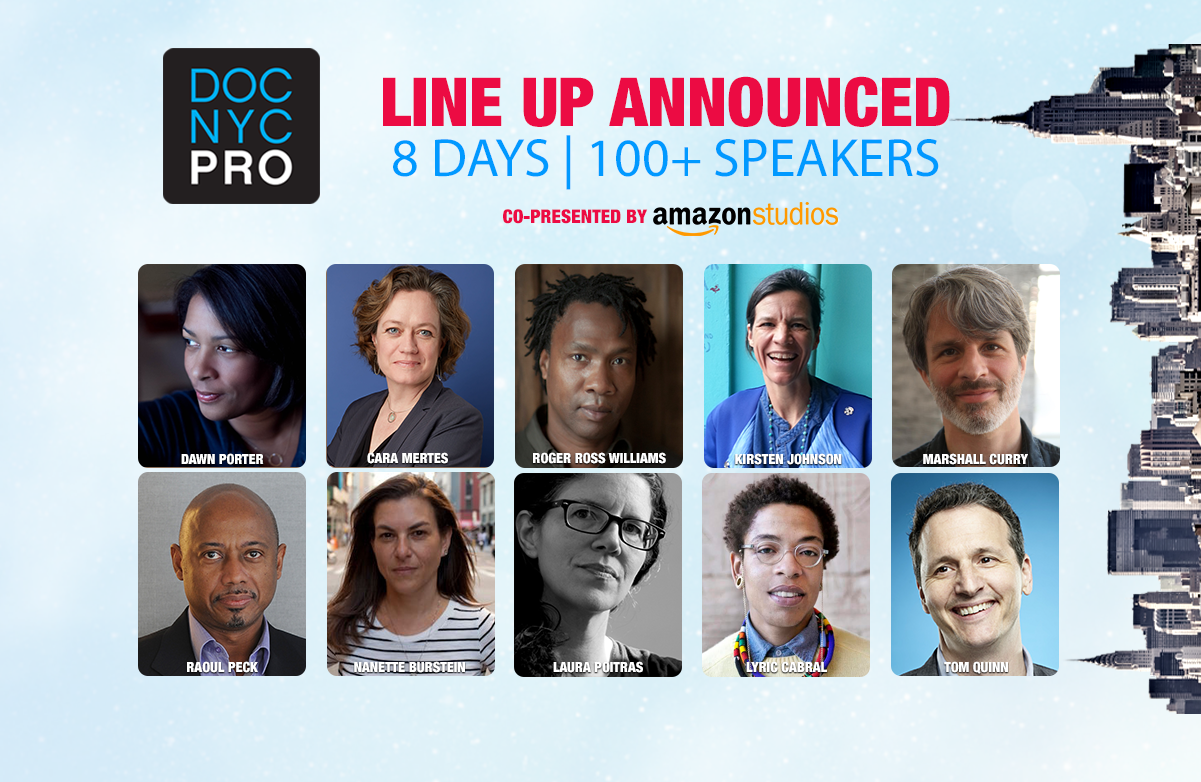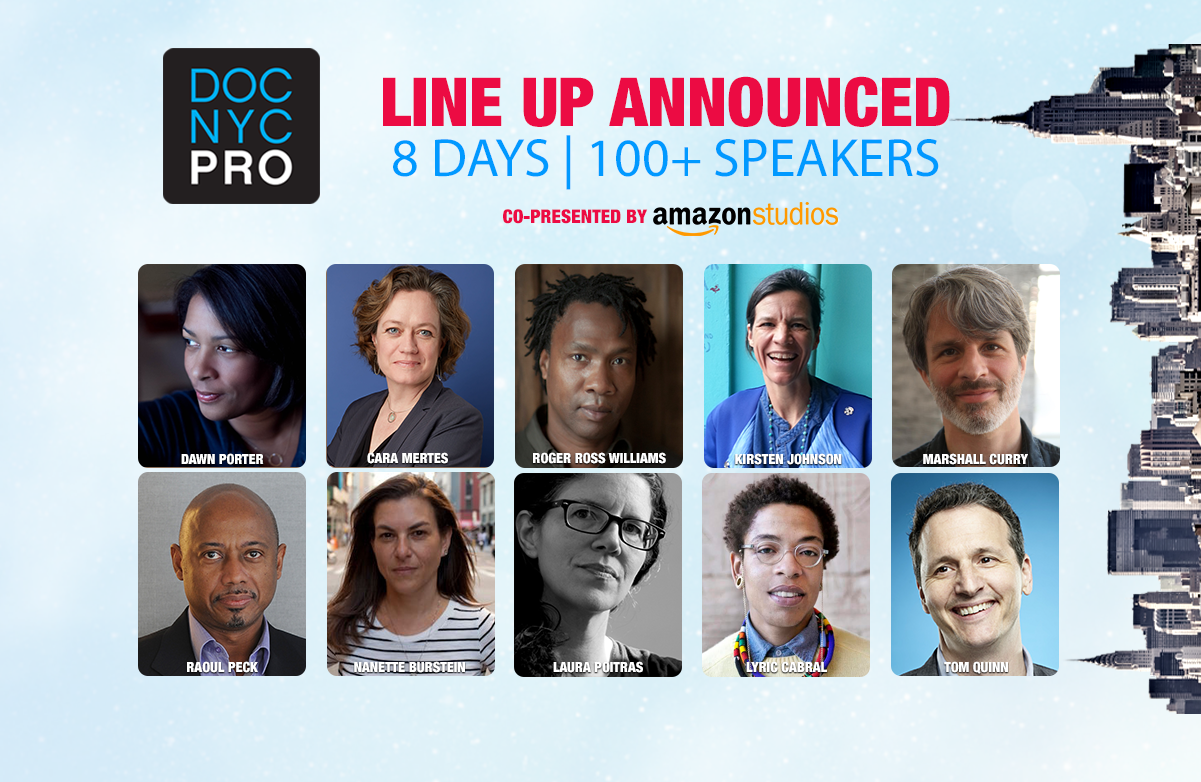 DOC NYC, America's largest documentary festival, announced the lineup for its eight-day DOC NYC PRO conference. Consisting of talks, panels, and masterclasses, DOC NYC PRO aims to provide working filmmakers with the tools to hone their craft and access to the insight of individuals at the forefront of today's nonfiction renaissance. Events will take place alongside screenings of more than 210 documentary films aimed at the general public during the seventh annual festival, running November 10-17.
New initiatives this year include Short List Day (Nov. 11), devoted to discussions with the filmmakers chosen for the prestigious DOC NYC Short List; Pitch Perfect Day (Nov. 14), helping to connect works-in-progress with funders and mentors; and Only in New York Meetings that put filmmakers face-to-face with industry decision makers.
Each day of DOC NYC PRO kicks off with a Morning Manifesto featuring an esteemed guest distilling their wisdom in a half-hour conversation. This year's Manifesto speakers include filmmakers Laura Poitras (Citizenfour), Josh Kriegman and Elyse Steinberg (Weiner), funder Cara Mertes (Ford Foundation's JustFilms), distributor Tom Quinn, and director Stanley Nelson (The Black Panthers: Vanguard of the Revolution), who will receive a Lifetime Achievement Award at the festival's Visionaries Tribute.
"DOC NYC PRO is designed to deepen creative and business skills for documentary professionals," said Artistic Director Thom Powers. "If you're a doc maker, you can't afford to miss this vital gathering of leading filmmakers, funders, and distributors."
The eight-day DOC NYC PRO conference is co-presented by Amazon Studios.
Daily Breakfasts for DOC NYC PRO passholders are co-presented by Showtime Documentary Films. The conference is programmed by Deborah Rudolph, returning for her third year.
DOC NYC PRO events take place at the Cinepolis Chelsea at 260 West 23rd Street in Manhattan. In addition to the panels and masterclasses, the conference features a networking lounge for passholders, with daily Breakfasts and Happy Hours.
Festival passes are now on sale. To purchase, click here.
Thursday, Nov. 10 – First-Time Doc Makers Day
Morning Manifesto – Weiner directors Josh Kriegman and Elyse Steinberg share advice for first-time directors.
What's Your Story? – Accomplished filmmakers Martha Shane and Lana Wilson (After Tiller), Amber Fares (Speed Sisters), and others offer lessons from their first films. Co-presented by SVA MFA Social Documentary Film.
Funding Fundamentals – Funding experts Loira Limbal (Firelight Media), Kristin Feeley (Sundance Institute), and others provide a road map for getting your film financed.
Post-Production Secrets – Post-production experts Joe Beirne, Ben Murray, and others advise on strategies for finishing your films. Co-presented by Technicolor-Postworks NY.
Get Your Gear – Filmmakers and experts from Sony discuss how to evaluate and choose the best gear for your project.
Happy Hour – Co-presented by MTV.
Friday, Nov. 11 – Short List Day 
Co-presented by VH1 and Logo Documentary Films
Morning Manifesto – Owen Gleiberman, Variety's lead film reviewer and author of Movie Freak, applies his critical perspective to doc trends.
Unfolding Stories – Filmmakers behind Miss Sharon Jones!, The Ivory Game, Trapped, and Weiner discuss following a story when you don't know the end.
Character Studies – Filmmakers of Amanda Knox, Gleason, Jim: The James Foley Story, and Mapplethorpe: Look at the Pictures relate how they documented complex lives.
American Histories – Filmmaker of I Am Not Your Negro and J.: Made in America address retelling chapters of history from fresh perspectives.
Pushing Boundaries – Filmmakers of Cameraperson, Fire at Sea, Into the Inferno, and Life, Animated talk about challenging stylistic expectations.
Happy Hour – Co-presented by Vulcan Productions.
Saturday, Nov. 12 – Mastering Your Craft Day One
What's Your Style? – Filmmaker Gary Hustwit (Helvetica) and others talk about finding their filmmaking style.
Casting Case Studies – Filmmakers Rachel Boynton (Big Men), Marshall Curry (Street Fight), and others discuss choosing their subjects.
Realities of VR – Documentary VR producer Jessica Edwards (Scenic) and others discuss this emerging field of storytelling.
Cinematography Masterclass – Acclaimed cinematographer Kirsten Johnson (Cameraperson) shares her knowledge. Co-presented by Sony.
Sony Premiere – Sony Electronics unveils its latest technology in a screening event created exclusively for DOC NYC.
Sunday, Nov. 13 – Mastering Your Craft Day Two
Morning Manifesto – Esteemed editor Matthew Hamachek (Amanda Knox, Cartel Land) takes us inside his process.
Composing & Sound Design for Documentary – Composer Todd Griffin (Life, Animated) joins filmmakers to discuss collaborating on music and sound design.
Getting Creative with Archives – Archive researcher Rosemary Rotondi (Teenage) and filmmakers Sierra Pettengill (archivist, Kate Plays Christine) and Matt Wolf (Teenage) share tips.
Nonfiction Writing – Filmmaker Nanette Burstein (Gringo: The Dangerous Life of John McAfee) and others discuss writing for documentaries.
Editing Masterclass – Award-winning editor Geof Bartz (Larry Kramer in Love and Anger) shares secrets from favorite scenes.
Reception – Co-presented by Ford Foundation / JustFilms & Good Pitch, in celebration of the New York premiere of Deirdre Fishel and Tony Heriza's documentary Care.
Monday, Nov. 14 – Pitch Perfect Day
Co-presented by A&E IndieFilms
Morning Manifesto – Stanley Nelson (The Black Panthers: Vanguard of the Revolution), recipient of DOC NYC Visionaries Tribute Lifetime Achievement Award, talks about his approach to framing history.
Pitch Perfect, Part 1 – Three works-in-progress, For Ahkeem, Vision Portraits, and The Aftermath, pitch to a panel of industry leaders.
Pitch Perfect, Part 2 – Three works-in-progress, Island Soldier, Shadowman, and Untitled Women Leaders of the First Intifada Project, pitch to a panel of industry leaders.
Insider vs Outsider Storytelling – Seasoned doc makers working internationally discuss how to amplify local voices and cover foreign territories with sensitivity. Co-presented by Image Nation Abu Dhabi.
Tuesday, Nov. 15 – Documentary & Journalism Day 
Morning Manifesto – Oscar-winning director Laura Poitras (Citizenfour) and journalist Henrik Moltke share their short film Project X and discuss their collaboration.
Ethics & Objectivity – Directors Ezra Edelman (O.J.: Made in America), Dawn Porter (Trapped), and Brian Oakes (Jim: The James Foley Story), along with Jackie Glover from HBO Documentary Films, discuss ethical challenges and guidelines.
Courting Controversy – Filmmakers Matthew Heineman (Cartel Land) and Alexandria Bombach (Frame by Frame), and Juan Mejia Botero (Death By a Thousand Cuts) along with producer Emre Izat (Naledi: A Baby Elephant's Tale), discuss handling contentious topics. Co-presented by Vulcan Productions.
Protecting Yourself – (T)ERROR director Lyric Cabral and others discuss protecting their footage and their sources.
The Evolution of Form: Shorts and Beyond – New York Times Op-Docs producer Kathleen Lingo joins MTV's Garth Bardsley and filmmakers Donal Mosher and Mike Palmieri (Peace in the Valley) to discuss new possibilities in short-form documentary.
Happy Hour – Co-presented by Participant Media.
Wednesday, Nov. 16 – Smart Producing Day
Morning Manifesto – Cara Mertes, director of Ford Foundation's JustFilms, shares her insights from supporting documentaries around the world.
Navigating Environmental Filmmaking – Filmmakers Kristi Jacobson (A Place at the Table) and David Abel (Sacred Cod), along with Discovery's John Hoffman, discuss what makes for an effective environmental film. Co-presented by Discovery.
Social Issue Producing – Borderline Media's Jennifer MacArthur, Logo Documentary Films' Taj Paxton, and others discuss how to craft dynamic issue-oriented films. Co-presented by National Geographic Channel.
How to Run a Production Company – Filmmakers Heidi Ewing and Rachel Grady (Norman Lear) and Liz Garbus (Nothing Left Unsaid) join producer Julie Goldman (Life, Animated) to discuss maintaining a production company.
Creative Producing – Impact Partners' Dan Cogan and Jenny Raskin lead a discussion with notable producers on the challenges and rewards of the job. Co-presented by Impact Partners.
Thursday, Nov. 17 – Show Me the Money Day 
Morning Manifesto – Tom Quinn shares wisdom from his distribution career that includes overseeing the releases of Citizenfour and 20 Feet From Stardom.
Out-of-the-Box Funding – Producers share creative strategies for getting projects financed.
Making Your Skills Pay: Sustainability – Industry veterans Esther Robinson (ArtHome) and Jenni Wolfson (Chicken & Egg Pictures) focus on making a sustainable living as a documentarian.
Operating in the Grey Area: Legal & Ethical Issues in Documentary Filmmaking – Entertainment attorney and filmmaker Marc H. Simon and others offer advice on navigating legal pitfalls. Co-presented by Cowan, DeBaets, Abrahams & Sheppard LLC.
Successes, Failures & Crazy In-Betweens – Kickstarter's Liz Cook leads a discussion with filmmakers over the ups and downs of funding.
Panelists will continue to be updated on individual panel website pages.