L7: Still Loud, Fast, and Definitely Not Dead
The long-awaited documentary on the rowdy rock heroines makes its world premier at DOC NYC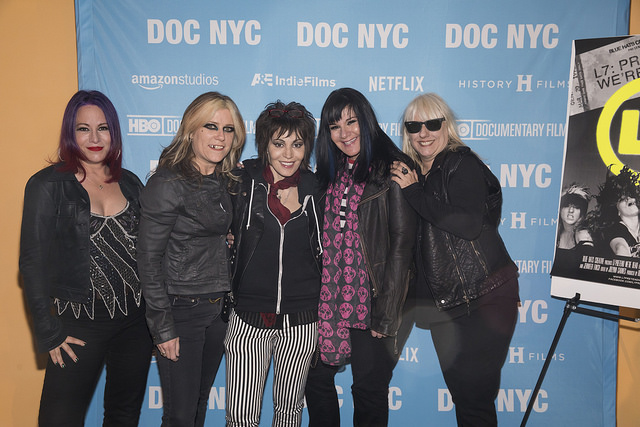 Written by Kate Hoos
How do you best capture the narrative of a larger than life, over the top rock band – a band known for members dropping their pants on live TV, trolling Motley Crue in the studio with naked pictures of men, and who once raffled off a one night stand with their drummer? If you're director Sarah Price, and if the band in question is L7, you tell the story through their own footage, photos, and music, with a generous peppering of interviews from rock luminaries like Krist Novoselic of Nirvana, Joan Jett, and Shirley Manson of Garbage, among many others.
L7: Pretend We're Dead traces the band's push to be seen from their formation in the mid 1980s, thru the heyday of grunge in the 1990s, and to their decline and subsequent breakup in 2001. They were an all female band at a time when it was an anomaly, and they didn't sugar coat anything about themselves or the music. They did not play up sex appeal, says guitarist and vocalist Donita Sparks in the film, "If we were going to be looked at, we were thrashing." Singer and guitarist Suzy Gardner said that women shouldn't have to be sexy to be taken seriously, while bassist Jennifer Finch, who joined the band in 1987, said that attitude was more important than ability, and the band had plenty of that.
As L7 played to bigger and bigger crowds through the first half of the 90s their antics escalated too. Sparks pulled the infamous tampon toss at the 1992 Reading Festival, and the band sent faxes to festival organizers asking "who does L7 have to blow to get on Lollapalooza?" Wit and snark were a common theme throughout but the film made no joke of their raw force and hard hitting music. When director Price was asked in the Q&A afterwards why she wanted to take on this project when the band approached her she said, "I couldn't believe the power coming at me."
In true music-doc fashion, there is plenty of concert footage from the 90s,  plus in-studio footage of L7 recording pinnacle albums like 1992's "Bricks Are Heavy" and 1994's dirtier sounding "Hungry For Stink." While these albums are fan favorites now, they did not chart well or earn the band a big payoff when they were released.  "People assume you're raking in the cash if you're on the cover of Spin magazine," Gardner says in the film, "but unless you sell an insane amount of records, you're just a working stiff at best."
A treat for any die-hard fan, L7: Pretend We're Dead is equally accessible to newer and more casual fans, too. It captures their legacy, their huge and hard rocking sound, and their push to be seen in a massively male-dominated world on their own terms. "They weren't, like 'with the big boys,' the were the big boys," Valarie Agnew of 7 Year Bitch says in the film. When an audience member asked for advice on being in an all girl band, bassist Jennifer Finch quipped, "become lawyers" eliciting laughter from the crowd. But the band did offer some encouragement too. "It's about persistence really," Gardner said. "Don't give up."
After the film and Q&A was over, the band headed across town to the Lower East Side where they played a secret show to a packed house of enthusiastic fans. Ripping thru a mini set of classics like "Shitlist," "Shove," "Andres" and "Fast and Frightening," L7 proved that they are every bit as needed and as relevant as they ever were – and that they still rock just as hard.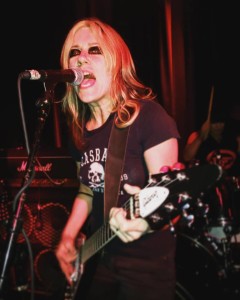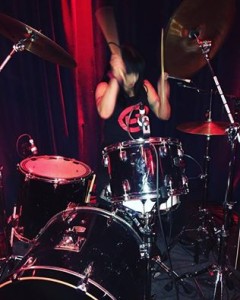 Kate Hoos is a musician, writer, freelance photographer, and social media consultant whose  work has appeared in Bust, Tom Tom Magazine, Homoground, and on countless band websites. She is a member of the organizing committee for the Punk Island Festival and plays guitar in the band Lady Bizness.