Reaching for Infinity with John Coltrane on Closing Night
Chasing Trane traces the power and impact of a Jazz legend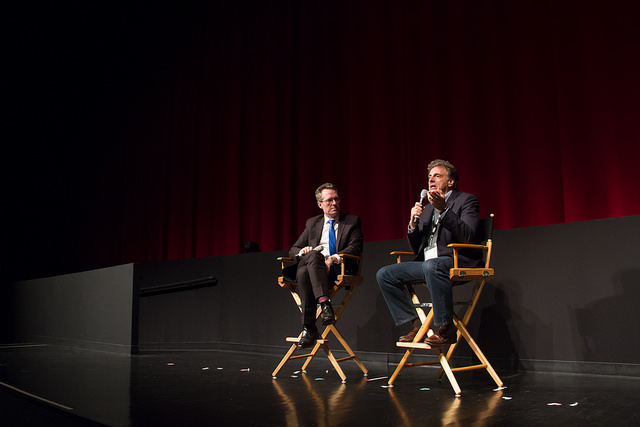 Written by Krystal Grow
"Some people play jazz, some people play reggae or blues. John Coltrane played life." – Carlos Santana in Chasing Trane
John Coltrane's music was truly larger than life. Complex and innovative, it was full of ideas about the afterlife, about the worlds that exist beyond our own, and in its most transcendent moments, gave us a glimpse of them. On DOC NYC's closing night, an elated audience was transported by the power of Coltrane's music, and through the immersive visual storytelling of director John Scheinfeld's Chasing Trane.
Packed with interviews from fellow musicians and Coltrane admirers including Sonny Rollins, Wynton Marsalis, Carlos Santana, President Bill Clinton, John Densmore, Common, and Cornell West, the film takes a non-liner look at not only Coltrane's own difficult upbringing in the segregated South, his struggle with drug use as a working musician, husband, and father, and his deep spirituality and intelligence, but at his unique style and colossal impact on jazz.
"You've got to be touched by some sort of genius to play like Trane and Miles Davis played," Rollins said in the film, giving credit as well to one of Coltrane's early mentors. Inspired by Charlie Parker as a teenager, Coltrane went on to play in some of the most groundbreaking groups in jazz history, cutting his teeth with Dizzy Gillespie, and later with the Miles Davis Quintent. But Coltrane picked up more than he could handle, and as too many jazz greats did, became addicted to heroin. Fired from the quintet, Coltrane fell hard and faced his own mortality. But instead of taking the same path Charlie Parker had, he quit cold turkey and returned to music with a newfound clarity and a mission to "be given the means and privileged to please others though music."
From that point onward, virtually everything Coltrane played pushed the limits of jazz. Clean and revitalized by a spiritual curiosity and a deep sense of purpose, he rejoined Miles Davis, and between sessions for the monumental album Kind of Blue, was working on material for his first opus – Giant Steps.
"It was unprecedented," West says in the film. "It forced all of us to question what was truly innovative."
Soon after those two huge albums were unleashed upon the world, Coltrane left Davis' band, and after much searching and experimentation formed his own band, which allowed him to evolve and expand his already remarkable sound.
"We were there to create beautiful music. We were committed," pianist McCoy Tyner says during an on-screen interview. "We through that what we were doing was a gift from the Almighty – that we were doing what we were put here to do."
Armed with a high caliber band, Coltrane got to work, and in return for his salvation from the demons that nearly destroyed him, summoned A Love Supreme, an album of sweeping spirituality and profound depth. It's the sound of humanity rising up from the ashes of despair and defeat, and proved that music could be so much more that a great tune – it could be a truly religious experience, regardless of which God you pray to. As so many of his fans and friends attest during the film, Coltrane and his music seemed to exist on another, higher level. And while there were always some who couldn't quite grasp the higher ground he was reaching for, those who did were grateful he was going there, because it meant they could go along with him.
Krystal Grow is a photo editor and freelance writer who has written for American Photo, TIME LightBox, LIFE.com, the New York Times Lens blog, Stranger Than Fiction, WIRED, and The Magnum Foundation. She is the DOC NYC Blog Coordinator.