Read what they're saying in the press about DOC NYC!
November 11, 2019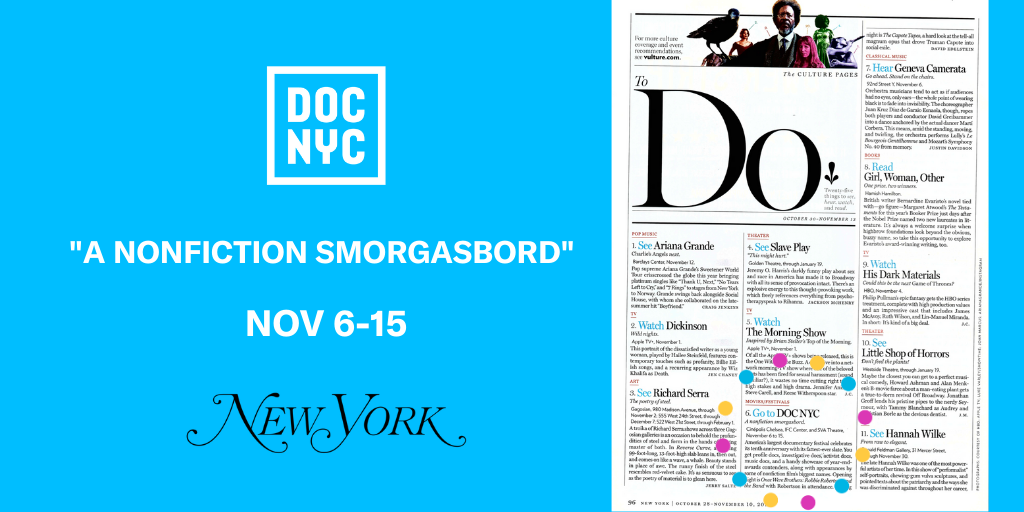 New York Times
"Now in its 10th year, this annual nonfiction smorgasbord is billed as the largest nonfiction film festival in the United States, with 136 features over 10 days (to say nothing of shorts and other events)." — 8 Film Series to Catch in N.Y.C. This Weekend 
New York Post
"Documentaries are having a big moment. Real-life tales have gone from being many a viewer's TV white noise to some of the most anticipated movies of the year. Here in New York, now through Nov. 15, you can watch 135 of them at DOC NYC, the biggest documentary film festival in America." The 4 best documentaries at DOCNYC 
Filmmaker Magazine
"Now in its 10th year (though still in November, AKA doc-tsunami festival month) the upcoming DOC NYC is celebrating the anniversary with a wealth of nonfiction riches. Boasting a whopping 300-plus films and events — including 28 world premieres and 27 US premieres — this year's edition will also be hosting an eclectic array of guests." — Dictators, Predators and Magical Thinkers (and Some Combination Thereof): Doubling Up at DOC NYC 
Variety
"When DOC NYC started a decade ago, documentary film was still seen as something of a novelty. In the ensuing years, non-fiction movies have exploded in popularity with hits such as "RBG," "Free Solo," "Won't You Be My Neighbor" and "Apollo 11" helping to fuel more interest in the genre. "We never could have anticipated the change," says Thom Powers, the festival's co-founder and artistic director. "Fifteen years ago you would not propose to a date that you go and see a documentary film, but now I think you would come off as an impressive date to suggest it."" — Doc NYC Turns 10: How the Festival Benefited From the Rising Popularity of Documentaries 
Vogue
These Middle Eastern Films Have Made it to America's Largest Documentary Festival 
Filmmaker Magazine
"Overwhelming by design — that's the first impression offered by the 2019 edition of DOC NYC, the packed-to-the-rafters non-fiction film event currently underway in New York until November 15. Celebrating its tenth anniversary, the festival boasts over 300 events, including 28 world premieres, an expanded DOC NYC PRO seminar series, and 46 doc works in progress shown to industry attendees." —  Talking the Bigger-than-Ever Tenth Anniversary Edition of DOC NYC 
The Hollywood Reporter
"Kicking off the 2019 festival, which runs through Nov. 15, the event honored five creatives in the documentary world for their various contributions to the medium. In addition to Bognar and Reichert's honors as recipients of the Robert and Anne Drew Award for Documentary Excellence, directors Scorsese and Michael Apted (Coal Miner's Daughter, 7 Up series) were presented with lifetime achievement honors." —  American Factory' Team, Martin Scorsese Honored at DOC NYC Tribute Event 
CBS News
"Non-fiction is the star attraction on screens in New York City beginning today, with the start of the 10th annual DOC NYC, America's largest documentary film festival." — DOC NYC documentary film festival: Real life, both light and dark 
POV Magazine
"A lot has changed in the film industry for documentary in the decade since DOC NYC debuted. The event, which has grown to become the USA's largest documentary festival, marks its tenth anniversary this year." — DOC NYC Marks Ten Years of Celebrating Non-Fiction
New York Daily Times
"The film, directed by veteran documentarian Geeta Gandbhir, illustrates just how devastating that web of challenges can be for students like Peters." — New documentary from ex-CNN anchor Soledad O'Brien tells stories of NYC CUNY college students experiencing hunger, homelessness 
Art of Progress
"As always, there is a multitude of worthy films from all over the world, in myriad styles, about almost every conceivable subject. Individual portraits include the founder of the World Toilet Organization (Lily Zepeda's Mr. Toilet: The World's #2 Man); an innovative and iconic punk performer (Beth B's Lydia Lynch: The War Is Never Over), and a revered Abstract Expressionist painter (Dennis Scholl's Lifeline: Clyfford Still), plus many others." — Happy Anniversary, DOC NYC! 
Forbes
"Ten years ago, Thom Powers and Raphaela Neihausen founded DOC NYC, America's largest documentary film festival. The festival, which just announced its lineup, celebrates its tenth anniversary this year and will run from November 6 to 15 at the IFC Center in New York City's Greenwich Village, and the SVA Theatre and Cinépolis in Chelsea. While DOC NYC is the highlight of the NYC culture calendar every year, this year's lineup is the festival's biggest ever, with over 300 films and some very eclectic special events. The lineup boasts of 36 feature-length documentaries, 28 world premieres, 27 North American premieres, and 59 NYC premieres." — DOC NYC Turns 10 And Announces Its Biggest Lineup Ever
Criterion Cast
"The year's biggest documentary festival is set to begin this week, and thankfully we're here to give you a little glimpse into what this year's DOC NYC Festival has to offer. It's one of the better slates in recent memory, so here are just a few of this year's highlights, and films you need to keep real focus on going forward into "Best Of The Year" season" — DOC NYC 2019 PREVIEW: TEN FILMS TO SEE AT THIS YEAR'S FESTIVAL 
Indiewire
"Mulvad's insightful doc picks up just as the trio are making their escape to Turkey, complete with Sahand furiously packing the few belongings he can manage, all while telling the camera that he's "not sure if, tomorrow, I'll be dead or alive."" —  'Love Child' Review: This Refugee Survival Story Is One of the Most Absorbing Dramas of the Year 
Hyperallergic
"DOC NYC is America's last big documentary festival of the year, a showcase for some of the year's best nonfiction filmmaking." — 2019's Best Documentaries Come Together for a Week in NYC 
WNYC
"For its 10th year running, the annual DOC NYC Film Festival is showcasing more than 130 feature-length documentaries, as well as short films and panels featuring filmmakers and their subjects." — DOC NYC Festival Celebrates Its 10th Year With A Full Docket Of Documentaries 
The Independent
"Three downtown theaters. 15 screens. 10 days. Three hundred movies and events. Holy moly. It's the 10th anniversary of America's largest documentary festival. Some of the best—The Apollo, Honeycomb and Midnight Family, plus shorts like In the Absence and Learning to Skateboard In A Warzone (If You're A Girl)—have already been this viewer's favorites in previous New York festivals, and are getting encore showings. DOCNYC.net will tell you more that you ever wanted to know." — DOC NYC Film Festival Nov. 6-15 – Critic's Choices
New York Magazine
"America's largest documentary festival celebrates its tenth anniversary with its fattest-ever slate. You get profile docs, investigative docs, activist docs, music docs, and a handy showcase of year end award contenders, along with appearances by some of nonfiction film's biggest names." 14 Great Things to Do in New York 
Playbill
DOC NYC 2019 Lineup Includes On Broadway, Highlighting A Chorus Line and Hamilton 
Brooklyn Vegan
"It's the 10th anniversary of the festival and features its biggest slate ever with 28 world premieres, 27 US premieres and over 300 films and events." — DOC NYC fest 2019 lineup: Lydia Lunch, The Band, 'The Apollo,' & more