The New Cuban Revolution
Jon Alpert and Sheila Nevins on Mariela Castro and the fight for LGBT rights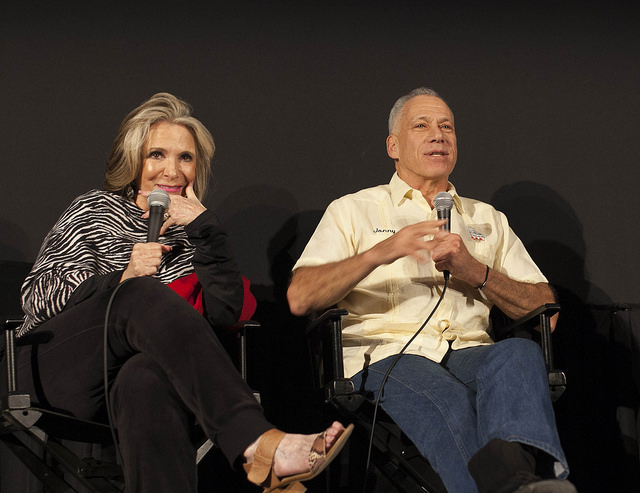 Written by Susan Keyloun
It was a full house on Tuesday as DOC NYC's Artistic Director Thom Powers introduced the world premiere of Mariela Castro's March: Cuba's LGBT Revolution, which immediately preceded the festival's much-anticipated Keynote Conversation between the film's director and Downtown Community Television (DCTV) co-founder Jon Alpert, and esteemed collaborator Sheila Nevins, President of HBO Documentary Films.  The conversation came on the heels of Alpert receiving The Lifetime Achievement Award at DOC NYC's Annual Visionaries Tribute on Nov 12.   During the keynote, Alpert and Nevins, colleagues and old friends, jokingly sparred and often praised each other while recalling the travails of pitching, green-lighting and making documentary films.
Alpert spent 3 years making Mariela Castro's March, which is dedicated to filmmaker Saul Landau who had the initial idea for the documentary.  It follows Mariela Castro (often with husband Juan by her side) in her quest to lead the LGBT movement in present-day Cuba.  Throughout her travels in central and rural Cuba, crowds scream her name and cheer her on – not because she is the daughter of Raúl and niece of Fidel – but because of her tireless support of LGBT issues and equal rights.  Ms. Castro was the first ever member of Cuba's Parliament to vote "no" on an equal rights initiative because it did little to support those with HIV or gender identity issues.
The documentary also touches on the personal stories of some in the LGBT community in their daily struggle to live as gay and transgender in a society they themselves describe as closed and unaccepting. At Cuba's National Center for Sex Education (which Ms. Castro heads up), one gay man describes in a support group, the daily torture he endured in a gay concentration camp, and his wish for an apology from the government.
Apert noted "Fidel has officially apologized for their homophobic policies.  Raúl hasn't done that in public.  He's told Mariela in private that he's proud of what she's doing, and that she's moving too fast, but he's supporting her."  Also in attendance was noted playwright, author and LGBT activist Larry Kramer, who stood up from the audience after the keynote to exclaim, "It is very important…that you show this film on every TV set in every country, to shake people up like nothing else can. You have done a magnificent service."
Susan Keyloun has been published in New York Magazine, The New York Times, and DOCNYC blogs.  She has also worked with DOCNYC as featured photographer.