DOC NYC announces "Only In New York" Lineup
October 26, 2018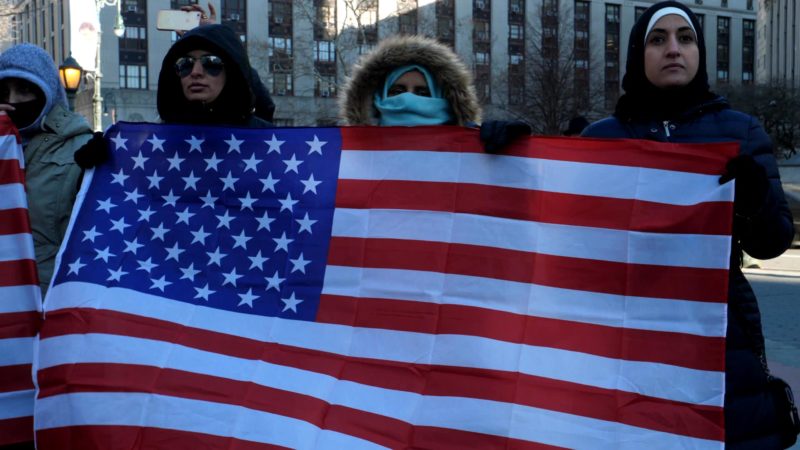 (Image: American Muslim)
DOC NYC announced the lineup of 42 work-in-progress documentaries chosen from submissions to participate in the "Only in New York" roundtable meetings with industry professionals and mentors. Over the course of four days (Nov. 12-15), the filmmakers will network with financiers, producers, sales agents, distributors, festival programmers and other mentors at the DOC NYC PRO conference that runs concurrently with the festival.
Only in New York is co-presented by SHOWTIME® Documentary Films for the second year.
"We call these meetings 'Only in New York' because of this city's unique concentration of decision makers," said DOC NYC PRO producer Eric Johnson. "We're excited by the artistic and commercial potential of these projects and want to help make the connections that allow them to realize their full potential."
Companies who are sending representatives to take meetings at Only in New York include A&E IndieFilms, Cinetic Media, Discovery, EPIX, HBO Documentary Films, Hulu, Imagine, Impact Partners, Motto Pictures, Neon, New York Times Op-Docs, WNET and others.
FULL LIST OF "ONLY IN NEW YORK" PROJECTS
American Dreams
American Dreams follows a displaced factory worker in Ohio, a Kansas farmer facing foreclosure, and a laid off mortgage processor turned Uber driver in Florida — providing an immersive view of middle class families on the brink.
Directed by Sarah Colt and Josh Gleason
Produced by Josh Gleason
American Muslim
American Muslim follows five diverse Muslim Americans in New York City as they navigate a changing world since the 2016 election. The film chronicles the Muslim Ban and pushback against it, while creating intimate portraits of five distinct lives.
Directed by Adam Zucker
Produced by Adam Zucker
Anonymous Sister
When her mother and sister battle chronic pain and become severely addicted to prescription opioids, director Jamie Boyle begins a sweeping examination of America's largest drug epidemic and her family's journey into it.
Directed by Jamie Boyle
Produced by Jamie Boyle, Marilyn Ness, Summer Damon, Molly Kaplan
Brooklyn, Inshallah
Trump's America: In a historic first, a Palestinian American runs for New York City Council declaring that the Arab community can be silent no more.
Directed by Ahmed Mansour
Produced by Ahmed Mansour, Seth Morrison, Marcia Rock, Hannes Hosp
Can You Bring It: Bill T. Jones and D-Man in the Waters
Can You Bring It traces the remarkable story of how a celebrated work of art from the age of AIDS revitalized two disparate communities, 30 years apart, both struggling to make sense of the plagues of their generations.
Directed by Tom Hurwitz and Rosalynde LeBlanc
Produced by Rosalynde LeBlanc
Caravan
A seafaring tale about an anarchist theatre company attempting to disrupt the capitalist system. When their 90 foot tall-ship is pursued by border officials, what begins as an offbeat road film becomes an epic story of community, performance, and love.
Directed by Ryan Scafuro
Produced by Ryan Scafuro
The City Dream
This vérité film follows a serial of conflicts and compromises between the urban management officers and an aging fruit vendor who takes advantage of public streets to do his business in Wuhan, the biggest city in Central China.
Directed by Weijun Chen
Produced by Zhu Cheng, Nianwen Dai
Civil War (or, Who Do We Think We Are)
When we say "we the people" who do we mean by we? Civil War explores how America remembers the Civil War and what the stories we tell reveal about who we are. A stunning portrait of contemporary society and our persistent conflicts within.
Directed by Rachel Boynton
Produced by Rachel Boynton, Erika Dilday
*Selected for Pitch Perfect
Darkness Shining
Compassion and acceptance encounter America's oldest vice in a Minneapolis wet house, a harm reduction facility for alcoholics who can't stop drinking.
Directed by Benjamin May
Produced by Daniel Levin, Michael Forstein, Annemarie Lawless
Digging for Weldon Irvine
Weldon Irvine Jr. faced generational depression long enough to make an indelible mark on jazz, hip hop & civil rights before succumbing to suicide in 2002. This film is narrated by Irvine himself, via 40 years of taped conversations he left behind.
Directed by Victorious De Costa
Produced by Victorious De Costa, Joseph Cavaseno,  Alyxandra Baranow, Evan Mascagni
The Dilemma of Desire
The Dilemma of Desire explores the clash between the external power of gender politics and the equally powerful imperative of female sexual desire. How different would the world look if women's libidos were taken as seriously as men's?
Directed by Maria Finitzo
Produced by Cynthia Kane, Diane Quon
The End of Our War
Yurluey is a FARC rebel commander: a woman with power, fighting for 20 years from Colombia's jungles. But after the guerrilla lay down arms in a peace deal, she becomes a nobody, and must reinvent herself to join the society she rejected.
Directed by Bruno Federico and Nadja Drost
Produced by Nadja Drost and Bruno Federico
Exposure
An all-women polar expedition, with team members from across the West and the Middle East, ski across the rapidly dwindling sea ice of the Arctic Ocean in this story of faith, resilience and global citizenry.
Directed by Holly Morris
Produced by Holly Morris, Michael Kovnat, Eleanor Wilson
*Selected for Pitch Perfect
Far From the Nile
Musicians from countries along the Nile River collaborate to shed light on Africa's water issue: This is The Nile Project. On their 2017 U.S. tour, they struggle to work through differences and find common ground. Will the power of music transcend?
Directed by Sherief Elkatsha
Produced by Sherief Elkatsha, Chris McElroen
Float
In the ultra-competitive indoor sport of elite, stunningly-designed model airplanes, a wild-card newcomer threatens to knock a teammate off his world champion throne.
Directed by Phil Kibbe
Produced by Ben Saks, Laura Heberton
Hart Island
On a desolate island ten miles North of Manhattan, inmates from Riker's Island Jail bury the unclaimed and unidentified dead of New York City. Now, the families of the descendants are demanding greater access to this prison for the dead.
Directed by Erik Spink
Produced by Erik Spink, Amitabh Joshi
*Selected for Pitch Perfect
The Invisible Shore
For the past five years, the film followed the career development and family life of Chuan Guo, the first Chinese man to take on a solo non-stop circumnavigation, who has been missing for two years, trying to understand the weight of a man's vision.
Directed by Qi Zhao
Produced by Zhu Cheng
Kids Can Spit
A Brooklyn teen finds his voice through crafting hip-hop verses made exclusively of elements from the periodic table. But the greatest pressure comes from home with his mom who has high expectations for him in a science-rap competition, and in life.
Directed by Chelsi Bullard
Produced by Chelsi Bullard, Hima B.
*Selected for Pitch Perfect
Los Hermanos/The Brothers
Long separated by geopolitics, two brothers, virtuoso Cuban-born musicians, long to collaborate. After 30 years, a historic diplomatic shift jumpstarts their first U.S. tour, but Trump's election and Castro's death soon threaten their dreams.
Directed by Marcia Jarmel, Ken Schneider
Produced by Marcia Jarmel, Ken Schneider
*Selected for Pitch Perfect
Maurice Hines: Bring Them Back
Maurice Hines, a charming, gay African-American entertainer navigates the complications of age and race in show business while grieving the loss of his often-estranged younger brother, tap dance legend Gregory Hines.
Directed by John Carluccio
Produced by John Carluccio, and Tracy E. Hopkins
Messiahsez
A feature-length documentary about an absurdist internet persona and the search for genuine human connection.
Directed by Adam Pogoff
Produced by Dara Messinger
The Moment of Truth
The untold story behind the most iconic image of the Vietnam War raises pertinent questions regarding our visual literacy and the power of images to deceive, to illuminate, and to affect the way we understand the world.
Directed by Douglas Sloan
Produced by Douglas Sloan, Bao Ngyuen
The New Bauhaus
A revealing visual and narrative odyssey through the life and legacy of Bauhaus master László Moholy-Nagy, this feature documentary focuses on his time as founding director of the influential New Bauhaus school of design in 1930s and 40s Chicago.
Directed by Alysa Nahmias
Produced by Petter Ringbom, Erin Wright, Alysa Nahmias
North By Current
Trans filmmaker Madsen Minax returns to his rural Michigan hometown following the mysterious death of his infant niece and the subsequent arrest of his brother-in-law as the culprit.
Directed by Madsen Minax
Produced by Felix Endara
Not In My Mother's House
A young, queer Muslim woman's decision to come out after the Orlando shooting is muddled due to her religious mother's silent disapproval.
Directed by Sandra Itäinen
Produced by Sandra Itäinen, Chelsi Bullard
Nothin' No Better
Nothin' No Better is a series of cinematic portraits, each one a glimpse into the life and perspective of a different member of the community of Rosedale, in the Mississippi Delta region.
Directed by Ben Powell, Bo Powell
Produced by Ben Powell, Dave Schachter
Other Music
An uncompromising independent Manhattan record store that was vital to NYC's 1990s and 2000s music scene is forced to close its doors after 20 years.
Directed by Puloma Basu, Rob Hatch-Miller
Produced by Puloma Basu, Rob Hatch-Miller
The Pink Waves
The Pink Waves follows six New Jersey women and one man, Democrats, Republicans, and Greens outraged by Trump's election, and compelled to run for office. None of them has done this before​; ​all are determined to make a difference.
Directed by Jill Campbell
Produced by Jill Campbell, Gregory Gerhard and Suzanne Bultmeyer
*Selected for Pitch Perfect
Pretty Ugly – The Story of the Lunachicks
NYC's most legendary group of punk rock heroines, Lunachicks formed as teens and grew a worldwide cult following in the 1990s, inspiring generations of women with their musical chops, Spinal Tap-like antics, and raw defiance of the sexist status quo.
Directed by Ilya Chaiken
Produced by Ilya Chaiken
The Rabbi Goes West
A young Hasidic rabbi from Brooklyn brings his brand of evangelical Judaism to the American west. As he travels across Montana, he confronts threats to Jews from neo-Nazis, and also objections to his preachings from other rabbis in the state.
Directed by Gerald Peary and Amy Geller
Produced by Amy Geller
Run DND: Mayor David N. Dinkins
Run DND is about the historic 1989 campaign and tenure of Mayor David N. Dinkins, the first African American mayor of New York City – the city's 106th mayor.
Directed by Laura Hart
Produced by Nina Streich
Scrap
Discover the vast and strangely beautiful places where things go to die and meet the people who collect, restore, and recycle the world's scrap.
Directed by Stacey Tenenbaum
Produced by Stacey Tenenbaum
Sisters On Track
A New York coming of age story about hope, sisterhood and belonging as the three young homeless sisters Tai, Rainn and Brooke race against all odds and circumstances towards a brighter future.
Directed by Corinne van der Borch, Tone Grøttjord-Glenne
Produced by Anita Rehoff-Larssen
Socialism: An American Story (working title)
A feature documentary about the resurgence of socialism in the United States.
Directed by Yael Bridge
Produced by Yael Bridge, Jessie Deeter
Streetcar to Kolkata (working title)
A woman travels from New Orleans to India seeking her grandfather's village. In the 1890s, these Muslim men came to the U.S., marrying African American women here. Crossing divides, a granddaughter of this cultural tangle regains her lost family.
Directed by Kavery Kaul
Produced by Kavery Kaul
Taking Venice: The Rauschenberg Factor
Taking Venice is a little-known Cold War heist, a game of art and politics to steal the crown of European culture at the 1964 Venice Biennale. At the heart of the film is artist Bob Rauschenberg's journey towards political and personal awakening.
Directed by Amei Wallach
Produced by Vanessa Bergonzoli, Ruth Charny, Andrew Mer, Yanina Valdivieso
TransStory
A transgender man and a trans woman in their early forties fall in love. After years of looking for a supportive environment, they finally find comfort and support in each other and are ready to start the process of gender transition.
Directed by Matylda Kawka
Produced by Matylda Kawka, Marcin Kapron
Untitled Tom Wilson Documentary
The late Tom Wilson is an overlooked architect of modern music. A genre-jumping genius, Wilson brought us Cecil Taylor, Bob Dylan's "Like a Rolling Stone", The Velvet Underground, and much more. Yet why is his name not more widely known?
Produced by Marshall Crenshaw, Gigantic Pictures
Up For Debate
Up For Debate, a vibrant new doc series, steps inside the NYC Urban Debate League. Engaged middle and high school teens tackle controversial topics, preparing for both sides of arguments and learning that real debate is about listening – not winning.
Directed by Judy Lieff
Produced by Judy Lieff
Uproot
Hector Vargas wants to save endangered primates in Yasuní national park, one of the world's last high-biodiversity forests on earth, but oil extraction, recently approved by Ecuador's government, has gotten in the way.
Directed by Émilie Martel
Produced by Laurence Mathieu-Léger, Ebyan Bihi
Warrior for Peace and Justice: Barbara Lee's Unapologetic Voice
This is the story of Representative Barbara Lee, a steadfast voice for human rights, peace and economic justice in the U.S. Congress, who was the lone voice in opposition to the broad authorization of military force after the September 11th attacks.
Directed by Abby Ginzberg
Produced by Abby Ginzberg
The Weirdest Boner
A dog. A house. A spouse. A thriving small business: manufacturing sex toys that create the experience of being inseminated by extraterrestrials. This is the story of a Native American gentleman named Lone Wolf, who embodies the American Wet Dream.
Directed by Josh Johnson
Produced by Dor Dotson, Josh Johnson
Get your DOC NYC tickets and passes now!