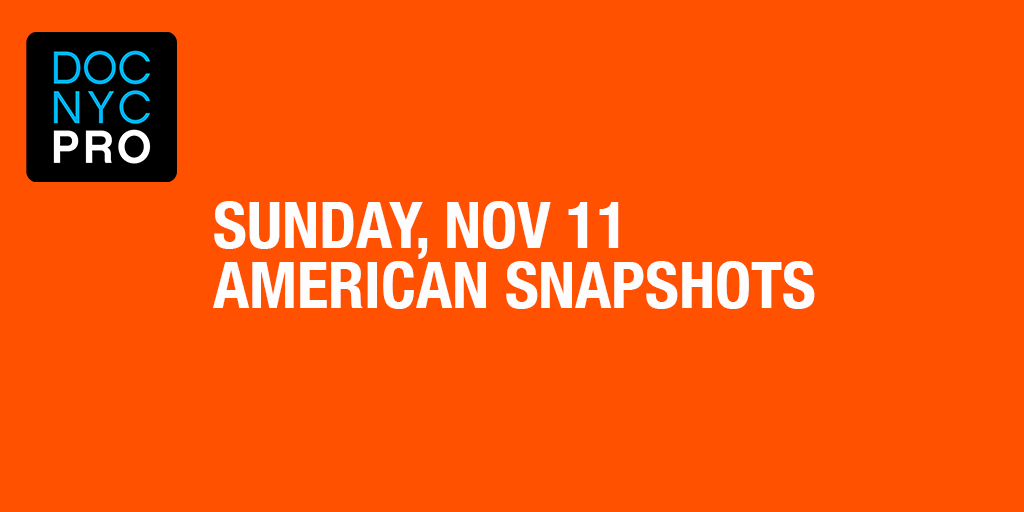 DOC NYC PRO: AMERICAN SNAPSHOTS

Available for selection by these badge holders: All Access, DOC NYC PRO Gold Pass, DOC NYC PRO Silver Pass, DOC NYC PRO Bronze Pass. To buy a pass click here.
Each day of the 2018 festival features two distinct, subject-themed programming tracks for DOC NYC PRO. Each programming track has its own set of panels. To reserve a spot to any panel in advance, passholders must click the title of the individual panel below and make their redemption selection.
Morning Manifestos are not ticketed and are open to all DOC NYC passholders on a first-come, first-served basis.
DOC NYC PRO is co-presented by Amazon Studios.
Dive into discussions of prominent themes in the current American discourse, including race, gender, politics, religion and free speech, and how documentary films can offer a window into America in 2018.
BREAKFAST 9:00AM- 10:00AM Open to all badge holders.
MORNING MANIFESTO 10:00AM-10:25 AM
Jeff Orlowski, the director of Chasing Coral and Chasing Ice is known for his stunning cinematography. Hear how he captures such incredible images. Open to all badge holders on first-come basis.
JOURNALISM UNDER FIRE 10:45AM-11:45AM
Billy Corben (Screwball), June Cross (Wilhemina's War), Jennifer Deschamps (Inside Lehman Brothers) and Louise Story (Wall St. Journal, The Kleptocrats) lead a discussion on documentary journalism best practices and how filmmakers should, and need to, push back on false claims against their work.
SPECIAL EVENT: OUR GOLDEN AGE OF DOCUMENTARY 12:00 PM-1:15PM
Filmmakers Stanley Nelson (Black Panthers: Vanguard of the Revolution) and Rachel Grady (One of Us) join distributors Tom Quinn (Neon) and Christine Kecher (A+E Networks) to discuss art, impact and reaching an audience. Moderated by Thom Powers. *Held at SVA Theatre 2
DECADE OF FIRE: ACTIVATION AND ACCOUNTABILITY 2:15PM-3:15PM
Working Films and Ford Foundation present an interactive conversation featuring Decade of Fire co-director Vivian Vazquez and impact producer Julia Steele Allen, CASA director Sheila Garcia and Ford Foundation's Jerry Maldonado to discuss the ecology of partnerships needed to activate a film. Moderated by Working Films c0-director Anna Lee. Co-presented by JustFilms | Ford Foundation
ORDINARY AMERICANS, EXTRAORDINARY SUBJECTS: 3:45PM-4:45PM
Sabrina Schmidt Gordon (Quest), Ashley York (Hillbilly) and Julie Getz (Care to Laugh) speak about getting to the emotional heart of your subjects and your film. Moderated by Kristin McCracken. Co-presented by Hulu.
HAPPY HOUR 5:00PM-6:00PM
Co-presented by Lexus

The full schedule of 2018 PRO programs can be found here.