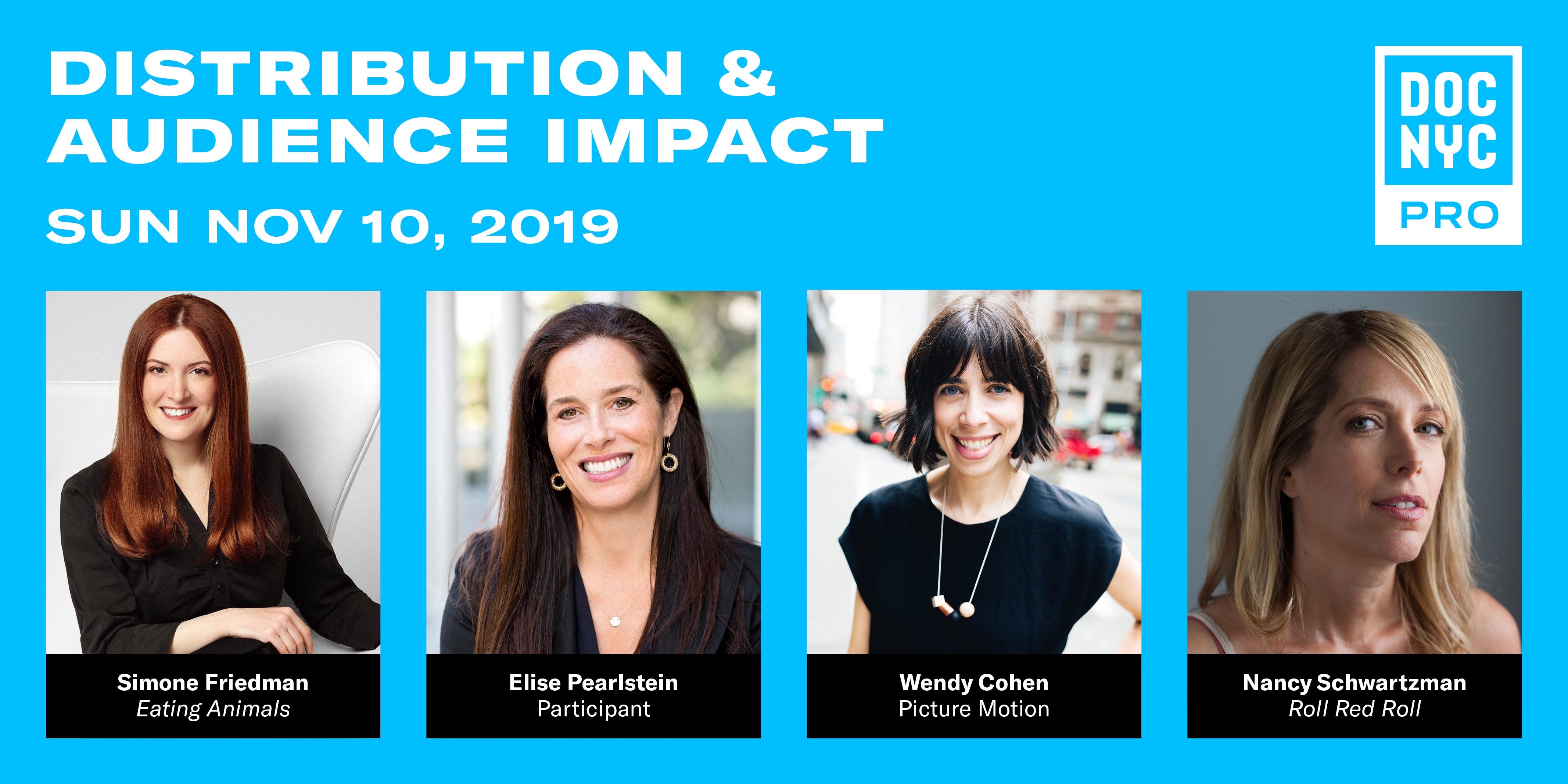 DOC NYC PRO: DISTRIBUTION AND AUDIENCE IMPACT
To experience the DOC NYC PRO lineup, purchase an individual PRO Themed Pass to hone in on a specific subject, or benefit from discounted pricing when you purchase Multi-Pass Packs to an assortment of topic strands. Or, buy an All Access Pass, which also includes admission to all festival screenings. Purchase passes here.
DOC NYC PRO is co-presented by Kanopy.
Representatives from leading funders, distributors, and outreach coordinators join filmmakers to discuss the latest thinking in audience impact.
9:00 AM – 10:00 AM Breakfast
10:15 AM – 11:25 AM How to Execute a Theatrical Hit
NEON had a stellar year releasing theatrical documentaries with Apollo 11 earning over $9 million, two films Amazing Grace and The Biggest Little Farm each earning over $4 million, plus the boutique release of Honeyland. NEON execs including Dan O'Meara and Elissa Federoff discuss with moderator Joshua Handler (ASG Global) how they specialize campaigns.
11:45 AM – 12:55 PM Impact Case Studies: Eating Animals and Roll Red Roll
Reaching an audience and making an impact requires a multi-faceted and flexible strategy. We get into the details with Nancy Schwartzman (Roll Red Roll) and Christopher Quinn (Eating Animals) and their teams in focused case study discussion. Moderated by Sarah Mosses (Together Films).
Co-presented by EJF Philanthropies
1:45 PM – 2:55 PM Impact Strategy: From Funding to Distribution
When a film fundraises for impact it requires a strategy to execute a distribution plan. This panel explores opportunities and challenges for fully integrating an impact campaign with traditional distribution. The speakers span multiple perspectives from the worlds of funding (Elise Pearlstein, Participant), impact strategy (Wendy Cohen, Picture Motion), and distribution (Neal Block, Magnolia Pictures). Discussion moderated by Patricia Finneran, Director of Development and Partnerships at Doc Society.
Co-presented by Participant
3:15 PM – 4:25 PM Kanopy Shares Its Numbers
Kanopy Shares Documentary Audience Insights
Kanopy serves a vibrant university and public library audience of documentary lovers that is unique among streaming platforms. Ryan Wilkins, Kanopy's Sr. Marketing Analyst, will share data insights into how their worldwide audience has evolved with documentaries over the last 10 years, both on the Kanopy platform and within the wider distribution ecosystem. Thom Powers, DOC NYC's Artistic Director, will interview Vanessa Gould, the filmmaker behind one of Kanopy's top-performing docs, Obit, and deep-dive with Kanopy's founder Olivia Humphrey into the film's performance both on Kanopy and beyond since it's 2019 launch.
Co-presented by Kanopy
4:30 PM – 5:30 PM Happy Hour co-presented by Cinépolis Luxury Cinemas
Join us in the PRO Lounge to gather with fellow attendees and panelists to discuss the day.
See the full schedule of 2019 PRO programs or
Purchase passes here.