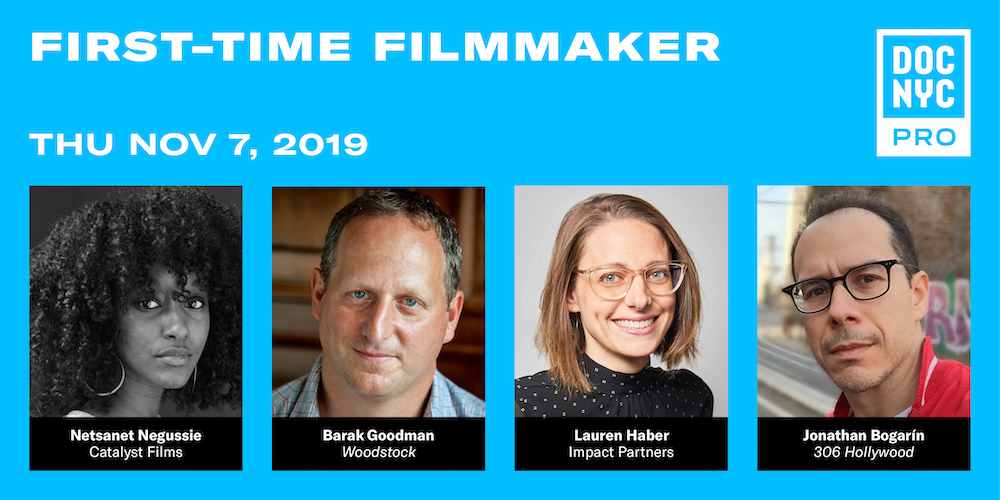 DOC NYC PRO: FIRST-TIME FILMMAKER
To experience the DOC NYC PRO lineup, purchase an individual PRO Themed Pass to hone in on a specific subject, or benefit from discounted pricing when you purchase Multi-Pass Packs to an assortment of topic strands. Or, buy an All Access Pass, which also includes admission to all festival screenings. Purchase passes here.
DOC NYC PRO is co-presented by Kanopy.
Seasoned experts unpack fundamental filmmaking elements of story development, assembling a team, financing and distribution.
9:00 AM – 10:00 AM Breakfast
10:00 AM – 11:10 AM Developing Your Story
How do filmmakers test their story concepts before starting a project? What do you need to analyze about characters, access, archival and narrative arc? Hear from Lauren Haber (Impact Partners), Netsanet Negussie (Catalyst Films) and Malika Zouhali-Worrall (Thank You For Playing), moderated by filmmaker Lizzie Gottlieb (Today's Man)..

11:30 AM – 12:40 PM Building Your Team
How do you attract and retain the best talent for your team? How do you develop authority as a first time filmmaker when working with more experienced veterans? How do you manage varying roles of full-time, part-time and consulting collaborators? Panelists: Barak Goodman (Woodstock: Three Days That Defined a Generation), Nick Ravich (Art21), Rose Vincelli Gustine (SVA MFA Social Documentary), moderated by Cynthia Kane (GBGG productions).
1:30 PM – 2:40 PM Funding an Independent Documentary
Grants, crowd-funding, and investments each require specialized approaches. Hear strategies from filmmakers who have been through it before. Panelists: Chelsi Bullard (On The Ledge), Emma Francis-Snyder (Takeover!), Leah Warshawski (Big Sonia), moderated by film funding strategist Tracie Holder.
3:00 PM – 4:10 PM Distribution Case Study: 306 Hollywood
306 Hollywood is a personal documentary that won acclaim at Sundance and many festivals. But the first-time filmmakers had to lead their own distribution and impact campaign. 306 Hollywood producer/director Jonathan Bogarín and team talks to filmmaker and D-Word founder Doug Block about lessons from the experience.
4:30 PM – 5:30 PM Happy Hour
Join us in the PRO Lounge to gather with fellow attendees and panelists to discuss the day.
See the full schedule of 2019 PRO programs or
Purchase passes here.
">