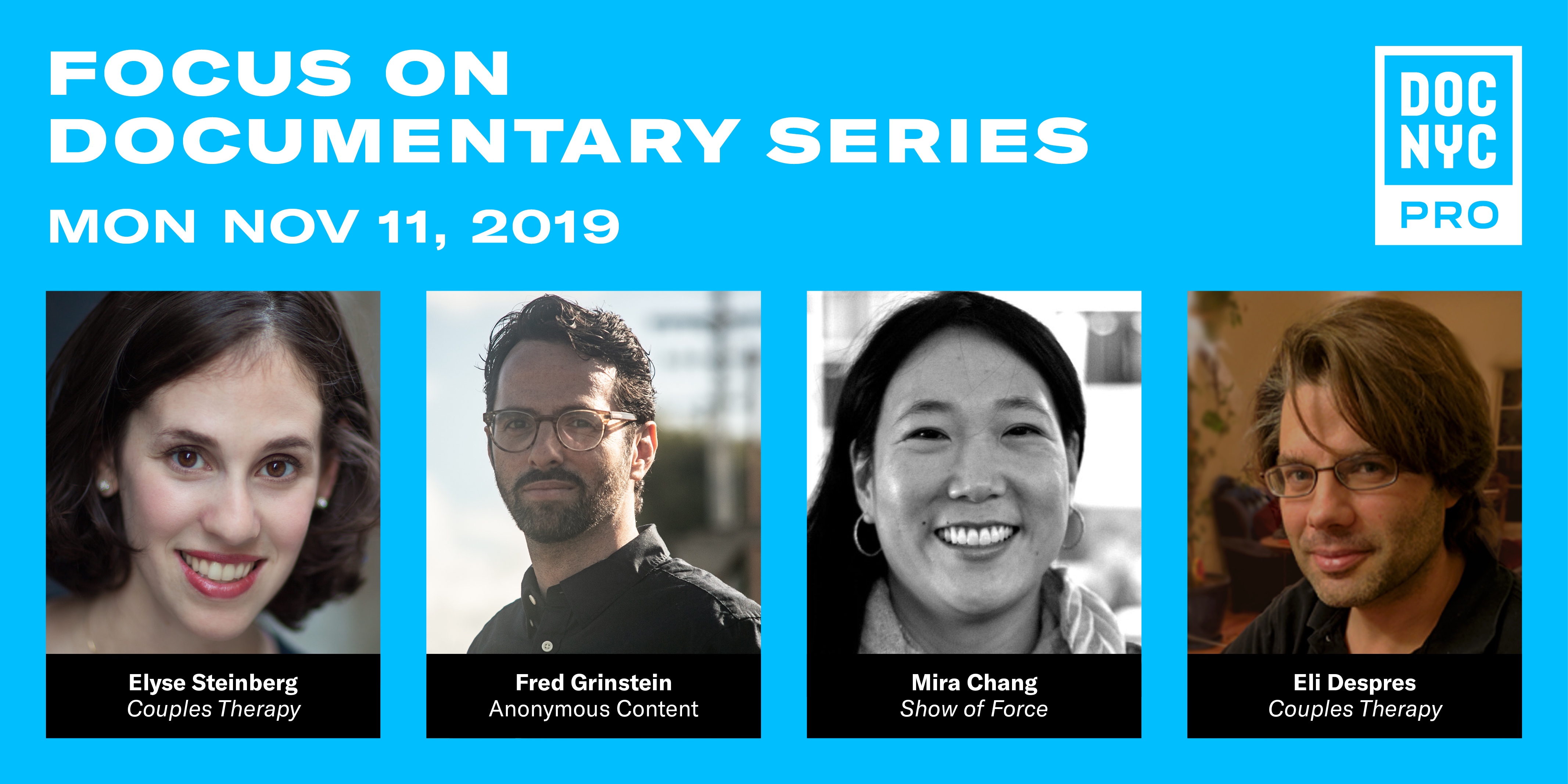 DOC NYC PRO: FOCUS ON DOCUMENTARY SERIES
To experience the DOC NYC PRO lineup, purchase an individual PRO Themed Pass to hone in on a specific subject, or benefit from discounted pricing when you purchase Multi-Pass Packs to an assortment of topic strands. Or, buy an All Access Pass, which also includes admission to all festival screenings. Purchase passes here.
DOC NYC PRO is co-presented by Kanopy.
Documentary series are a burgeoning area of nonfiction filmmaking. Gain insights into developing, pitching and production from experts in the field, including a case study of the hit series Couples Therapy.
9:00 AM – 10:00 AM Breakfast
10:00 AM – 11:10 AM Developing Your Series
How do you develop a nonfiction series and what makes it different from a feature project? Learn what works from producers and showrunners including Mira Chang (Soundtracks: Songs That Defined History, DOC NYC 2018), Libby Geist (ESPN Films), Rebecca Teitel (TIME Studios) and Leah Natasha Thomas (America Divided). Moderated by Cynthia Kane (GBGG productions). 
11:30 AM – 12:40 PM Case Study: The Case Against Adnan Syed (HBO)
We go behind the scenes of The Case Against Adnan Syed with director Amy Berg, producer Ruchi Mital, executive producer Rabia Chaudry, animation director Sara Gunnarsdottir and editor Alex Keipper, revealing the creative tactics employed to weave past and present, and examine the issues covered in the series that resonate today. Moderated by Thom Powers.
1:30 PM – 2:40 PM Pitching Your Series
What makes a winning pitch for a documentary series? What do you need in place in terms of access, story and creative team? Do you need an agent or how do you secure the attention of production partners? What are the best ways to present your project? Mira Chang (Show of Force) leads discussion with panelists Fred Grinstein (Anonymous Content), Gena Konstantinakos (Topic) and Adam Neuhaus (ESPN Films).
3:00 PM – 4:10 PM Case Study: Couples Therapy
Showtime's new series Couples Therapy was must-see television for its sensitive handling of intimate subject matter. Filmmakers Eli Despres and Elyse Steinberg (on the 2016 DOC NYC Short List for Weiner) reveals the making of this compelling series. Moderated by Eric Johnson, Director of Programming at Lighthouse International Film Festival.
4:30 PM – 5:30 PM Happy Hour co-presented by the Consulate General of Canada in New York
Join us in the PRO Lounge to gather with fellow attendees and panelists to discuss the day.
See the full schedule of 2019 PRO programs or
Purchase passes here.