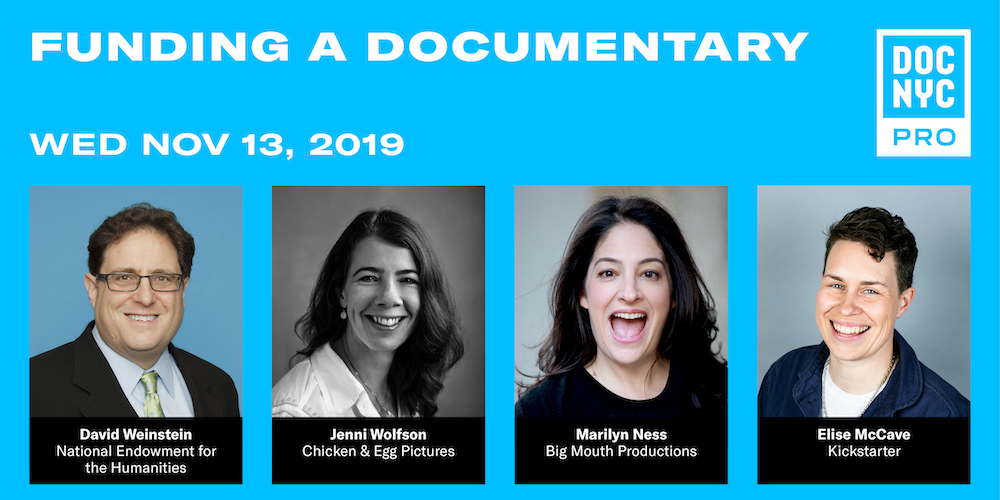 DOC NYC PRO: FUNDING A DOCUMENTARY
To experience the DOC NYC PRO lineup, purchase an individual PRO Themed Pass to hone in on a specific subject, or benefit from discounted pricing when you purchase Multi-Pass Packs to an assortment of topic strands. Or, buy an All Access Pass, which also includes admission to all festival screenings. Purchase passes here.
DOC NYC PRO is co-presented by Kanopy.
Funding sources for documentaries have never been more diverse. Gain insights into grants, equity, crowdfunding and production deals.
9:00 AM – 10:00 AM Breakfast
10:00 AM – 11:10 AM Funder + Filmmaker Relationships
Moderated by film funding strategist Tracie Holder, our panel of filmmakers and funders including Nausheen Dadabhoy (An Act of Worship), Maia Harris (GI Jews: Jewish Americans in WWII), Jenifer McShane (Ernie & Joe: Crisis Cops, DOC NYC 2019 Premiere), Kat Vecchio (Fork Films), David Weinstein (National Endowment for the Humanities), and Jenni Wolfson (Chicken & Egg Pictures) discuss how best to engage with a funder to foster collaborative relationships.
11:30 AM – 12:40 PM Co-Productions & Pre-sales
We look at what's happening with pre-sales, co-productions and production financing as it interacts with sales and managing your films rights for North American and world sales. Entertainment Attorney Stephen Darren Holmgren leads discussion with Matthew Burke, Director of Sales at Submarine and Louise Rosen, consultant and international sales agent.
1:30 PM – 2:40 PM Documentaries and Investment: A New Frontier
Investments have emerged as a more common component of the financing landscape, providing both a major opportunity and unique set of challenges for independent documentary filmmakers. In discussion led by Marilyn Ness (Big Mouth Productions), panelists Katy Drake Bettner (Raise Hell: The Life & Times of Molly Ivins), Yael Melamede (SALTY Features), producer Josh Penn (Beasts of the Southern Wild), Jenny Raskin (Impact Partners) and attorney Karen Shatzkin explore common forms of investment in documentaries, key elements of agreements to consider (especially vis à vis distribution and crew agreements), how smart investment deals can help address filmmaker sustainability issues, how producers and investors can find each other, and some common pitfalls to avoid.
Co-presented by the Documentary Producers Alliance
 3:00 PM – 4:10 PM New Insights into Crowdfunding
Elise McCave (Kickstarter) schools us on the latest in crowdfunding techniques for raising money and building a following, taking us behind the scenes of the successful campaign for Mr. Toilet: The World's #2 Man with director Lily Zepeda.
4:30 PM – 5:30 PM Happy Hour
Join us in the PRO Lounge to gather with fellow attendees and panelists to discuss the day.
See the full schedule of 2019 PRO programs or
Purchase passes here.