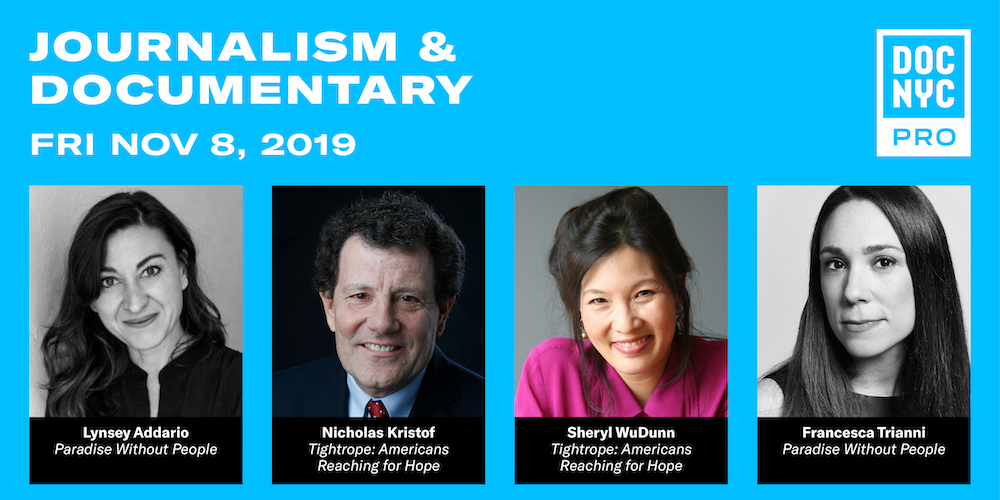 DOC NYC PRO: JOURNALISM AND DOCUMENTARY
To experience the DOC NYC PRO lineup, purchase an individual PRO Themed Pass to hone in on a specific subject, or benefit from discounted pricing when you purchase Multi-Pass Packs to an assortment of topic strands. Or, buy an All Access Pass, which also includes admission to all festival screenings. Purchase passes here.
DOC NYC PRO is co-presented by Kanopy.
Explore the intersection of journalism and documentary with leading practitioners including New York Times reporter Nicholas Kristof, Time magazine filmmaker Francesca Trianni, the team behind Showtime's Murder in the Bayou and more.
 9:00 AM – 10:00 AM Breakfast
10:00 AM – 11:10 AM Case Study – Murder in the Bayou
Showtime's new investigative true crime series Murder in the Bayou is based on the best-selling book by Ethan Brown. Director Matthew Galkin and producer Josh Levine discuss adapting the reportage into episodic filmmaking. Moderated by Social Media Consultant Kristin McCracken.
11:30 AM – 12:40 PM Case Study – Paradise Without People & Time Studio
TIME Studios plunges into documentary making with the new feature-length work about refugees Paradise Without People, screening at DOC NYC. Hear from filmmaker Francesca Trianni, photographer Lynsey Addario, Justine Simons (TIME) and others as they describe the collaboration of photojournalism, reporting and filmmaking behind the film in conversation with Nathalie Applewhite (Pulitzer Center).
1:30 PM – 2:40 PM Ethics, Consent, Perspective
We confront storytelling responsibility in authentically representing people, stories, and events in discussion led by Molly Murphy (Working Films). With Randall Dottin (The House I Never Knew), Ahmed Mansour (Brooklyn Inshallah, DOC NYC 2019 NYC Premiere) and Adam Mazo (Dawnland). 
Co-presented by JustFilms | Ford Foundation

 3:00 PM – 4:10 PM In-Depth with Nicholas Kristof and Sheryl WuDunn on Tightrope: Americans Reaching for Hope
Pulitzer Prize-winning journalists Nicholas Kristof and Sheryl WuDunn discuss their upcoming book Tightrope: Americans Reaching for Hope. They are joined by their film production partners at Show of Force, Maro Chermayeff (Founder) and Joshua Bennett (EVP) who adapted the project into a documentary premiering at DOC NYC. Moderated by Katie Couric, award-winning journalist and founder, Katie Couric Media.
4:30 PM – 5:30 PM Happy Hour
Join us in the PRO Lounge to gather with fellow attendees and panelists to discuss the day.
See the full schedule of 2019 PRO programs or
Purchase passes here.