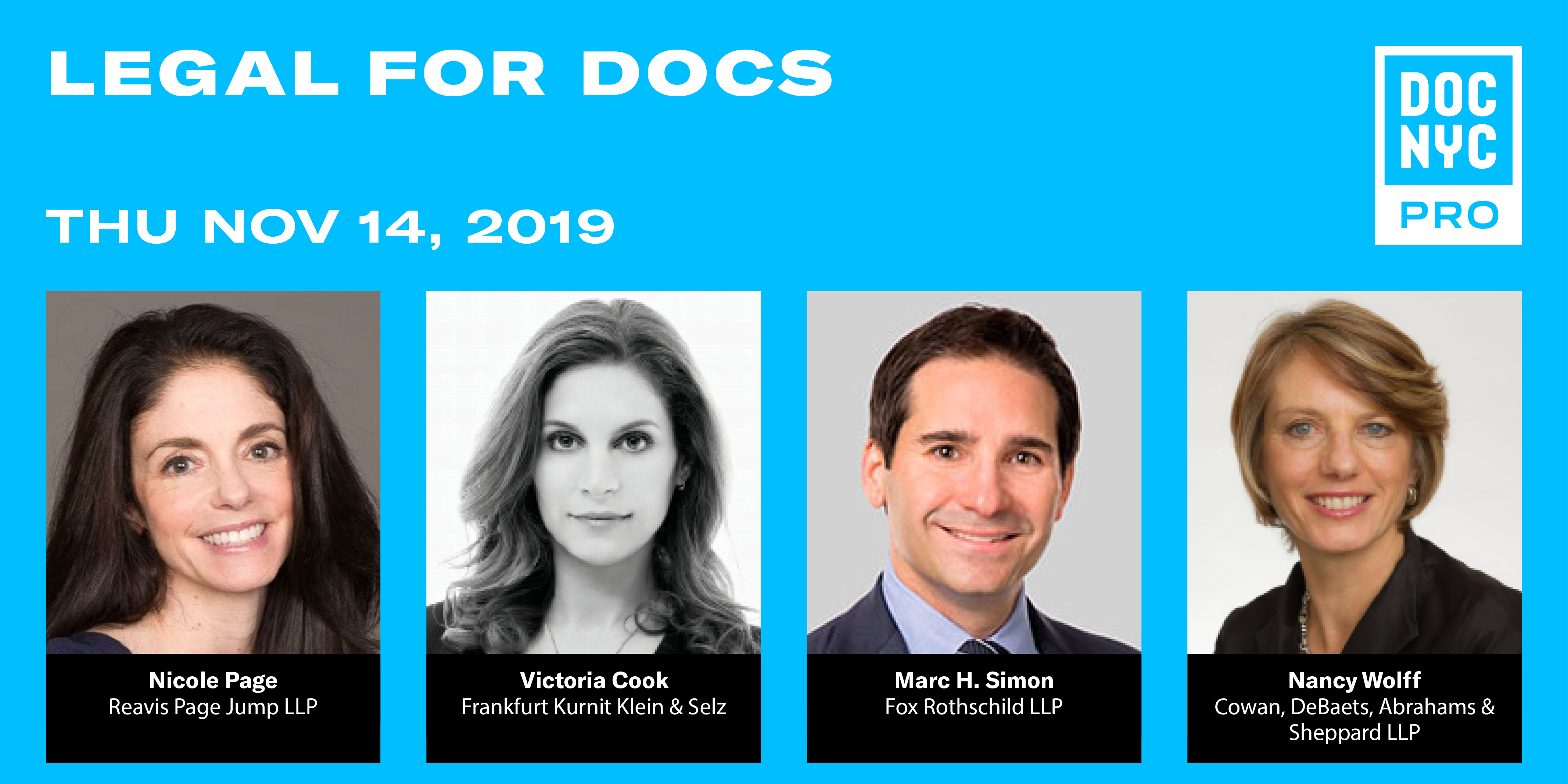 DOC NYC PRO: LEGAL FOR DOCS
To experience the DOC NYC PRO lineup, purchase an individual PRO Themed Pass to hone in on a specific subject, or benefit from discounted pricing when you purchase Multi-Pass Packs to an assortment of topic strands. Or, buy an All Access Pass, which also includes admission to all festival screenings. Purchase passes here.
DOC NYC PRO is co-presented by Kanopy.
Many of the top lawyers specializing in documentary discuss tips and tricks to avoid potential pitfalls.
9:00 AM – 10:00 AM Breakfast
10:15 AM – 11:25 PM Securing Clearances and Third Party Rights for Distribution Agreements
The legal minds from Cowan, DeBaets, Abrahams & Sheppard LLP, including Nancy E. Wolff , Mikaela Gross and Novika Ishar, unpack issues with clearances, including Fair Use.
Co-presented by Cowan, DeBaets, Abrahams & Sheppard LLP
11:45 AM – 12:55 PM Documentary Filmmaking Risks, Insurance and What it All Means if You Actually Get Sued
How does Errors & Omissions (E&O) insurance work if you are sued? Lawyer and filmmaker Marc H. Simon (Fox Rothschild LLP) leads a discussion with Alan Friedman (Fox Rothschild), director Lofty Nathan and Laird Criner (Film Emporium, Partner, Entertainment Insurance Division) on risk, protection and how filmmakers can respond to lawsuits.
Co-presented by Fox Rothschild LLP
1:45 PM – 2:55 PM Documentary Filmmaking in a Global World
Victoria Cook, Melissa Georges, Andrew Unberg (Frankfurt Kurnit Klein & Selz) and others explain major changes in international law around privacy and the "right to be forgotten." They discuss international considerations when negotiating financing and broadcaster agreements.
Co-presented by Frankfurt Kurnit Klein & Selz
3:15 PM – 4:25 PM True Crime: Understanding Your Rights, Gaining Access, Protecting Your Footage
Get educated on defamation and privacy claims, navigating complex subject relationships and protecting your film. Nicole Page (Reavis Page Jump LLP) leads discussion with panelists including director/producer Trish Adlesic (I Am Evidence), director / producer Allison Berg (Cold Blooded: The Clutter Family Murders) and director Matthew Galkin and producer Josh Levine (Murder in the Bayou).
Co-presented by Reavis Page Jump LLP
4:30 PM – 5:30 PM Happy Hour co-presented by Vulcan Productions
Join us in the PRO Lounge to gather with fellow attendees and panelists to discuss the day.

See the full schedule of 2019 PRO programs or
Purchase passes here.