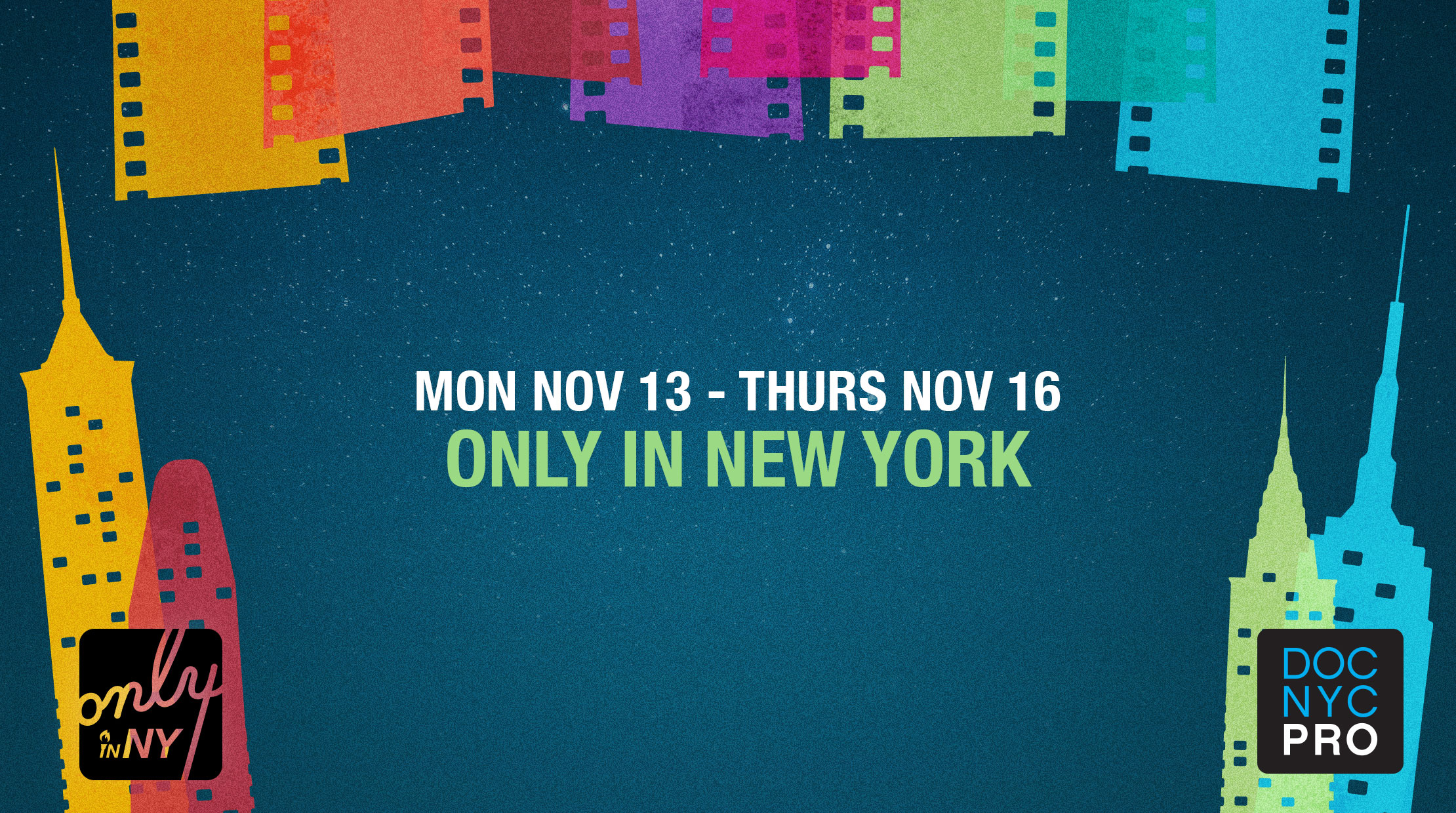 DOC NYC PRO: ONLY IN NEW YORK
DOCNYC PRO Only In New York is co-presented by Showtime Documentary Films.
2017 is SOLD OUT – We are very sorry but due to a high volume of responses, we are no longer selling access to these meetings
For the second year at DOC NYC, Only In New York meetings take place November  13-16, 2017, from the hours of 10:00 am – 4:00 pm at Cinepolis Chelsea.  This program features four days of networking sessions that allow filmmakers to get face time with key decision makers in the worlds of financing, postproduction, distribution, festival programming and more. The meetings are a chance for filmmakers to sit in intimate groups (maximum 4 people) with decision makers for a 30 minute Q&A session. This isn't a pitch forum but instead, a chance for making introductions.
Industry guests include representatives from HBO Documentary Films, Discovery, Ford Foundation | JustFilms, Vulcan Productions, Picture Motion, and A&E IndieFilms.  Revisit this page daily as additional participants will be announced.
Confirmed participants:
Monday, November 13, 2017 (Broadcasters and Distributors)

Jon Bardin (Discovery)
Jim Browne (Argot Pictures)
Andrew Blackwell, Lindsay Crouse (New York Times Op-Docs)
Jill Burkhart (Epix)
Sarafina Difelice, Zana Lawrence (Netflix)
Nikki Heyman (POV)
Christine Kecher (A&E IndieFilms)
Andrew Mer (Film Collaborative)
Lesley Norman, Stephen Segaller (WNET)
Ally Pennebaker (Amazon Studios)
Tuesday, November 14, 2017 (Producers and Post-Production)
Daniel Chalfen (Naked Edge Films)
Dominic Davis, Maria Rhodes (Rooftop Films)
Lindsay Firestone (Bloomberg Philanthropies)
Rose Vincelli Gustine (SVA)
Jennifer Helm (OutPost Digital)
Kelsey Koenig (Impact Partners)
Dan O'Meara (NEON)
Danielle Perissi (Image Nation)
Matt Renner (National Geographic)
Adam Segal (The 2050 Group)
Poh Si Teng (Al Jazeera)
Louis Venezia (Pilot)
Jeremy Workman (Wheelhouse Creative)
Wednesday, November 15, 2017 (Programmers and Outreach & Marketing)
Larisa Apan, Tom Hall (Montclair Film Festival, Hamptons International Film Festival)
Alan Black (Hot Docs)
Iyabo Boyd (Kickstarter, Feedback Loop)
Mimi Brody (AFI)
Chris Clements, Julie Goldman (Motto Pictures)
Liza Domnitz, Ian Hollander (Tribeca Film Festival)
Carla Fleisher, Denae Peters (Film Sprout)
Katherine Matthews, RJ Millard (Obscured Pictures)
Susan Norget (Susan Norget Film Promotion)
Dan Nuxoll (Rooftop Films)
Ina Pira (Vimeo)
Christina Raia (Seed&Spark)
Leah Sapin (Human Rights Watch Film Festival)
Thursday, November 16, 2017 (Sales Agents & Lawyers and Foundations & Funders)
Andrea Cannistraci (Cowan, Debaets, Abrahams & Sheppard)
Daniel Cantagallo (Cargo Film & Releasing)
Victoria Cook, Melissa Georges (Frankfurt, Kurnit, Klein & Selz)
Sabine Fayoux (Chicken & Egg)
Carroll Gelderman (Cinetic Media)
Sarah Lash (Conde Nast Entertainment)
Bebe Nodjomi, Chloe Walters-Wallace (Firelight Media)
Alexandra Pearson (Picture Motion)
Greg Rhem (HBO)
Marc Simon (Fox Rothschild)
Betsy Tsai (Sundance Institute)
Lucas Verga (The Film Sales Company)
We look forward to welcoming you to the festival!