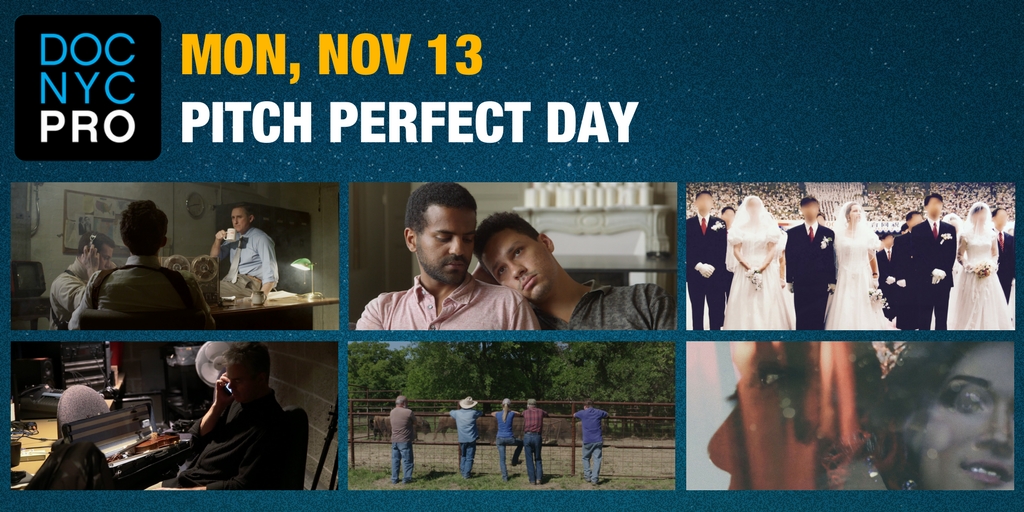 DOC NYC PRO: PITCH PERFECT DAY
Showtimes
Open to these badge holders: All Access, DOC NYC PRO, DOC NYC PRO Second Half, Pitch Perfect Day Pass. To buy a pass click here.
DOC NYC PRO is co-presented by Amazon Studios.
Pitching your film is a crucial step in getting your film made and out into the world. We've selected six projects to give their pitches at this special daylong event. Industry expert panelists will provide feedback, ask questions of our filmmakers and select the best pitch project. Co-presented by A&E IndieFilms
BREAKFAST 9:00AM-10:00AM
Co-presented by ScreeningRoom
MORNING MANIFESTO 10:00AM-10:30AM
Sundance Institute's Tabitha Jackson shares her thoughts on the contemporary documentary landscape.
Pitch Perfect Part I 10:30-11:00 AM
Our panel of industry experts lays out the setting, best practices and rules for our first three pitches of the day. Moderator: Brian Newman (Sub-Genre)
Panelists: Daniel Chalfen (Naked Edge Films), Jon Bardin (Discovery), Lucila Moctezuma (Chicken and Egg Pictures), Loira Limbal (Firelight Media), Molly Thompson (A&E IndieFilms), Liza Fefferman (MTV), Jackie Glover (HBO Documentary Films), and Jannat Gargi (Vulcan).
Pitch #1 11:00 AM-11:30 AM
Second Coming, Directed by Cara Jones. Two siblings must find their own paths outside a religion known for arranged marriages and mass weddings.
Pitch #2 11:30-12:00 PM
Shadow of His Wings, Directed by Lucas Habte. A personal film charting the filmmaker's relationship with a young man in Ethiopia, who must seek asylum in France after receiving homophobic death threats.
Pitch #3 12:00 PM-12:30 PM
Plucked, Directed by Joel Van Haren. Plucked details the life of Salah Salahadyn and traces the history of the $6 million violin he's accused of stealing.
Pitch Perfect Part ll 1:45 PM-2:00 PM
The second panel of industry experts takes the stage to offer their tips before the remaining pitches are made. Moderator: Louis Venezia (Pilot/Co-Pilot Pictures)
Panelists: Paula Froehle (Chicago Media Project), Justine Nagan (POV), Kelsey Koenig (Impact Partners), Julie Anderson (Independent Producer), Dan O'Meara (NEON), Eric Sloss (Cinetic), Greg Rhem (HBO), and Patricia Finneran (Doc Society).
Pitch #4 2:00 PM-2:30 PM
Good Ol Girl, Directed by Sarah Brennan Kolb. A band of women cattle ranchers hustle for land, cattle and respect in deep Texas.
Pitch #5 2:30 PM-3:00 PM
Finding Home, Directed by Abraham Troen. This short-form docuseries profiles young LGBT immigrants from different communities living in Los Angeles.
Pitch #6 3:00 PM-3:30 PM
Blue Code of Silence, Directed by Magnus Skatvold. Forty years ago, policeman Bob Leuci brought down New York City's most corrupt police unit, but at a grave personal cost.
WRAP & Q&A 3:30PM-3:45PM
Reception 4:30pm-6:30pm
Co-presented by ImageNation Abu Dhabi
Open to these badge holders: All Access, DOC NYC PRO, DOC NYC PRO Second Half, Pitch Perfect Day Pass. To buy a pass click here.