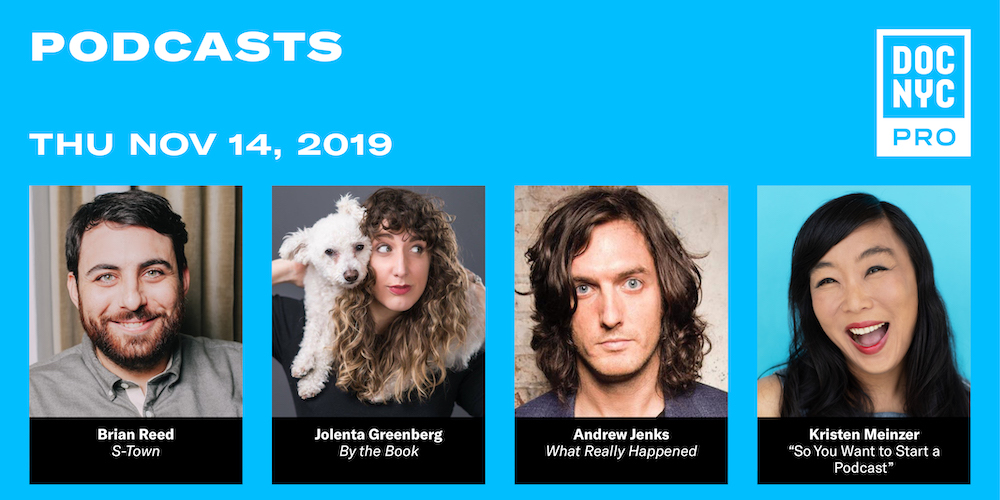 To experience the DOC NYC PRO lineup, purchase an individual PRO Themed Pass to hone in on a specific subject, or benefit from discounted pricing when you purchase Multi-Pass Packs to an assortment of topic strands. Or, buy an All Access Pass, which also includes admission to all festival screenings. Purchase passes here.
DOC NYC PRO is co-presented by Kanopy.
How can documentary makers apply their skills to the burgeoning field of podcasting? Our experts discuss both storytelling and the practical mechanics of launching a series.
9:00 AM – 10:00 AM Breakfast
10:00 AM – 11:10 AM Telling Your Nonfiction Story with Audio
Filmmakers-turned-podcasters Andrew Jenks (What Really Happened) and Zak Levitt (Root of Evil) discuss crossing from visual to audio. Moderated by Philip Shane (Dancing in Jaffa).
11:30 AM – 12:40 PM Case Study: Headlong
Headlong, Dan Taberski's anthology podcast series on Topic, covers topics from quirky to personal to culturally significant. We discuss Missing Richard Simmons, Running From Cops and sustaining a successful pod series. Moderated by Philip Shane (Dancing in Jaffa).
1:30 PM – 2:40 PM  So You Want To Start A Podcast?
Get the inside scoop from Kristen Meinzer (author, So You Want to Start a Podcast), Jolenta Greenberg (cohost, By The Book), and Jenny Barish (Director of Business Development, Stitcher) in conversation with Ashley Lusk (Director of Audience Development, WNYC).
3:00 PM – 4:10 PM In-depth with Brian Reed on S-Town
Brian Reed's S-Town is a podcast blockbuster, surpassing download records. He breaks down the show in a conversation with Pure Nonfiction host Thom Powers.
4:30 PM – 5:30 PM Happy Hour co-presented by Vulcan Productions
Join us in the PRO Lounge to gather with fellow attendees and panelists to discuss the day.

See the full schedule of 2019 PRO programs or
Purchase passes here.