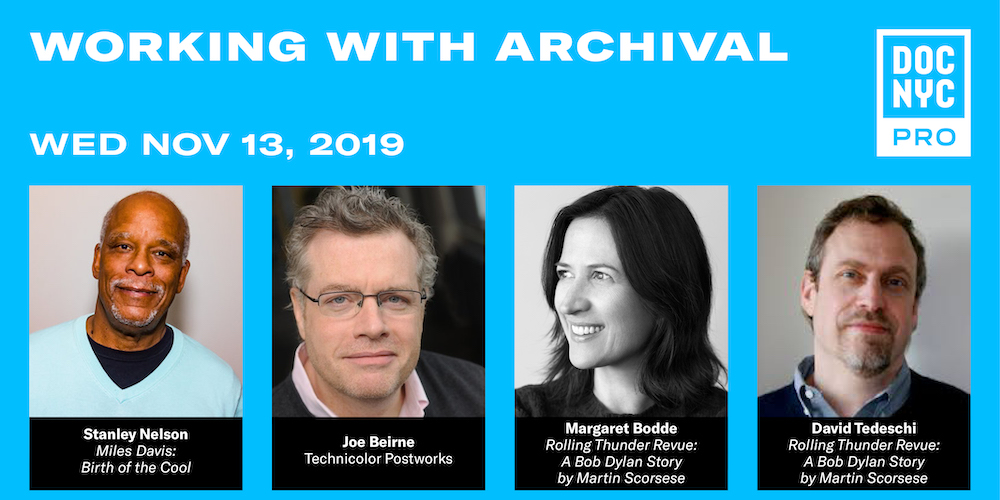 DOC NYC PRO: WORKING WITH ARCHIVAL
To experience the DOC NYC PRO lineup, purchase an individual PRO Themed Pass to hone in on a specific subject, or benefit from discounted pricing when you purchase Multi-Pass Packs to an assortment of topic strands. Or, buy an All Access Pass, which also includes admission to all festival screenings. Purchase passes here.
DOC NYC PRO is co-presented by Kanopy.

Learn from the filmmakers and footage researchers behind some of the year's biggest historical films.

9:00 AM – 10:00 AM Breakfast
10:15 AM – 11:25 AM Getting Started with Archival
Stephanie Jenkins (Florentine Films) leads a panel of experts including archival producer Judith Aley (The Price of Everything), Cassandra Del Viscio (Edgeworx Studios) and Scott Norman (NBC News, Archives Sales) in recommendations for creating a solid plan for archival projects at various budget levels and delve into the considerations for how to evaluate your project needs, research strategies, and what you should plan for in budget and workflow.
11:45 AM – 12:55 PM Archival Storytelling Case Study: Rolling Thunder Revue: A Bob Dylan Story by Martin Scorsese
We reveal the process in finding, restoring, and integrating footage to create Rolling Thunder Revue: A Bob Dylan Story by Martin Scorsese with Producer Margaret Bodde, Executive Producer, Editor David Tedeschi and Joe Beirne (Technicolor Postworks). Moderated by Joshua Handler (ASG Global).
Co-presented by Technicolor PostWorks New York
1:45 PM – 2:55 PM Post-Production and Finishing Your Archival Project
Stephanie Jenkins (Florentine Films) takes us through the considerations when working with editors, ordering masters, and common pitfalls to avoid. Panelists include attorney Steven Beer (Beware of Mr. Baker), archival producer Amy Brillhart (Anthony Bourdain: Parts Unknown) and editor Maya Mumma (O.J.: Made in America).
3:15 PM – 4:25 PM Archival Storytelling Case Study: Miles Davis: Birth of the Cool
Director Stanley Nelson and producer Nicole London explain how archival revelations helped enrich this acclaimed biography of Miles Davis. Moderated by Cynthia Kane (GBGG productions)
4:30 PM – 5:30 PM Happy Hour
Join us in the PRO Lounge to gather with fellow attendees and panelists to discuss the day.
See the full schedule of 2019 PRO programs or
Purchase passes here.