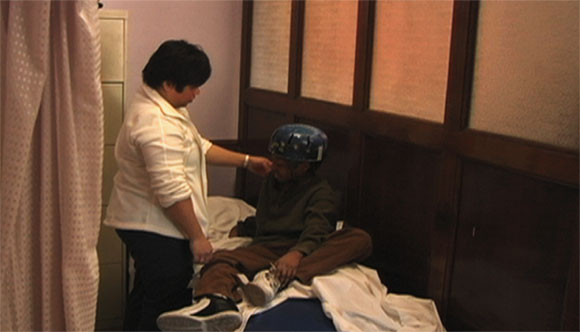 The complex relationship between parents and their children is at the heart of this program. The Caregiver (10 min, John Paul Su) profiles a woman who tends to sick children at work and at home. Nobody's Off the Hook (28 min, Remy Weber) traces a difficult history of dysfunction and ambivalent reconciliation between a father and his children. Captive Radio (23 min, Lauren Rosenfeld) gives hope to Colombian hostages by broadcasting messages from their families. The Children Next Door (36 min, Doug Block) examines the deep psychological scars inflicted on children by a horrific case of domestic violence.
---
THE CAREGIVER

WORLD PREMIERE The Caregiver a New York University Tisch Asia Graduate Film short observational documentary, is an unflinching look into the world of a special-needs nurse.  We follow Francine, a health-worker and single-mother, as she endures the challenges of caring not only for her patients, but also for her own special-needs child at home.
Director: John Paul Su; Producer: John Paul Su: Cinematographer: John Paul Su; Music: Cooper Anderson; Editor: John Paul Su
Website: http://www.johnpaulsu.com
Twitter @jpsu
---
NOBODY'S OFF THE HOOK
WORLD PREMIERE nobody's off the hook is a handmade film based on a conversation with my father and half-sister. My half-sister and her twin brother speak rarely, and our father has not seen his son since he was 6 years old. His son tells others in his life that his father is dead. Everyone has a drink, and deals as best they can: with their complicated memories of the past, their respective ambivalence, and their love for one another.
Director: Remy Weber; Cinematographer: Remy Weber; Editor: Remy Weber
Website: http://www.remyweber.com
---
CAPTIVE RADIO
Every Sunday morning, men and women in captivity deep in the Colombian jungle listen to messages from their families on The Voices of Kidnapping radio show. Captive Radio tells the story of two families that use the unique radio program to communicate with their loved ones held hostage by rebel guerrilla groups in Colombia. The film follows the harrowing personal accounts of the police major, Guillermo Solórzano, and the parents of Juan Camilo Mora, who have waited six years for news of their kidnapped son. Their stories represent the thousands of people marred by kidnapping who desperately seek a way to cope with separation and find it through The Voices of Kidnapping.
Director: Lauren Rosenfeld; Producer: Lauren Rosenfeld; Cinematographer: Lauren Rosenfeld; Music: William Ryan Fritch; Editor: Lauren Rosenfeld
Website: http://www.captiveradiofilm.com
Twitter: @lollymr
Captive Radio – Trailer from Lauren Rosenfeld on Vimeo.
---
THE CHILDREN NEXT DOOR
The Children Next Door recounts the fear and pain of domestic violence through the eyes of a child. The film takes us on a young family's journey to discover the solution to end a reoccurring cycle of violence and the truth that lies beneath. Raised in Tennessee households fraught with domestic violence, Penny and Brad vowed when they fell in love to end the cycle. A ten-year marriage plagued by waves of mounting violence, all in front of their four children, culminated on one horrific day. The film opens five and a half years later as the family continues to struggle with the impact of the violence that shaped their lives. Within three short months, we witness an astonishing turn of events.
Director: Doug Block; Producer: Lynda A. Hansen; Cinematographer: Doug Block; Music: Taylor Deupree; Editor: Federico Rosenzvit
Website: http://www.thechildrennextdoor.com
Facebook: http://www.facebook.com/TheChildrenNextDoor