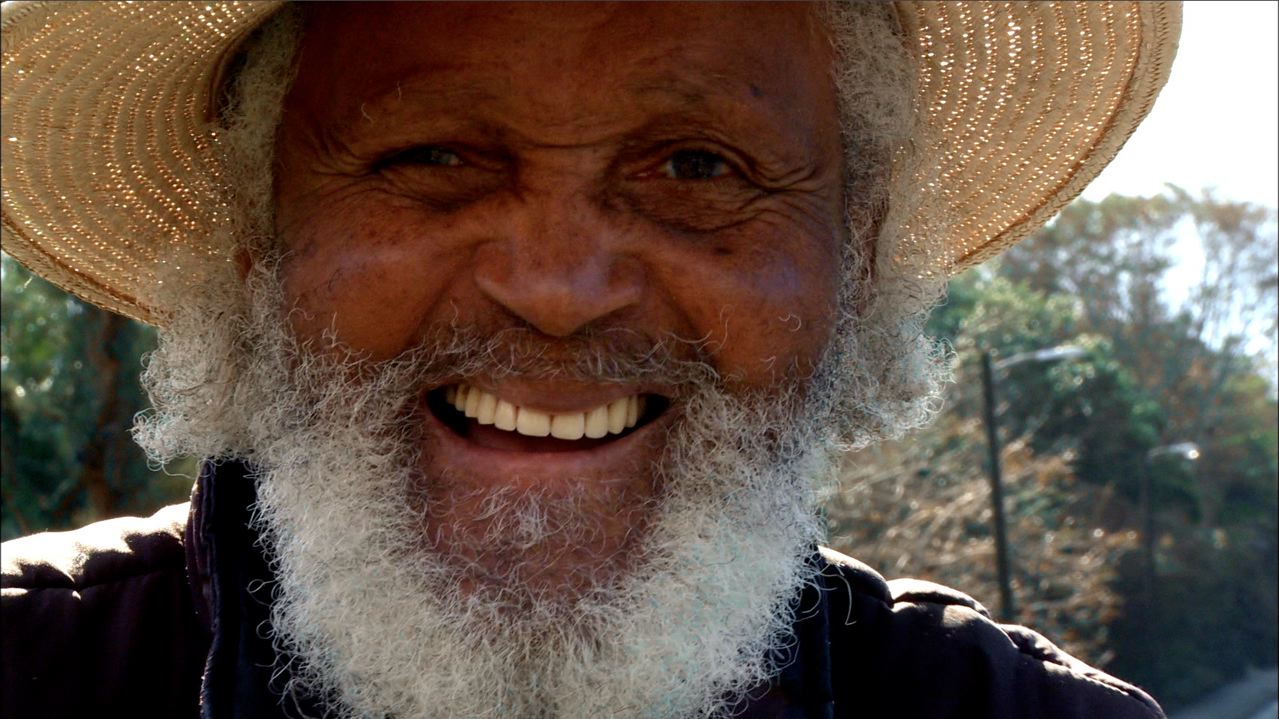 SHORTS: FOR LOVE OR MONEY
Impassioned individuals are the subjects of this program's six shorts. Sunshine (14 min, Doug Nichol) looks at an American ad-man in China. The Bowler (14 min, Sean Dunne) introduces us to the ramblin', gamblin' Rocky Salemmo. Among Giants (14 min, Chris Cresci, Ben Mullinkosson & Sam Price-Waldman) follows an activist living in a redwood tree to stave off clear-cutting. Mr. Happy Man (10 min, Matt Morris) captures Bermuda's most beloved resident, Johnny Barnes. Public Farm 1: The Making of an Urban Farm (16 min, Lilibet Foster) chronicles an outdoor art project at PS1. You Have the Right to an Attorney (13 min, Matt Bockelman) depicts public defenders in the South Bronx.
Shorts section is co-presented by SnagFilms.
---
Sunshine
Sunshine depicts John, an American advertising producer, who travels to China to make a TV commercial. A funny and sobering glimpse into the advertising world and globalization as John contemplates the effects advertising has had on his personal life, and on the culture of China and it's Capitalist Revolution. Directed and narrated with humorous levity, Sunshine offers a rare insight into modern day 'Mad Men' and the absurdity of the business.
Director: Doug Nichol; Producer: John Benet & Doug Nichol; Cinematographer: Doug Nichol; Editor: Doug Nichol.
---
The Bowler
Meet Rocky Salemmo. He's a ramblin' gamblin' man. For the majority of his adult life Rocky has hustled bowling for a living.
Director: Sean Dunne; Producer: Sean Dunne; Cinematographer: Hillary Spera; Editor: Kathy Gatto.
Website: www.veryapeproductions.com
---
Among Giants
In the midst of California's coastal redwood region, Green Diamond Resource Company continues to clearcut redwood forests, devastating habitats and leaving scars across the land. Farmer, a direct action environmental activist in his late 20s, decides to tree-sit in the McKay Tract — a 60-acre grove of ancient redwoods that is home to spotted owls, deer, flying squirrels, and countless other life forms. 'Among Giants' begins three years into the McKay tree-sit. On his tiny platform a hundred feet up in the ancient redwood canopy, Farmer must battle the elements and avoid isolation as he fights for a sustainable future. The film uses a verite style that reflects the pace of life in the tree village and shows the forest from Farmer's perspective. As Farmer outlasts a vicious storm, counts the rings on a felled tree, and trumps through a recent clear cut, the film questions what it means to make personal sacrifices for a larger cause.
Director: Chris Cresci, Sam Price-Waldman &  Ben Mullinkosson; Producer: Chris Cresci, Sam Price-Waldman &  Ben Mullinkosson; Cinematographer: Chris Cresci, Sam Price-Waldman &  Ben Mullinkosson; Music: Jack Rose, Jon Arman; Editor: Chris Cresci, Sam Price-Waldman &  Ben Mullinkosson.
Website: www.amonggiantsfilm.com
---
Mr. Happy Man
For the last few decades, Bermuda's most beloved resident, Johnny Barnes, has dedicated his life to making the world a happier place in his own unique way.
Director: Matt Morris; Producer:Matt Morris; Cinematographer: Hector Osuna; Music: Lord Superior; Editor:Matt Morris.
Website: www.mattmorrisfilms.com
Twitter: @Mrhappymanfilm
---
Public Farm 1: The Making of an Urban Farm
Public Farm 1: The Making of an Urban Farm is a short film about the building of a biodegradable, cardboard farm in the unlikely location of New York City. For emerging architects and married couple, Dan Wood and Amale Andraos and their new firm WorkAC, winning MoMA PS1's Young Architects Program, was their first big break. This internationally prestigious competition, selects the best design from amongst submissions from the country's top young architects, for an outdoor summer pavilion. This would be their chance to build their ambitious award winning design of a giant, elevated, solar powered, self-irrigated, self-sufficient farm (complete with egg hatching chicken), that would provide the required nighttime party space for young hipsters, but also bring produce to the nearby community. If they succeeded, it would put them on the map and be an example of how to bring sustainability to cities. The only problem was that few architects, not even internationally renowned Shigeru Ban, had used cardboard tubes as a central structural element. The camera follows them as they tackle technical difficulties, clashing opinions, bad weather and a tight deadline, while becoming farmers. From the point of view of Dan and Amale, their staff, designers, carpenters, partners and an army of volunteers, the film tells the story of how they pulled it off.
Director: Lilibet Foster; Producer: Lilibet Foster; Cinematographer: Paul Bozymowski; Music: Dominic Matar and Le Vol; Editor: David Meneses.
Twitter: @publicfarm1
---
You Have the Right to an Attorney
Two young public defenders in the South Bronx strive to resolve hundreds of client cases while facing the emotional burden of working in a system they consider fundamentally broken.
Director: Matt Bockelman; Producer: Lisa Levey, Matt Bockelman; Cinematographer: Matt Bockelman; Music: Michael Reilly; Editor: Max Cantor.
Website: www.youhavetherighttoanattorney.com
Twitter: @Right2AttrnyDoc