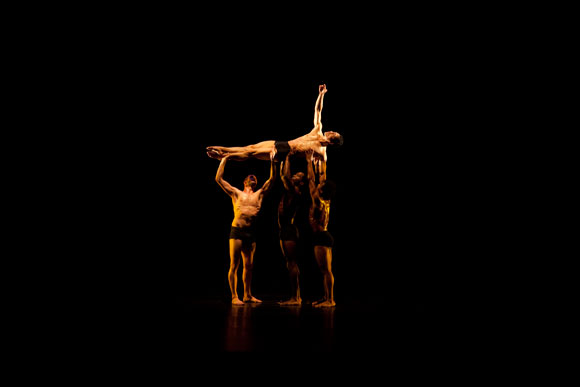 GREAT PERFORMANCES
2012 Alumni
Expected to Attend: Barbara Rick, Jeffrey Ruoff, Mark Scalese
These shorts shine a spotlight on dance, music, and performance art. Still Moving: Pilobolus at Forty (38 min, Jeffrey Ruoff) reveals the surprising past and still vibrant present of the legendary Connecticut-based modern dance troupe. Robot Man (15 min, Mark Scalese) offers a day in the life of a familiar street performer. A Broadway Lullaby (40 min, Barbara Rick) brings together Broadway luminaries like Vanessa Williams, Audra McDonald, Donna Murphy, Stephen Schwartz, and Raul Esparza to create a benefit CD to combat breast cancer.
---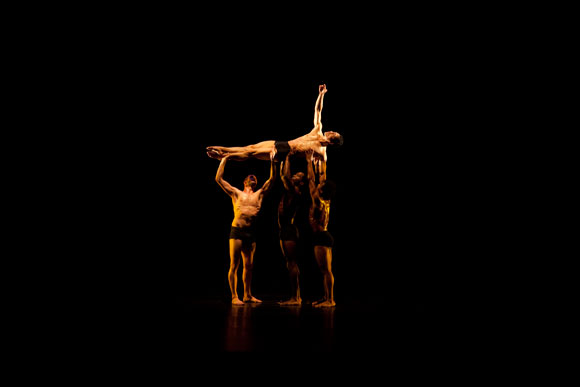 STILL MOVING: PILOBOLUS AT FORTY
At Dartmouth College in the 1970s, four male athletes joined a dance class. Their collaborative work led to the creation of Pilobolus and the transformation of modern dance. Pilobolus eschewed the bright lights of Manhattan and settled in rural Connecticut. Still Moving: Pilobolus At Forty focuses on the company's lifecycle—including a founder's death—its evolution, transformation, and regeneration. On the eve of its fortieth anniversary, internationally renowned, Pilobolus returns to New Hampshire for a Dartmouth-commissioned premiere of a collaboration with cartoonist Art Spiegelman. At their studio, on the road, in community workshops, and on stage, the arts organism Pilobolus thrives.
Director: Jeffrey Ruoff; Producer: Jeffrey Ruoff; Cinematography: Justin Schien; Music: Battles, Kronos Quartet, Paul Sullivan, Jon Appleton, Erwin Schulhoff, Clarence Williams, Raymond Scott, Tiny Parham & Mistinguett, Editor: Anne Alvergue
Still Moving Trailer from Jeffrey Ruoff on Vimeo.
---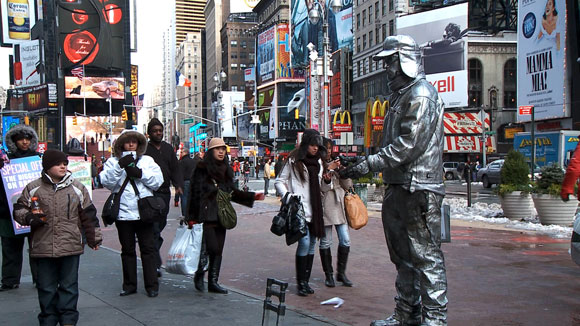 ROBOT MAN
Tim Intravia performs as a statue/mime on the streets of New York City. Robot Man follows his daily routine interacting with pedestrians, contending with the police, and competing with other street performers for the attention and spare change of tourists. It pays the bills, but he wants to be more…
Director: Mark Scalese; Producer: Bridget Dalen; Cinematographer: Bridget Dalen, James Mayzik & Mark Scalese; Music: Christopher Franke; Editor: Mark Scalese
"Robot Man" Trailer from Mark Scalese on Vimeo.
---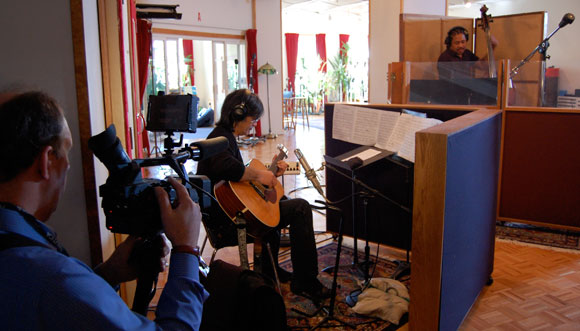 A BROADWAY LULLABY
WORLD PREMIERE A Broadway Lullaby tells the story of Over The Moon: The Broadway Lullaby Project – from conception to completion. Through interviews and intimate behind-the-scenes footage, the film chronicles the inspirations, rehearsals, recordings and artistic process of many of Broadway's brightest starts and composers, world-renowned jazz musicians and America's best-loved illustrators – all uniting to combat breast cancer through the beauty and power of music and art.
This unprecedented charitable artistic effort culminates with the creation of an extraordinary double CD of original lullabies, illustrated children's book, and ebook. Featuring Raul Esparza, Sutton Foster, Audra McDonald, Donna Murphy, Stephen
Schwartz, Vanessa Williams, Jules Feiffer and many others.
Director: Barbara Rick; Producer: Barbara Rick, Jodi Glucksman & Dan Glucksman; Cinematographer: Jim Anderson; Editor: Laure Sullivan
Website: http://www.overthemoonbroadway.com/documentary
Facebook: http://www.facebook.com/OutofTheBlueFilms
Twitter: @OuttaTheBlu
Section:
Shorts
Running Time: 93 min