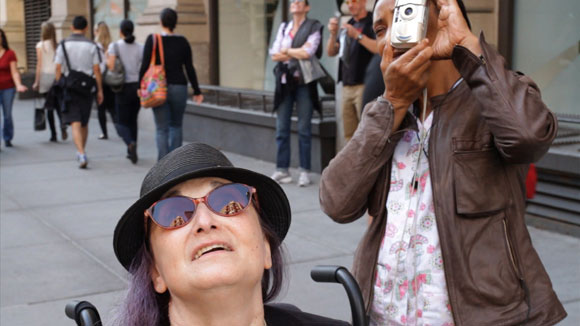 Profiles of unique individuals. New Yorker Flo (10 min, Riley Hooper) hasn't let multiple sclerosis, lung cancer, or even blindness stop her from taking photos. Black Cherokee (22 min, Sam Cullman, Benjamin Rosen) performs his singular art for commuters on the FDR, even as he must care for his ailing father. The Globe Collector (7 min, Summer DeRoche) is an electronics savant whose passion for lightbulbs is infectious. Crooked Lines (19 min, Lucy Walker) reunites part of the team behind Waste Land to tell the story of a young man who might have been Brazil's best hope for Olympic gold in rowing. A gay Puerto Rican man dispenses advice and injections from his clandestine home clinic in The Needle (40 min, Carmen Oquendo-Villar, Jose Correa Vigier).
---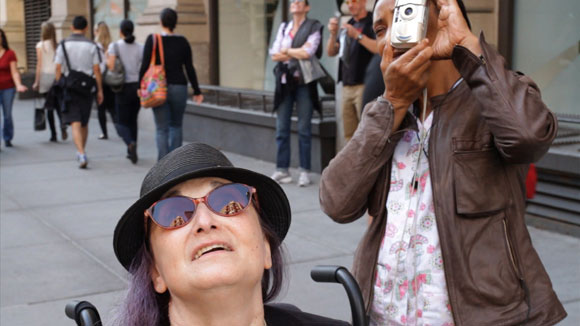 FLO
In the face of Multiple Sclerosis, visual impairment, and lung cancer, New York photographer Flo Fox has continued to pursue photography and has maintained her adventurous, feisty spirit and dirty sense of humor. No longer able to even hold a camera, she has her attendants take photos for her. As a young, hot New York chick she used her looks to get what she wanted. These days she often leverages her disability. Flo Fox knows what she wants, and she gets it — including some truly amazing photographs that capture street life in New York City, from the 1970s to present day.
Director: Riley Hooper; Producer: Riley Hooper; Cinematographer: Riley Hooper; Music: Chris Zabriske; Editor: Riley Hooper
Facebook: http://www.facebook.com/rileyhooperfilms
FLO documentary trailer from Riley Hooper on Vimeo.
---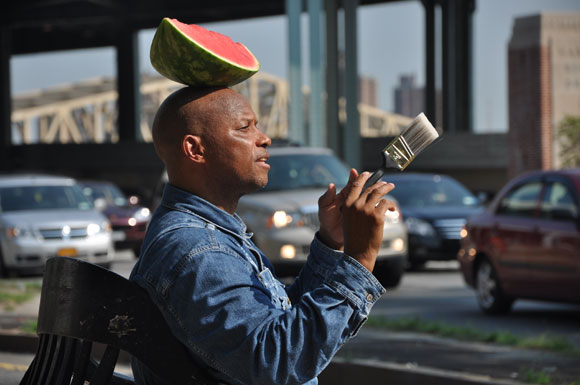 BLACK CHEROKEE
WORLD PREMIERE For over a decade and on a near-daily basis, Otis Houston Jr., a self-taught artist from Harlem, has performed before a captive audience of car-bound commuters passing through a natural bottleneck on Manhattan's FDR Drive. Black Cherokee explores this unique artist's work at a time of great productivity and significant challenge as he's charged with caring for his beloved father who had recently been diagnosed with Alzheimer's. A meditation on family, inspiration, sanity and success, the film is a lyrical window onto Houston's deep sense of duty, his raw charisma, and the dynamic beauty of his art.
Director: Sam Cullman & Benjamin Rosen; Producer: Sam Cullman & Benjamin Rosen; Cinematography: Sam Cullman; Editor: Sam Cullman, Benjamin Rosen & Lynn True
Website: http://blackcherokeefilm.com
Facebook: http://www.facebook.com/blackcherokeefilm
---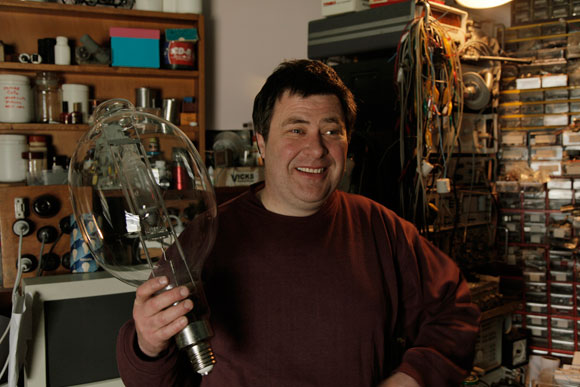 THE GLOBE COLLECTOR
This short documentary takes us into the incredible world of a light globe collector; a world where a passion for electronics is all consuming and a diagnosis of Asperger's syndrome is nothing more than a label.
Director: Summer Deroche; Producer: Andrea Distefano; Cinematographer: Campbell Hynam-Smith; Editor: Summer Deroche
Website: http://www.theglobecollector.com
Facebook: http://www.facebook.com/TheGlobeCollector
Twitter: @Globe_Collector
The Globe Collector – Trailer from Summer DeRoche on Vimeo.
---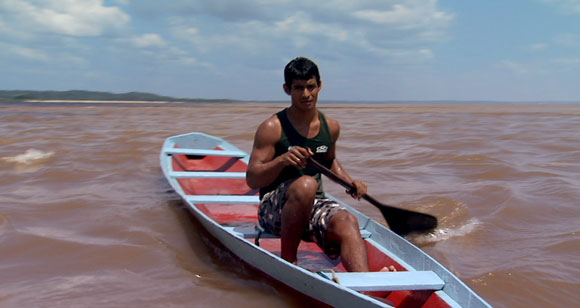 CROOKED LINES
Ailson Eraclito Da Silva is the best rower in Brazilian history, the Michael Phelps of his sport. Growing up in a leper colony on the banks of the Amazon, he's constantly discriminated against. His dream, though, is to win Olympic Gold. But Ailson has an Achilles heel — he's heavy for the lightweight category he competes in. Usually, he makes his weight by not drinking ahead of regattas. This time, his plan fails: he's disqualified from the Olympic trials. Everyone plays the blame game, until Ailson goes home and faces up to the real reason he can't control his weight.
Director: Lucy Walker; Producer: Arestia Rosenberg; Cinematographer: Dudu Miranda; Music: Stars of the Lid, Maps for Sleep; Editor: Pedro Kos
Website: http://www.lucyjanewalker.com
Twitter: @lucyjwalker
---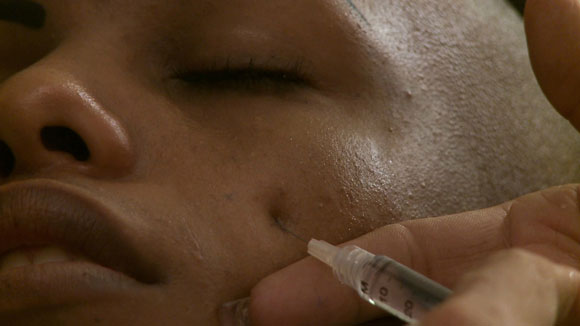 THE NEEDLE
WORLD PREMIERE From a clandestine cosmetic clinic in his modest home in Puerto Rico, José Quiñones deals both treatment and advice. But in spite of the tight bond he has formed with his largely LGBT clientele, Quiñones decides to reach out to the estranged family that rejected him.
Director: Carmen Oquendo-Villar & José Correa Vigier; Producer: Felipe Tewes; Cinematographer: Carmen Oquendo-Villar, Jose Correa Vigier; Editor: Carla Cavina
Facebook: http://www.facebook.com/TheNeedleDoc
Twitter: @TheNeedleDoc
The Needle (La Aguja) Trailer from The Needle on Vimeo.