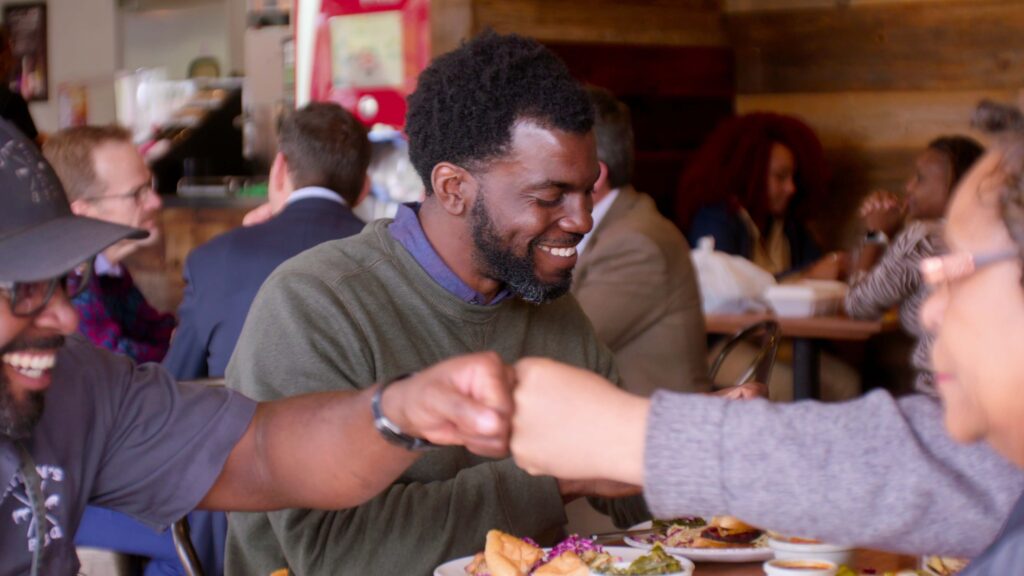 Episode 1:"Our Roots"
The screening was followed by an exclusive recorded conversation with executive producers Fabienne Toback and Karis Jagger; and series producer Shoshana Guy. Click here to view.
ONLINE SCREENING High on the Hog: How African American Cuisine Transformed America takes viewers on a culinary journey that ventures from Africa to the deep south. Adapted from food historian Jessica B. Harris' book of the same name, the immersive four-episode docu-series — part culinary show, part travelogue — follows food writer Stephen Satterfield as he meets the chefs, historians, and activists who are keeping centuries-old traditions alive. Over Western African stews, soul food, barbecue, and fine dining, the series, directed by Academy Award winner Roger Ross Williams, reveals an expansive, eclectic culinary history shaped by slavery, the Civil War, Juneteenth, and present day. It's a story of Black America's resilience, enduring creativity, and vital contribution to America's kitchen. Total running time: 60 minutes.
This online screening is available in the United States and US Territories.
Closed Captions are available for both the program and the conversation.
Website: www.netflix.com
Instagram: @netflix
Twitter: @netflix
Facebook: @netflix
This screening is co-presented by: