Caitlin Boyle Joins DOC NYC, Free Webinar March 27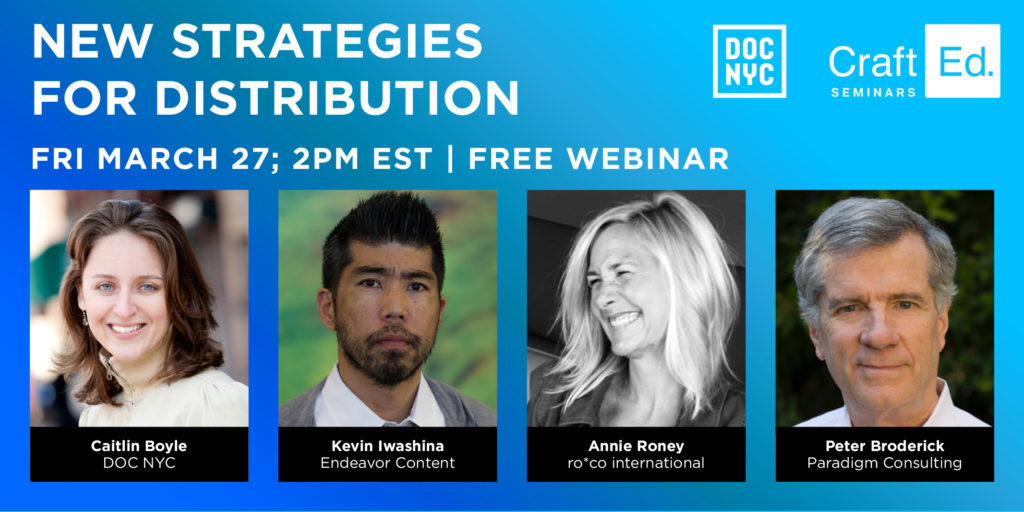 DOC NYC is pleased to announce the appointment of Caitlin Boyle in the new full-time position as Director of Industry and Education. In her first week on the job, she will co-host the festival's first free webinar on New Strategies for Distribution, featuring the festival's Artistic Director Thom Powers and other panelists, including Kevin Iwashina (Endeavor Content), Annie Roney (ro*co international and FILM PLATFORM), and Peter Broderick (Paradigm Consulting). The hour-long webinar will offer the latest information and insight into the rapidly changing distribution landscape, as filmmakers work to navigate radical changes caused by the Covid-19 pandemic. The webinar will take place 2-3 pm ET on Friday, March 27.
Filmmakers can enroll for free at https://www.crowdcast.io/e/newstrategies/register  and submit questions in advance. The discussion will be taped for future access.
In her new role, Boyle will oversee a portfolio of projects including DOC NYC's 8-day conference DOC NYC PRO; Only in New York industry meetings; and the 40 Under 40 list; as well as IFC Center's year-round Craft Ed. Seminars that offer professional development targeted to filmmakers working in documentary and fiction, along with creative professionals in other disciplines.
Before joining DOC NYC, Boyle founded and helmed Film Sprout, a grassroots distribution and audience engagement firm whose mission was to broaden the visibility and reach of documentary film through large-scale national screening tours. An early evangelist for the power of pairing conventional distribution with inventive release strategies, she served as an architect of national community screening tours for some 50 documentary films over a decade, including the award-winning features The Hunting Ground, Trapped, Audrie & Daisy, and Whose Streets?.
"We're excited to bring Caitlin's entrepreneurial energy and experience to deepen the ways DOC NYC serves filmmakers with education and networking," said DOC NYC Executive Director Raphaela Neihausen. "We look forward to introducing her in this new position with our March 27 webinar."
"I'm honored to join the DOC NYC team as it continues to create and expand meaningful and timely opportunities for education and community for filmmakers—particularly at this moment of rapid change and disruption," said Boyle. "Learning from each other is more crucial now than ever." 
Webinar: New Strategies for Distribution
The March 27 webinar is a project of Craft Ed. Seminars, the educational initiative launched at IFC Center in 2019, in partnership with DOC NYC. In response to the wave of spring festival cancellations, filmmakers are scrambling for new strategies to connect with distributors and reach audiences. DOC NYC's programming team has been in constant contact with sales agents, distributors and marketing consultants to gather the best advice on how to navigate these unprecedented challenges. The webinar will distill what they've learned to help filmmakers adapt and feel less isolated. Guests in the webinar will include:
Kevin Iwashina, Senior Associate, Endeavor Content

Annie Roney, CEO, ro*co international & co-founder, FILM PLATFORM

Peter Broderick, President, Paradigm Consulting
"We're in a state of rapid change with technology, viewing appetites and economic models, not to mention the disruption caused across the industry by the global outbreak of the Covid-19 coronavirus," said DOC NYC's Powers, who also hosts the screening series Pure Nonfiction at IFC Center, which is currently suspended due to the pandemic. "None of us can predict the future, but we can learn lessons from past projects that have successfully used digital tools to reach audiences. We hope this seminar will provide sober analysis and inspiration on how to move forward."