DOC NYC 2015 FULL LINE-UP ANNOUNCED! TICKETS AVAILABLE NOW!
October 14, 2015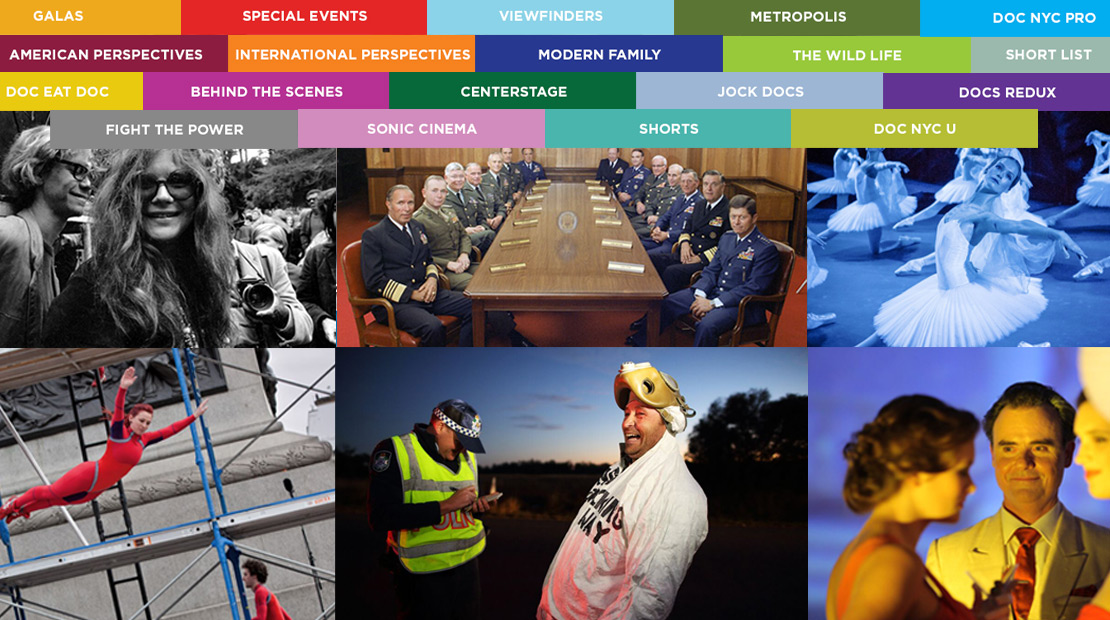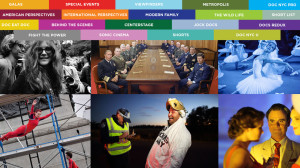 DOC NYC ANNOUNCES FULL LINE-UP FOR SIXTH EDITION
NOVEMBER 12-19, 2015
Line-Up Includes 27 World Premieres and 15 U.S. Premieres among Over 200 Films and Events
Secretary Hillary Rodham Clinton to Present Closing Night World Premiere Once and For All on Nov. 19
Other Special Guests Include Martin Scorsese, Sharon Jones, Ethan Hawke, Sonia Sanchez, Bill Binney, Mary Louise Wilson, Gilbert Gottfried,Yvonne Rainer, Omar Epps, Chefs Georges Perrier and Nicholas Elmi. Acclaimed Documentarians Michael Moore, Barbara Kopple, Amy Berg, Kirby Dick, Alex Gibney, Kim Longinotto, Liz Garbus, Davis Guggenheim, Asif Kapadia, Brett Morgen, Morgan Neville, Stanley Nelson, and Joshua Oppenheimer will also be in attendance. 
DOC NYC, America's largest documentary festival, announced the full line-up for its sixth edition, running November 12-19 at the IFC Center in Greenwich Village and Chelsea's SVA Theatre and Bow Tie Chelsea Cinemas. Continuing the rapid growth of the event, the 2015 festival includes 104 feature-length documentaries and has expanded to showcase over 200 films and events overall. Included are 27 world premieres and 15 U.S. premieres, with more than 200 doc makers and special guests expected in person to present their films.
Secretary Hillary Rodham Clinton will be in attendance on November 19 for the Closing Night world premiere of AOL's MAKERS' Once and For All, directed by Michael Epstein and Dyllan McGee, about the 1995 Beijing Women's Conference where then-First Lady Clinton gave a historic address on women's rights.
Director Amy Berg will present her Janis Joplin portrait, Janis: Little Girl Blue, for the festival's Centerpiece on November 15.
These two gala screenings join the previously announced Opening Night film Miss Sharon Jones!, directed by Academy Award-winning filmmaker Barbara Kopple.
"This year's line-up represents the tremendous breadth and depth of documentary making," said Director of Programming Basil Tsiokos. "The films introduce us to unforgettable characters full of emotion, inspiration and wonder. No matter what your interest – arts, politics, sports, food, music, you name it – we've got a film for you." Tsiokos led the program selection in collaboration with Artistic Director Thom Powers and Executive Director Raphaela Neihausen.
The festival is curated in 19 sections that include high profile Galas and Special Events; competition sections Viewfinders (for distinctive directorial visions) and Metropolis (for New York City stories); national and global takes in American Perspectives and International Perspectives; and thematic sections Centerstage (on performers), Fight the Power (on activism), Jock Docs (on sports), and Sonic Cinema (on music). New sections this year are Doc Eat Doc (on food), Modern Family (on diverse relations), The Wild Life (on animals) and Behind the Scenes (on films and filmmaking). Another new initiative is DOC NYC U, focusing on student projects. Remaining sections are Docs Redux, reviving classics; Shorts, representing the upsurge of short-form documentary; the previously announced slate of Short List titles highlighting 15 of the year's award contenders; and DOC NYC PRO, focusing on panels and masterclasses.
The festival's 27 world premieres are spread throughout the line-up and include The Anthropologist, profiling Margaret Mead and Susie Crate; Bluespace, an exploration of water on Earth and Mars; The Sunshine Makers, on psychedelic drug makers; Thank You For Your Service, on veterans coping with PTSD; and the first two episodes of Making a Murderer, a 10-part Netflix series about a high-stakes criminal case in America's heartland.
Among the 15 U.S. premieres are The Fear of 13, on a prisoner's gripping story; Frackman, on an Australian activist; Lucha Mexico, on Mexican wrestlers; Noma: My Perfect Storm, on the acclaimed Nordic restaurant; and Speed Sisters, on Arab women race car drivers.
In the festival's competition sections, 10 films appear under the Viewfinders section for distinct directorial visions including Motley's Law, on an American lawyer working in Afghanistan's courts, and P.S. Jerusalem, a portrait of the contested city; while 10 films play in the Metropolis section dedicated to stories set in New York City including Class Divide, on Chelsea's changing dynamics between public housing and gentrification, and OXD: One Extraordinary Day, on Elizabeth Streb's Extreme Action Company. The winner of the Grand Jury Prize in each section receives a one-week qualifying theatrical run at IFC Center and a deliverables package provided by Technicolor-PostWorks New York.
DOC NYC will welcome over 200 filmmakers and special guests in attendance for Q&As after most screenings. Among the notable visitors expected to appear in person are filmmaker Martin Scorsese for Hitchcock/Truffaut; comedian Gilbert Gottfried for Can We Take a Joke?; poet Sonia Sanchez for BaddDDD Sonia Sanchez; actress Mary Louise Wilson for She's the Best Thing In It; actor Omar Epps for Daddy Don't Go; former NSA technical director Bill Binney for A Good American; avant-garde filmmaker and choreographer Yvonne Rainer for Feelings Are Facts: The Life of Yvonne Rainer; and renowned chefs Georges Perrier and Nicholas Elmi for King Georges.
The festival is particularly pleased that all the filmmakers from this year's Short List section of awards frontrunners will be present for screenings of their films: Evgeny Afineevsky, Kirby Dick, Liz Garbus, Alex Gibney, Davis Guggenheim, Ethan Hawke, Matthew Heineman, Asif Kapadia, Kim Longinotto, Michael Moore, Brett Morgen, Crystal Moselle, Morgan Neville & Robert Gordon, Stanley Nelson, and Joshua Oppenheimer.
The festival is made possible by Leadership Sponsor HBO Documentary Films; Major Sponsors A&E IndieFilms, Netflix; Supporting Sponsor SundanceNow Doc Club; Leading Media Sponsors New York magazine; WNET; Signature Sponsors Chicken & Egg Pictures, Cowan, DeBaets, Abrahams & Sheppard LLP, Image Nation, Impact Partners, Mayor's Office of Media and Entertainment, RADiUS-TWC, Technicolor-PostWorks New York.
The following is a breakdown of programming by section:
GALAS
Opening Night – MISS SHARON JONES!
Dir: Barbara Kopple, US Premiere
Two-time Oscar winner Barbara Kopple follows soul queen Sharon Jones in a year of adversity. In person: Barbara Kopple, subjects Sharon Jones and The Dap-Kings
Centerpiece – JANIS: LITTLE GIRL BLUE
Dir: Amy Berg, NYC Premiere
Academy Award-nominated filmmaker Amy Berg (Deliver Us from Evil) profiles the rock legend Janis Joplin. FilmRise. In person: Amy Berg
Closing Night – ONCE AND FOR ALL
Dirs: Michael Epstein, Dyllan McGee, World Premiere
The story of the 1995 Beijing Women's Conference, a watershed event in the global struggle for women's rights. AOL's MAKERS. In person: Michael Epstein, Dyllan McGee, subject Secretary Hillary Rodham Clinton
SPECIAL EVENTS
AN ART THAT NATURE MAKES: THE WORK OF ROSAMOND PURCELL
Dir: Molly Bernstein, World Premiere
Photographer Rosamond Purcell finds unexpected beauty in the overlooked, discarded and decayed. In person: Molly Bernstein, subject Rosamond Purcell. (Preceded by the short film A PASSION OF GOLD AND FIRE, dir: Sebastien Pins, on the retiring head of an apiary school.)
HITCHCOCK/TRUFFAUT
Dir: Kent Jones
Martin Scorsese, David Fincher and others discuss the influence of Hitchcock and Truffaut's famous book. Cohen Media Group. In person: Kent Jones, subject Martin Scorsese
KEYNOTE: A CONVERSATION WITH JON ALPERT & SHEILA NEVINS
Filmmaker Jon Alpert and HBO Documentary Films head Sheila Nevins give a keynote conversation in conjunction with the world premiere of Alpert's short film MARIELA CASTRO'S MARCH: CUBA'S LGBT REVOLUTION profiling the Cuban Congresswoman who is a tireless champion of LGBT rights in Cuba. HBO Documentary Films.
MAKING A MURDERER
Dirs: Laura Ricciardi, Moira Demos, World Premiere
A sneak peek at the first two episodes of a riveting ten-part true crime docu-series. Netflix. In person: Laura Ricciardi, Moira Demos
TROUBLEMAKERS: THE STORY OF LAND ART
Dir: James Crump
A group of NYC-based artists abandoned gallery spaces to embrace the expanse of the American Southwest. First Run Features. In person: James Crump, MOCA Director Philippe Vergne
+ A SURPRISE SCREENING OF A SOON-TO-BE-ANNOUNCED WORLD PREMIERE
VIEWFINDERS COMPETITION (distinct directorial visions)
THE ANTHROPOLOGIST
Dirs: Seth Kramer, Daniel A. Miller, Jeremy Newberger, World Premiere
Parallel stories of two female anthropologists: trailblazer Margaret Mead and contemporary Susie Crate. In person: Seth Kramer, Daniel A. Miller, Jeremy Newberger, subjects Mary Catherine Bateson, Susie Crate, Katie Yegorov-Crate
BARGE
Dir: Ben Powell, NYC Premiere
A portrait of characters working on a Mississippi barge headed to New Orleans. In person: Ben Powell
BLUESPACE
Dir: Ian Cheney, World Premiere
An expedition to two planets: Earth, with its rising seas, and Mars, with the promise of colonization. In person: Ian Cheney
A GOOD AMERICAN
Dir: Friedrich Moser, North American Premiere
A profile of Bill Binney, who went from a NSA insider to a critic of government surveillance. In person: Friedrich Moser, subjects Bill Binney, Kirk Wiebe, Tom Drake
I AM SUN MU
Dir: Adam Sjöberg, US Premiere
After defecting from North Korea, a former propaganda artist applies his craft to satirical political pop art. In person: Adam Sjöberg
A JOURNEY OF A THOUSAND MILES: PEACEKEEPERS
Dirs: Sharmeen Obaid-Chinoy, Geeta Gandbhir, US Premiere
Three Bangladeshi policewomen serve with the UN peacekeeping mission in post-earthquake Haiti. In person: Geeta Gandbhir
MOTLEY'S LAW
Dir: Nicole Horanyi, NYC Premiere
The only Western lawyer licensed to work in Afghanistan's courts, Kimberley Motley finds herself at a crossroads. In person: Nicole Horanyi, subject Kimberley Motley
NEWMAN
Dir: Jon Fox, NYC Premiere
A maverick inventor battles against the scientific establishment over a miraculous energy-producing machine. In person: Jon Fox
P.S. JERUSALEM
Dir: Danae Elon, US Premiere
Chronicling three years in Jerusalem with her family, Danae Elon uncovers the city's tensions. In person: Danae Elon
THE SUNSHINE MAKERS
Dir: Cosmo Feilding-Mellen, World Premiere
A real-life Breaking Bad for the psychedelic set about the unlikely duo at the heart of 1960s drug counterculture. In person: Cosmo Feilding Mellen
METROPOLIS COMPETITION (NYC stories)
CLASS DIVIDE
Dir: Marc Levin, NYC Premiere
A look at NYC's gentrification and growing inequality at the Chelsea intersection of 10th Avenue and 26th Street. HBO Documentary Films. In person: Marc Levin
DADDY DON'T GO
Dir: Emily Abt, World Premiere
Four diverse, disadvantaged NYC fathers struggle to beat the odds and defy the deadbeat dad stereotype. In person: Emily Abt, all subjects
THE JAZZ LOFT ACCORDING TO W. EUGENE SMITH
Dir: Sara Fishko, NYC Premiere
In 1957-65, a former LIFE Magazine photojournalist captured legendary jazz musicians in a Sixth Avenue loft. In person: Sara Fishko
LEFT ON PURPOSE
Dir: Justin Schein, Co-Dir David Mehlman, NYC Premiere
What begins as a portrait of the life of an antiwar radical instead threatens to become an account of his suicide. In person: Justin Schein, David Mehlman
THE LOST ARCADE
Dir: Kurt Vincent, World Premiere
Gentrification threatens the last arcade in NYC, as well as the diverse community that calls it a second home. In person: Kurt Vincent
MIRIAM: HOME DELIVERY
Dir: Juliet Jordan, World Premiere
A profile of a NYC homebirth midwife and her diverse clientele. In person: Juliet Jordan, subject Miriam Schwarzschild
MISSING PEOPLE
Dir: David Shapiro, NYC Premiere
A NYC gallerist, haunted by the unsolved murder of her brother, becomes obsessed with a New Orleans painter. In person: David Shapiro
OXD: ONE EXTRAORDINARY DAY
Dir: Craig Lowy, World Premiere
Elizabeth Streb's Brooklyn-based Extreme Action Company trains for a breathtaking spectacle in London. In person: Craig Lowy, subject Elizabeth Streb, dancers from the Streb Extreme Action Company
TESTED
Dir: Curtis Chin, World Premiere
Attending NYC's elite public schools can set students up for the future, but first they have to get in. In person: Curtis Chin. (Preceded by the short film WHY WE STAY, dir: Crystal Kayiza, co-dirs: Pete Quandt, Leroy Farrell, on a South Bronx community fighting gentrification.)
TREE MAN
Dirs: Jon Reiner, Brad Rothschild, NYC Premiere
A Quebecois family man spends five weeks on the streets of NYC selling Christmas trees. In person: Jon Reiner, Brad Rothschild
AMERICAN PERSPECTIVES (a spectrum of domestic topics)
ABOVE AND BELOW
Dir: Nicolas Steiner, NYC Premiere
An exploration of outsiders who live in abandoned military bunkers and storm drains in the American West. Oscilloscope Laboratories. In person: Nicolas Steiner
AN AUTOBIOGRAPHY OF MICHELLE MAREN
Dirs: Michel Negroponte, Michelle Maren, US Premiere
An acclaimed filmmaker and his troubled subject craft a captivating portrait of a woman enslaved by past traumas. In person: Michel Negroponte, Michelle Maren
DEEP RUN
Dir: Hillevi Loven, NYC Premiere
Can an affable young transgender man live openly with his true love in the Bible Belt?
In person: Hillevi Loven, subject Cole Ray Davis
THE FEAR OF 13
Dir: David Sington, North American Premiere
A death row prisoner behind bars for more then 20 years reveals the shocking truth behind his case. In person: David Sington
LOVE BETWEEN THE COVERS
Dir: Laurie Kahn, NYC Premiere
A look at the vast community around romance fiction, demonstrating why love stories are no trivial matter. In person: Laurie Kahn
A NEW HIGH
Dirs: Samuel Miron, Stephen Scott Scarpulla, NYC Premiere
A group of Seattle addicts attempt to climb Mount Rainier to conquer their demons. In person: Samuel Miron, Stephen Scott Scarpulla
SKY LINE
Dirs: Miguel Drake-McLaughlin, Jonny Leahan, World Premiere
Egos collide as a group of scientists and entrepreneurs attempt to realize a science-fiction fantasy. FilmBuff. In person: Miguel Drake-McLaughlin, Jonny Leahan
THANK YOU FOR YOUR SERVICE
Dir: Tom Donahue, World Premiere
The stories of several struggling veterans reveal the mental health crisis in the military. In person: Tom Donahue, subjects Kenneth Toone, Dr. Mark Russell, William Rodriguez, Phil Straub, General Loree Sutton, Jake Clark
WILHEMINA'S WAR
Dir: June Cross, World Premiere
An African-American grandmother in the deep South cares for her HIV+ family members. In person: June Cross. (Preceded by the short film OPEN YOUR EYES, dir: Irene Taylor Brodsky, on a blind elderly couple in Nepal.)
INTERNATIONAL PERSPECTIVES (a spectrum of global topics)
ALL RISE
Dirs: Jay Shapiro, Jeffrey Saunders, World Premiere
International law students face off in the world's most prestigious simulated court competition, the Jessup. In person: Jay Shapiro, Jeffrey Saunders, subjects Areej Alragabi, Tomer Tregor
THE BABUSHKAS OF CHERNOBYL
Dirs: Holly Morris, Anne Bogart, NYC Premiere
A profile of elderly women who subsist on their beloved but toxic land in Chernobyl's radioactive exclusion zone. In person: Holly Morris
BOLSHOI BABYLON
Dirs: Nick Read, co-dir. Mark Franchetti, NYC Premiere
Russia's Bolshoi Ballet weathers the fallout from the notorious 2013 acid attack on the company's director Sergei Filin. HBO Documentary Films. In person: Nick Read, Mark Franchetti
KINGDOM OF SHADOWS
Dir: Bernardo Ruiz
A compelling investigation into the human costs of the Mexican drug war on both sides of the border. Participant Media. In person: Bernardo Ruiz
ON THE RIM OF THE SKY
Dir: Hongjie Xu, US Premiere
An isolated Chinese village school becomes a battleground between generations, ideologies and egos.
TOCANDO LA LUZ
Dir: Jennifer Redfearn, NYC Premiere
Three women, united by blindness and a desire for independence, pursue their dreams in modern Cuba. In person: Jennifer Redfearn. (Preceded by the short film THE 100 YEARS SHOW, dir: Alison Klayman, on Cuban-born NYC artist Carmen Herrera.)
BEHIND THE SCENES (on films and filmmaking)
CLAUDE LANZMANN: SPECTRES OF THE SHOAH
Dir: Adam Benzine, NYC Premiere
For the first time on camera, the 89-year-old auteur behind Shoah reflects on the challenges he faced to realize his vision. HBO Documentary Films. In person: Adam Benzine, subjects Richard Brody, Stuart Liebman. (Preceded by the short film DREAMING AGAINST THE WORLD, dirs: Timothy Sternberg, Francisco Bello, on Chinese artist Mu Xin.)
THE DYING OF THE LIGHT
Dir: Peter Flynn, World Premiere
A bittersweet ode to the vanishing craft of film projection and a celebration of the men and women in the booth. In person: Peter Flynn
HAROLD AND LILLIAN: A HOLLYWOOD LOVE STORY
Dir: Daniel Raim, North American Premiere
A love story and tribute to the unsung talents behind a staggering number of cinema classics. In person: Daniel Raim
RAIDERS!: THE STORY OF THE GREATEST FAN FILM EVER MADE
Dirs: Jeremy Coon, Tim Skousen, NYC Premiere
Three pre-teens set out to pay tribute to their favorite film; it become an obsession lasting three decades. Drafthouse Films. In person: Jeremy Coon,Tim Skousen
REEL IN THE CLOSET
Dir: Stu Maddux, NYC Premiere
An excavation of the hidden history of LGBT lives through a treasure trove of rare home movies. In person: Stu Maddux. (Preceded by the short film ED & PAULINE, dirs: Christian Bruno, Natalija Vekic, on Pauline Kael and Ed Landberg's art house cinema.)
WOMEN HE'S UNDRESSED
Dir: Gillian Armstrong, NYC Premiere
In Hollywood's golden age, costume designer Orry-Kelly thrived, but also kept secrets as a gay man. In person: subject Ann Roth
CENTERSTAGE (on performers)
CAN WE TAKE A JOKE?
Dir: Ted Balaker, World Premiere
A thought-provoking exploration of outrage culture through the lens of stand-up comedy.
In person: Ted Balaker, subjects Greg Lukianoff, Karith Foster, Gilbert Gottfried
FEELINGS ARE FACTS: THE LIFE OF YVONNE RAINER
Dir: Jack Walsh, NYC Premiere
A long-overdue portrait of iconoclast dancer, choreographer and filmmaker Yvonne Rainer. In person: Jack Walsh, subject Yvonne Rainer
THE RED UMBRELLA DIARIES
Dir: David Kornfield, NYC Premiere
Seven diverse sex workers tell their tales at NYC's Joe's Pub. In person: producer Audacia Ray
SHE'S THE BEST THING IN IT
Dir: Ron Nyswaner, NYC Premiere
Tony-winning character actor Mary Louise Wilson finds few opportunities on the stage, so turns to teaching. In person: Ron Nyswaner, subject Mary Louise Wilson
DOC EAT DOC (on food)
CITY OF GOLD
Dir: Laura Gabbert, NYC Premiere
This portrait of Pulitzer Prize-winning food critic Jonathan Gold reveals hidden culinary gems of Los Angeles. Sundance Selects. In person: Laura Gabbert, subject Jonathan Gold
FOR GRACE
Dirs: Kevin Pang, Mark Helenowski, NYC Premiere
Recognized with two Michelin stars, chef Curtis Duffy sets grand plans for his new Chicago restaurant, Grace. FilmBuff. In person: Kevin Pang
KING GEORGES
Dir: Erika Frankel
At Philadelphia's famed French restaurant Le Bec Fin, chef Georges Perrier struggles to stay in business. In person: Erika Frankel, subjects Georges Perrier, Nicholas Elmi
THE MISSING INGREDIENT
Dir: Michael Sparaga, World Premiere
A portrait of two NY restaurants, exploring what it means to be an institution. In person: Michael Sparaga, subjects Charles Devigne, Michael Miele, Salvatore Doria
NOMA: MY PERFECT STORM
Dir: Pierre Deschamps, North American Premiere
When the Nordic restaurant Noma loses the title of the world's best restaurant, its talented chef seeks redemption. Magnolia Pictures.
DOCS REDUX (a showcase of classic revivals)
GIMME SHELTER (1970)
Dirs: Albert Maysles, David Maysles, Charlotte Zwerin
45th anniversary screening, in memory of Al Maysles. A portrait of the Rolling Stones becomes a disturbing record of a notorious concert.
HIGH ON CRACK STREET: LOST LIVES IN LOWELL (1995)
Dirs: Jon Alpert, Maryann DeLeo, Richard Farrell
20th anniversary screening. The documentary that inspired The Fighter focuses on three addicts. In person: Jon Alpert
SISTERS IN LAW (2005)
Dir: Kim Longinotto
10th anniversary screening. Two fierce and feisty women challenge tradition in Cameroon through their legal work. In person: Kim Longinotto
FIGHT THE POWER (on activists)
BADDDDD SONIA SANCHEZ
Dirs: Barbara Attie, Janet Goldwater, Sabrina Schmidt Gordon, NYC Premiere
A crucial figure in the Black Arts Movement harnesses her gift for words to fuse art and activism over six decades. California Newsreel. In person: Barbara Attie, Janet Goldwater, Sabrina Schmidt Gordon, subject Sonia Sanchez
THE C WORD
Dir: Meghan O'Hara, NYC Premiere
Oscar-nominated producer Megan O'Hara (Sicko) questions the establishment wisdom around cancer. In person: Meghan O'Hara
CIRCLE OF POISON
Dirs: Evan Mascagni, Shannon Post, World Premiere
A pointed exposé on the global trade in banned pesticides and their impact on health. In person: Evan Mascagni, Shannon Post
FRACKMAN
Dir: Richard Todd, Co-Dir Jonathon Stack, US Premiere
Funny and outspoken Aussie everyman Dayne Pratzky becomes an accidental activist against fracking. In person: Richard Todd
THE INVADERS
Dir: Prichard Smith, World Premiere
Filling in a lost chapter of civil rights history, a look at the generation of radicals that emerged in Memphis in 1967. In person: Prichard Smith (Preceded by the short film EMORY DOUGLAS: THE ART OF THE BLACK PANTHERS, dirs: Dan Covert, Andre Andreev aka "Dress Code," on art used as a revolutionary weapon.)
NO MÁS BÉBES
Dir: Renee Tajima-Peña, NYC Premiere
A young lawyer fights the medical establishment on behalf of Latina immigrants sterilized without their consent. In person: Renee Tajima-Peña
JOCK DOCS (on sports)
BOUNCE: HOW THE BALL TAUGHT THE WORLD TO PLAY
Dir: Jerome Thelia, NYC Premiere
A far-ranging exploration of the universal appeal of play as realized in the ubiquity and versatility of the ball. In person: Jerome Thélia. (Preceded by the short film THE BAD BOY OF BOWLING, dir: Bryan Storkel, on bowling sensation Peter Weber.)
GAME FACE
Dir: Michiel Thomas, NYC Premiere
A transgender Mixed Martial Artist and a gay college basketball player struggle with living openly in the public eye. In person: Michiel Thomas
THE GREAT ALONE
Dir: Greg Kohs, NYC Premiere
Lance Mackey braves the Arctic wilderness for another chance at glory through the Iditarod Trail Sled Dog Race. In person: Greg Kohs, subjects Lance Mackey, sled dog Amp
THE LEGEND OF SWEE' PEA
Dir: Benjamin May, World Premiere
NYC playground basketball legend Lloyd "Swee' Pea" Daniels was a top college recruit until a drug bust. In person: Benjamin May
LUCHA MEXICO
Dirs: Alex Hammond, Ian Markiewicz, US Premiere
An entertaining look at Mexico's Lucha Libre, where masked wrestlers wage a battle between good and evil. In person: Alex Hammond, Ian Markiewicz, subjects Shocker, Jon Strongman
SPEED SISTERS
Dir: Amber Fares, US Premiere
The Middle East's first all-female Arab race car team overcomes checkpoints and expectations to become role models. In person: Amber Fares, subject Noor Daoud
MODERN FAMILY (on diverse relations)
ALWAYS TOGETHER
Dir: Eva Tomanová, US Premiere
A former computer scientist raises his family in the Czech countryside with no modern conveniences or schooling.
FROM THIS DAY FORWARD
Dir: Sharon Shattuck, NYC Premiere
The filmmaker seeks to understand how her parents remained together after her father transitioned to a woman. In person: Sharon Shattuck
GAYBY BABY
Dir: Maya Newell, NYC Premiere
This touching film reveals both the challenges of same-sex parenting and its commonalities with every family. In person: producer Charlotte Mars
THE MELTING FAMILY
Dir: Nicole Groton, World Premiere
This candidly personal film chronicles how one nuclear family grew through seven divorces and remarriages. In person: Nicole Groton
OLD FRIENDS
Dir: Peter Odabashian, World Premiere
An intimate reflection on friendship demonstrates the power of an intentional community. In person: Peter Odabashian, subjects Esther Cohen, Bruce Kitzmeyer, Anne Newman Bacal, Betty Odabashian
WITH OR WITHOUT YOU
Dir: Hyuckjee Park, North American Premiere
Long-widowed from the husband they shared, two women continue to live together decades later.
SONIC CINEMA (on music)
13 MILLION VOICES
Dir: Janelle Gueits, NYC Premiere
Young Cubans and Cuban Americans forge ties against backdrop of Havana's Peace Without Borders concert. In person: Janelle Gueits
HUSTLERS CONVENTION
Dir: Mike Todd
A rap cousin of Searching for Sugar Man, the film seeks the artist behind the 1973 album Hustlers Convention. In person: Mike Todd
I GO BACK HOME – JIMMY SCOTT
Dir: Yoon-ha Chang, World Premiere
The angelic-voiced jazz singer Jimmy Scott lived in obscurity for decades before making a comeback. In person: Yoon-ha Chang, subject Ralf Kemper
MAD TIGER
Dirs: Jonathan Yi, Michael Haertlein, World Premiere
Meet Peelander-Z and you might just start to believe the Japanese art-punk band's claims of interstellar origins. In person: Jonathan Yi, Michael Haertlein, subjects Kengo Hioki (Yellow), Kotaro Tsukada (Red)
SYL JOHNSON: ANY WAY THE WIND BLOWS
Dir: Rob Hatch-Miller, NYC Premiere
Soul singer Syl Johnson never achieved the success he longed for until hip hop opened up new opportunities. In person: Rob Hatch-Miller
THEORY OF OBSCURITY: A FILM ABOUT THE RESIDENTS
Dir: Don Hardy, NYC Premiere
A profile of the band the Residents, who have maintained anonymity for 40 years behind giant eyeball masks. Film Movement. In person: Don Hardy
THE WILD LIFE (on animals)
THE CHAMPIONS
Dir: Darcy Dennett, NYC Premiere
An inspiring chronicle of the efforts to rescue and rehabilitate Michael Vick's pit bulls. In person: Darcy Dennett
HARRY & SNOWMAN
Dir: Ron Davis, NYC Premiere
Dutch immigrant Harry deLeyer saves a horse from the glue factory and finds a show-jumping champion. In person: Ron Davis
HUNTWATCH
Dir: Brant Backlund, World Premiere
An activist crusades against the cruelty of seal hunting while bringing us closer to the delightful creatures. In person: Brant Backlund
TIGER TIGER
Dir: George Butler, NYC Premiere
One of the world's top big cat biologists tracks tigers on the dangerous border of India and Bangladesh. In person: George Butler
SHORTS PROGRAMS (thematic collections of short documentaries)
SHORTS: CONCRETE KINGDOM
City life. Lenny and the Rat (dir: Jason Hutt); S – The Musical Shuttle (dirs: Alina Abouelenin, Benjamin Bergmann); Man Under (dir: Paul Stone); Mac Premo – stuffmaker (dir: Bas Berkhout); Super-Unit(s) (dir: Teresa Czepiec). In person: Paul Stone, Jason Hutt, Bas Berkhout, Alina Abouelenin, Benjamin Bergmann
SHORTS: EXPRESSIONS
Artists and their art. Sideshow of the Absurd (dirs: Tina DiFeliciantonio, Jane C. Wagner); Cindy Sherman: "Untitled Film Stills" (dir: Douglas Sloan); Colors of Life (dir: Goro Ushijima); Artspeak (dir: Bill Claps); Bernice (dir: Kristina Sorge). In person: Tina DiFeliciantonio, Jane C. Wagner, Douglas Sloan, Bill Claps
SHORTS: A FEW OF MY FAVORITE THINGS
Stories for the whole family. Cone Phones (dir: Heidi Gelover); Little Hero (dirs: Marcus McDougald, Jennifer Medvin); Made of Clay (dir: Fayssal Bin Sahli); AlieNation (dir: Laura Lehmus); Curt (dir: Brendan Hearne); Teen Press (dir: T.C. Johnstone). In person: Heidi Gelover, Jennifer Medvin, Brendan Hearne, T.C. Johnstone
SHORTS: FROM THERE TO HERE
Experiences in the melting pot. Satellite Baby (dir: Jenny Schweitzer); Resident
Alien (dir: Naiara Eizaguirre-Paulos); The Absentees (dir: Tanya Daud); Not So Namaste (dirs: Rita Baghdadi, Jeremiah Hammerling); Marathon (dirs: Theo Rigby, Kate McLean); Going Back Home (dir: Tim O'Donnell); Looking at Time (dir: Brandon Lavoie). In person: Jenny Schweitzer, Rita Baghdadi, Jeremiah Hammerling, Theo Rigby, Kate McLean, Tim O'Donnell, Brandon Lavoie
SHORTS: LARGER THAN LIFE
Portraits of everyday characters. Tiger Hood (dir: Christopher André Marks); Pink Boy (dir: Eric Rockey); The Reinvention of Normal (dir: Liam Saint-Pierre); Dunk Tank Clowns (dir: Daniel McGuire); Rothman (dir: Nader Sadre); Heavy Fog Tonight (dir: Nathan Reich). In person: Christopher André Marks, Eric Rockey, Liam Saint-Pierre, Daniel McGuire, Nader Sadre, Nathan Reich
SHORTS: PASSPORT
Take a trip around the world. Boxeadora (dir: Meg Smaker); Worlds on Edge (dirs: Thiago B. Mendonça, Renata Jardim); End of the World (dir: Monika Pawluczuk); Hyena Boys (dir: Tarryn Crossman). In person: Meg Smaker, Thiago B. Mendonça, Monika Pawluczuk, Tarryn Crossman
SHORTS: POINTS OF VIEW
Tales of yesterday, today and tomorrow. The Clock of the Long Now (dirs: Jimmy Goldblum, Adam Weber); The Typist (dir: Kristine Stolakis); German Shepherd (dir: Nils Bergendal); The 414s (dir: Michael T. Vollmann); Back (dirs: Jenna Belhumeur,
Elena Boffetta); I Was Here First (dirs: Katherin Machalek, Adam Golub); The Surrender (dir: Stephen Maing). In person: Jimmy Goldblum, Adam Weber, Kristine Stolakis, Jenna Belhumeur, Elena Boffetta, Katherin Machalek, Adam Golub, Stephen Maing
SHORT: PUSHING THE BOUNDS
True innovation. What Lies Beneath the Sky (dir: Vladimir de Fontenay); Morgan Green Shaves Her Head Backwards (dir: Morgan Green); María 95 (dir: Josh Polon); Zone Blanche (dir: Gaëlle Cintré); Confessions (dir: Paul Erskine); Le Mur et l'Eau (dir: Alice Fargier). In person: Vladimir de Fontenay, Morgan Green, Josh Polon, Gaëlle Cintré, Paul Erskine
DOC NYC UNIVERSITY SHOWCASE
DOC NYC U – COLUMBIA SCHOOL OF JOURNALISM PROGRAM
Showcase includes: Code of Silence (dirs: Scilla Alecci, George Steptoe); Through the Fire (dirs: Nyasha Kadandara, Olivia Lace-Evan); Born Into This (dir: Sean Ryon).
DOC NYC U – NEW YORK FILM ACADEMY PROGRAM
Showcase includes: Alive and Kicking (dir: Lara-Ann de Wet); The Happiest Family (dir: Camille Bildsøe); Legacy (dir: Amy J. Wright); Freya (dirs: Andrew Linga, Rachael Peltzer, William Nestlehutt, Sacha-Gay Lewis, Jimmie Julion, Ivoree Myles, Denis Perez); All in My Head: The Patrick Stein Story (dir: Colleen Shaw).
DOC NYC U – NEW YORK UNIVERSITY NEWSDOC PROGRAM
Showcase includes: In All Fairness (dir: Richa Sanwal); School of Yoga (dir: Contessa Gayles); Fairy Tales (dir: Rongfei Guo).
DOC NYC U – SCHOOL OF VISUAL ARTS MFA SOCDOC PROGRAM
Showcase includes: No More Sad (dir: Alex Budman); Pele, My Paradise teaser (dir: Antonella Carrasco); The Wonder Workshop (dir: Amitabh Joshi); Last Days of Domino (dir: Yuqi Kang); Sister Jolin teaser (dir: Siyan Liu, Danni Wang); Ray Valenz: Fire Breather (dir: Lizzie Minges); 18 Seconds (dir: Nori Mizukami); Tide to Stone trailer (dir: David Hoon Newman); H Nagano (dir: Miwa Sakulrat); Oliver (dir: Lacy Wangen).
For complete program information, go to:
Tickets:
Tickets for all screenings go on sale to the public Wednesday, October 14. Advance tickets for all DOC NYC films and events are available online at docnyc.net or in-person at the IFC Center box office, 323 Sixth Ave. (at West 3rd St.). Day-of tickets are available at the respective screening venues.
Ticket prices: Opening night screening of Miss Sharon Jones! and closing night screening of Once and for All – $30. Regular screenings – $17 adults, $15 seniors/children, $14 IFC Center members. Short List and DOC NYC U screenings – all tickets $10.
 Tickets for all screenings  are available now!
Passes:
DOC NYC offers three levels of festival passes for audiences eager to enhance their DOC NYC experience:
An All Access Pass is available for $750, giving audiences a chance to explore the full range of the festival's expansive offerings, including all films, panels and events.
A DOC NYC PRO Pass, giving access to the eight-day lineup of panels, masterclasses and programming for filmmakers and industry professionals, plus access to the PRO Lounge, all Short List presentations and four additional screenings, is also on offer this year for $350.
And the Insiders Conference Pass, with access to the complete Monday-Thursday in-depth exploration of the art and business of documentary filmmaking, plus access to the PRO Lounge and two additional screenings,  is available for $250.
All three types of passes can be purchased online at dev2.docnyc.net/passes or in person at the IFC Center box office. Details about pass redemption are available on the festival's website. Day passes for individual DOC NYC PRO days will also be available.