AT A GLANCE: DOC NYC 2015 SHORT LIST FILMS
October 13, 2015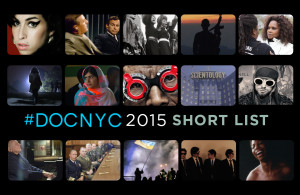 The DOC NYC Short List has a history of being a predictor of other awards, from critics' prizes and top ten lists to the Oscars. In each of the past two years, the DOC NYC Short List had nine titles overlapping the subsequent Oscar Documentary Short List. For the last four years, DOC NYC screened the documentary that went on to win the Oscar: Citizenfour (2014), 20 Feet From Stardom (2013), Searching for Sugar Man (2012), and Undefeated (2011).
All of the DOC NYC Short List titles will show during the festival with the director or other special guests present for their first screening. Additionally, all of the directors will participate on Friday, November 13 in the DOC NYC Morning Manifesto Short List Directors, a 90-minute conversation moderated by DOC NYC Artistic Director Thom Powers. Confirmed participants are: Evgeny Afineevsky, Kirby Dick, Liz Garbus, Alex Gibney, Davis Guggenheim, Ethan Hawke, Matthew Heinemann, Asif Kapadia, Kim Longinotto, Michael Moore, Brett Morgen, Crystal Moselle, Morgan Neville, Stanley Nelson, and Joshua Oppenheimer.
Admission to the Morning Manifesto: Short List Directors event is available to holders of the Pitch Day Pass, DOC NYC PRO Pass or All Access Pass.
Admission to all Short List screenings is included with the All Access and DOC NYC PRO Passes; individual screening tickets for Short List titles are now on sale for $10 each.
DOC NYC 2015 Short List
AMY (A24)
Dir: Asif Kapadia
Prod: James Gay-Rees
BEST OF ENEMIES (Magnolia Pictures, Participant Media)
Dir & prod: Morgan Neville & Robert Gordon
THE BLACK PANTHERS: VANGUARD OF THE REVOLUTION (PBS Distribution)
Dir: Stanley Nelson
Prod: Laurens Grant, Stanley Nelson
CARTEL LAND (The Orchard, A&E IndieFilms)
Dir: Matthew Heineman
Prod: Heineman, Tom Yellin
DREAMCATCHER (Showtime, Women Make Movies)
Dir: Kim Longinotto
Prod: Teddy Leifer, Lisa Stevens

GOING CLEAR: SCIENTOLOGY AND THE PRISON OF BELIEF (HBO Documentary Films)
Dir: Alex Gibney
Prod: Gibney, Kristen Vaurio, Lawrence Wright
HE NAMED ME MALALA (Fox Searchlight Pictures)
Dir: Davis Guggenheim
Prod: Guggenheim, Laurie MacDonald, Walter Parkes
THE HUNTING GROUND (RADiUS, CNN Films)
Dir: Kirby Dick
Prod: Amy Ziering

KURT COBAIN: MONTAGE OF HECK (HBO Documentary Films)
Dir: Brett Morgen
Prod: Morgen & Danielle Renfrew Behrens
THE LOOK OF SILENCE (Drafthouse Films, Participant Media)
Dir: Joshua Oppenheimer
Prod: Signe Byrge Sørensen
SEYMOUR: AN INTRODUCTION (Sundance Selects)
Dir: Ethan Hawke
Prod: Ryan Hawke, Greg Loser, Heather Joan Smith

WHAT HAPPENED, MISS SIMONE? (Netflix)
Dir: Liz Garbus
Prod: Garbus, Amy Hobby. Justin Wilkes, Jason Jackson
WHERE TO INVADE NEXT (Tom Quinn, Jason Janego, Tim League)
Dir: Michael Moore
Prod: Moore, Carl Deal, Tia Lessin
WINTER ON FIRE: UKRAINE'S FIGHT FOR FREEDOM (Netflix)
Dir: Evgeny Afineevsky
Prod: Afineevsky, Den Tolmor
THE WOLFPACK (Magnolia Pictures)
Dir: Crystal Moselle
Prod: Moselle,  Izabella Tzenkova, Hunter Gray, Alex Orlovsky
The festival is made possible by Leadership Sponsor HBO Documentary Films; Major Sponsors A&E IndieFilms, Netflix; Supporting Sponsor SundanceNow Doc Club; Leading Media Sponsors New York magazine; WNET; Signature Sponsors Chicken & Egg Pictures, Cowan, DeBaets, Abrahams & Sheppard LLP, Image Nation, Impact Partners, Mayor's Office of Media and Entertainment, RADiUS-TWC, Technicolor-PostWorks New York.
For festival passes, tickets or more information on DOC NYC go to:
dev2.docnyc.net
For media-specific inquiries, please contact:
Susan Norget Film Promotion