DOC NYC 2020 PRO All Access Pass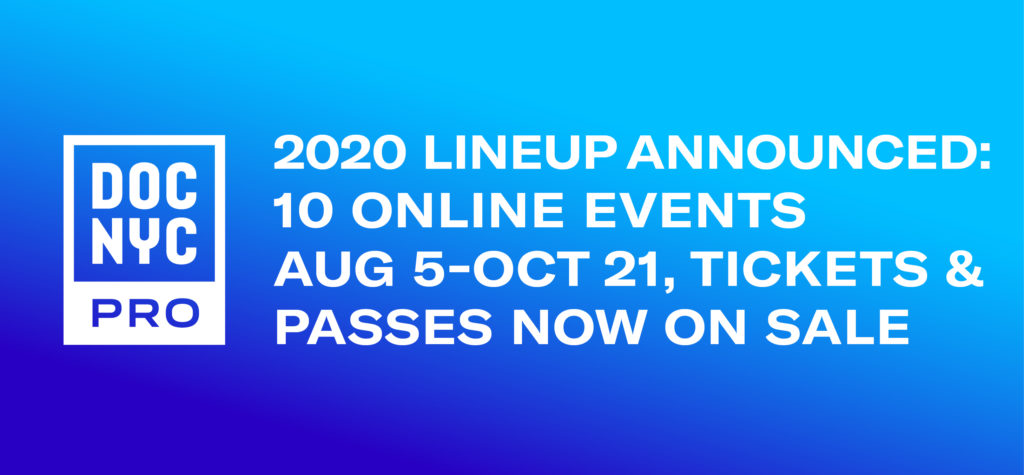 Join the 2020 edition of the DOC NYC PRO conference, taking place August 5-October 21. For the first time, the conference will move online, making its full slate of programs available to audiences around the globe. The 2020 PRO lineup will feature more than 50 participants representing a wide spectrum of voices and perspectives, from emerging directors to noted producers and established cinematographers, from artist collectives and filmmaker peer support organizations, to broadcasters, research institutions, news platforms, leading distributors and more. Tickets for individual events and a PRO All Access Pass, offering admission to all 10 classes and the archives of DOC NYC's earlier 2020 online courses, are now on sale. 
Covering all aspects of documentary making, from planning to production to post- to distribution, this year's edition of PRO is presented in six daylong PRO Day courses and four shorter 90-minute Immersive classes. In addition to professional development for filmmakers at all stages of their careers, the events also offer Q&As between attendees and participants, along with networking opportunities. See below for the current schedule and program details. Additional days centered around the films and filmmakers on DOC NYC's Short List for the year's most notable nonfiction projects will be announced for November. 
Each PRO Day features two 45-minute panel sessions with filmmakers, industry experts and executives, a 45-minute case study, and an hour-long interactive social hour at the end of the day, in which participants can meet each other and ask questions directly of panelists and DOC NYC staff in real time. Each Immersive event includes an hour-long panel discussion with filmmakers and industry experts, followed by 30 minutes of moderated audience questions.
After the live-streamed events, registrants and passholders will receive written resource materials, including a transcript of the live sessions and referenced links and materials. Participants may purchase classes a la carte at list prices, or receive access to the entire calendar of offerings for a flat pass fee of $150.
If you'd like to get multiple PRO All Access Passes for members of your organization, or gift a pass to a friend or colleague, please complete your purchase here.
The pass includes access to the following programs:
Wednesday, September 16 from 2-3:30 pm ET
DOC NYC PRO presents a 90-minute panel highlighting projects that live at the intersection of documentary film and journalism. Guests include director Ursula Liang, discussing her 2020 film Down a Dark Stairwell; New York Times journalists Catrin Einhorn and Leslye Davis, who share their decade-long reporting journey for their new Netflix feature Father, Soldier, Son; Editorial Director for Film & Television at The New York Times, Kathleen Lingo; Steve Byrne, Executive Director of Detroit Free Press's Freep Film Festival in Detroit; Erin Brethauer, co-director of the San Francisco Chronicle's feature doc Last Men Standing; and Charlie Phillips, Head of Video at The Guardian. Moderated by Columbia Graduate School of Journalism Professor Nina Alvarez.
Co-presented by Participant
Wednesday, September 23 from 11 am-3 pm ET
DOC NYC PRO presents a day of education on current trends in documentary distribution and audience engagement, including sessions on theatrical and digital distribution for the pandemic context and beyond; new realities for audience engagement; and a case study on the hit Canadian doc Once Were Brothers. Guests include: Dori Begley; NEON's EVP of Nonfiction Dan O'Meara; Chris Lane, the Director of Sales and Distribution at Participant Media; Variance Films's founder and president Dylan Marchetti; Fork Films COO Jess Kwan; Columbia School of the Arts's Alece Oxendine; Orly Ravid, founder of The Film Collaborative; Nick Savva, Director of Content Distribution at Giant Interactive; Robin Smith, CEO of Canada's Blue Ice Docs; Participant Media's SVP of Social Impact Melinda Arons; Frontline's Impact Producer Erika Howard; POV's Director of Community Engagement Asad Muhammad; Shontina Vernon, Creative Director of the Visionary Justice StoryLab, director Daniel Roher; Magnolia Pictures President Eamonn Bowles; Neal Block, Head of Marketing and Distribution at Magnolia Pictures; Justin Wilkes, President of Imagine Documentaries; and Peter Raymont, president of White Pine Pictures.
Wednesday, September 30 from 11 am-3 pm ET
DOC NYC PRO presents a day dedicated to the art of documentary producing. Sessions will feature development, budgeting and fundraising tactics and strategies, along with case studies from veteran producers. Guests include: Razan Ghalayini (Full Frontal with Samantha Bee); Alice Henty (Welcome to Chechnya); Diane Quon (Minding the Gap); Jameka Autry (Through the Night, Ernie & Joe); David Felix Sutcliffe (Black Mothers, (T)error), DPA members Susan Margolin and Beth Levison; attorney and investor Brenda Robinson, Impact Partners Executive Director, Jenny Raskin; Executive Vice President of Imagine Documentaries, Sara Bernstein; Suhad Babaa, Executive Director of the nonprofit Just Vision; Jannat Gargi, VP, Head of Documentaries at VICE Studios; and Multitude Films producer Jessica Devaney (Pray Away, Always in Season).
Wednesday, October 7 from 2-3:30 pm ET
Co-presented by Shutterstock
DOC NYC PRO presents a 90-minute panel exploring the use of archival footage in documentary filmmaking. The panel discussion will include Shola Lynch, independent filmmaker and curator of the New York Public Library's Schomburg Center for Research in Black Culture; Lia Jusino, director of archival research at VICE Media; Candice Murray, Vice President of Editorial at Shutterstock; director Penny Lane (Hail Satan?, NUTS!), filmmaker and artist Mariam Ghani (What We Left Unfinished), and editor Carla Gutierrez (RBG, Pray Away). 
Wednesday, October 14 from 11 am-3 pm ET
Join DOC NYC PRO for a daylong online workshop on legal issues in documentary, featuring attorneys and independent filmmakers considering myriad ethical and legal questions as they guide their projects toward distribution. The daylong course will also include an interactive Q&A breakout session and social hour.  Guests include attorneys Nicole Page, Michelle Lamardo, and Marc Simon, and filmmakers Lyric Cabral ((T)ERROR) and Geeta Gandbhir (Why We Hate). Additional participants to be announced.
Wednesday, October 21 from 2-3:30 pm ET
DOC NYC PRO presents a 90-minute session exploring the interplay between podcasting and documentary film, including guests who have successfully pivoted between film producing and podcast producing. The panel discussion will feature both producers and podcast platform execs, and will include a 30-minute moderated Q&A. Guests include Imani Mixon (MorningSide 48224); Paige Wood, Reva Goldberg (Amended, Mothers of Invention); Julie Lowrie Henderson (Bikram, The Sterling Affairs), and Stitcher's Natalie Mooallem.

Recorded sessions:
Recorded live on May 5 & 6
DOC NYC PRO's first two-day immersive looks into the nuts and bolts of creating highly shareable online content, especially in this moment when nearly all our social and business interaction has to take place virtually. Guests include representatives from digital marketing firm Smarthouse Creative; ViceNews; and the cult doc hit Fantastic Fungi.
Recorded live on May 19 & 20
DOC NYC PRO looks into an extremely timely topic: the process of editing and finishing a film when all work must be done remotely. Guests include editor Carla Gutierrez; director/producer Alysa Nahmias; Eric Johnson of Trailblazer Studios; and Joe Beirne from Technicolor – PostWorks.
Recorded live on June 3 & 4
DOC NYC PRO examines the social impact producing and audience engagement, especially relevant at a moment when communities are struggling to mobilize around life-and-death concerns, from police brutality to Covid-19. Guests include a slate of independent impact producers from around the world, including Mariana Ribeiro in Brazil (The Edge of Democracy, The Nightcrawlers); Ani Mercedes in Miami (Looky Looky Pictures) and Gwendolyn Alston from MocaMedia, in Spain. Other guests include those forwarding social impact from inside organizations: Darcy Heusel at NEON; Tricia Finneran at Good Pitch Local; Denae Peters at Perspective Fund; and Max Steinman from Exposure Labs.
Recorded live on June 16 & 17
DOC NYC PRO dives into the ethics, risks and practicalities of production in sensitive production environments, including during the Covid-19 pandemic, during social protests, after natural disasters, and with vulnerable subjects. As the world of doc production and distribution shifts, how can film teams reexamine their responsibilities to their crews and subjects, now and in the future? How might our current assessment of production risks reshape industry standards for filmmaking in the public interest and in marginalized communities? And how can the documentary field carry the lessons learned in this moment forward into other contexts? Panelists include Brenda Coughlin from Sundance Institute, filmmakers Michael Premo, Stephanie Wang-Breal, and Cecilia Aldarondo, IDA's Carrie Lozano, and Filmmaker Magazine's Scott Macaulay.
Recorded live on Wednesday, July 8
DOC NYC PRO hosted a daylong online workshop on Funding Your Documentary, featuring institutional grantmakers, equity investors, and other sources of support for documentary filmmakers, their projects, and the documentary organizations that incubate and exhibit their work. Panelists include Merrill Sterritt of Cinereach, Chi-hui Yang of JustFilms, Ford Foundation; Lucila Moctezuma of Chicken & Egg Pictures; Jenny Raskin of Impact Partners; Steve Cohen and Paula Froehle of Chicago Public Media; and filmmakers Erika Cohn and Angela Tucker of Belly of the Beast.
Recorded live on Wednesday, July 21
DOC NYC Features Programmer Karen McMullen led a conversation about advancing social equity and inclusion in the documentary field. Guests included Nicole Tsien, board member of Brown Girls Doc Mafia; Denise Greene of Black Public Media; Day Al-Mohamed, independent filmmaker and founding member of FWD-DOC, Karin Chien, independent producer and President of distributor dGenerate Films; Caty Borum Chattoo of The Center for Media & Impact at American University; and Paulina Suarez, Executive Director of Ambulante, Mexico's traveling documentary film festival. All proceeds from this event will go to the NAACP Legal Defense Fund.
Recorded live on Wednesday, August 5 
A day of practical guidance for the first-time filmmaker, including panels on developing a story, building a team, and securing funds and distribution. The daylong course featured first-time filmmakers who have successfully finished and released feature docs plus filmmaker collectives that provide professional and peer networks to emerging. Confirmed film teams include Meredith Chin and Sian-Pierre Regis (Duty Free); Jasmín Mara López (Silent Beauty): Lindsay Lindenbaum (Tomboy); and Yuqi Kang (A Little Wisdom). Additional speakers include Adam Piron, co-founder of the filmmaker collective, COUSIN and assistant curator for film at the Los Angeles County Museum of Art; Set Hernandez Rongkilyo, co-founder of the Undocumented Filmmakers Collective, and Leah Meyerhoff, founder of Film Fatales. Moderated by Anya Rous (Always In Season, The Feeling of Being Watched), Courtney Sheehan of Context Moves, and Rose Vincelli Gustine from SVA's MFA Social Documentary film program.
Co-presented by Sony
Recorded live Wednesday, August 12 from 11 am-3 pm ET
DOC NYC PRO presents a day of exploration in documentary cinematography in the current moment, including sessions on filming in sensitive environments; the practicalities and responsibilities of shooting during a pandemic; and a case study on the relationship between cinematographer and subject. Guests include director/DP Rachel Lears (Knock Down the House, The Hand that Feeds); cinematographer Iris Ng (A Better Man, Stories We Tell); cinematographer Jerry Henry (Netflix's forthcoming High on the Hog, The Rachel Divide, Exit Through the Gift Shop); DP Shana Hagan (The Kingmaker; 63 Up; Generation Wealth); DP Bryan Chang (Brasslands, Island Soldier, Into the Streets), and director Mo Scarpelli (El Father Plays Himself, Anbessa). Moderated by DOC NYC Features Programmer Jessie Fairbanks.
Recorded live Wednesday, August 19 from 2-3:30 pm ET
DOC NYC PRO presents a 90-minute session on the burgeoning field of documentary series. Our guests include Jyoti Sarda, producer of POV's first miniseries And She Could Be Next; Michele Josue (Matt Shepard Was a Friend of Mine), director of Netflix's five-episode docuseries Happy Jail; Rudy Valdez (The Sentence), director of the a soon-to-be-released Netflix youth football series; Tyler Measom (I Want My MTV, An Honest Liar, Sons of Perdition) of a forthcoming Netflix true-crime series, and Nanette Burstein, director of Hulu's Hillary miniseries.
Recorded live Wednesday, September 2 from 11 am-3 pm ET
DOC NYC PRO presents a day dedicated to documentary editing and post-production, including sessions on storytelling and narrative; developing the director-editor relationship, especially while working remotely; and sound and music editing. Guests include Sabrina Schmidt Gordon (BaddDDD Sonia Sanchez), Jaime Meyers Schlenck (9to5: The Story of a Movement), Tyler Walk (Welcome to Chechnya), Miranda Yousef (The New Bauhaus), Glenfield Payne (Sweetbitter), Annette Kudrak (Boardwalk Empire) and Nicole London (Miles Davis: Birth of the Cool).