DOC NYC ANNOUNCES 2nd ANNUAL "40 UNDER 40" LIST
October 10, 2019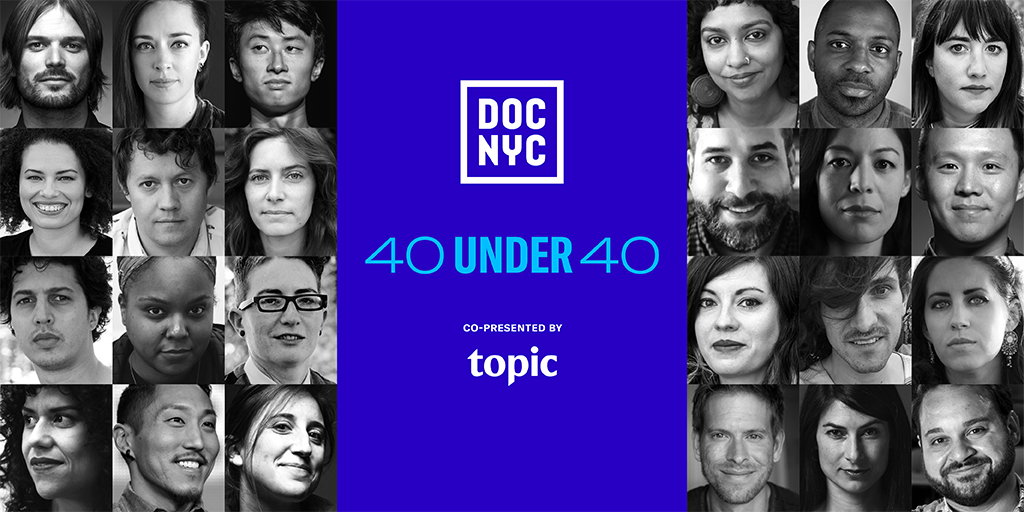 DOC NYC, America's largest documentary festival, running November 6-15, today announces its 2nd Annual 40 Under 40 list to honor 40 documentary talents under the age of 40. The honorees span the documentary disciplines of directing, producing, editing, and cinematography. The initiative is sponsored by Topic Studios, First Look Media's entertainment studio.
The honorees will be treated to two days of industry networking events at the DOC NYC PRO conference on Nov 11-12; and celebrated at a luncheon on Nov 12. The list was chosen by the DOC NYC team of Director of Programming Basil Tsiokos, Shorts Programmer Opal H. Bennett, and Artistic Director Thom Powers.
"We're thrilled to continue the 40 Under 40 initiative with the support of Topic Studios," said Powers. "The list represents a multitude of perspectives and backgrounds. For funders, commissioning editors, and producers looking for new talent, this is an invaluable resource."
"We're delighted to partner with DOC NYC once again to present 40 Under 40," said Maria Zuckerman, EVP, Topic Studios. "We are looking forward to celebrating each of these forces in documentary filmmaking and to honor their accomplishments in their respective disciplines."
Notable statistics from the list: more than half of the honorees are women, 40% are filmmakers of color, and the youngest person turns 31 in January.
The 40 Under 40 List is sponsored by Topic Studios, First Look Media's entertainment studio.
The honorees are listed below and identified with one notable credit.
*Indicates a film in the DOC NYC 2019 lineup.
Cecilia Aldarondo, director/producer, Memories of a Penitent Heart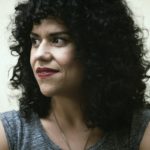 Cecilia Aldarondo is a documentary director-producer in Mechanicville, New York whose feature documentary Memories of a Penitent Heart premiered at Tribeca in 2016 and aired on POV in 2017. She is a 2019 Guggenheim Fellow, 2017 Women at Sundance Fellow, two-time MacDowell Colony Fellow, and one of 2015's 25 New Faces of Independent Film. 
Puloma Basu, director/producer, Other Music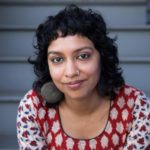 Puloma Basu lives in Los Angeles, California and has worked in the film and television industry for over a decade. She produced Syl Johnson: Any Way The Wind Blows, co-directed and produced Other Music, which premiered at the 2019 Tribeca Film Festival, and, with co-director Rob Hatch-Miller, was listed among Variety's 10 Documentary Filmmakers To Watch in 2019. 
Alexandria Bombach, director, On Her Shoulders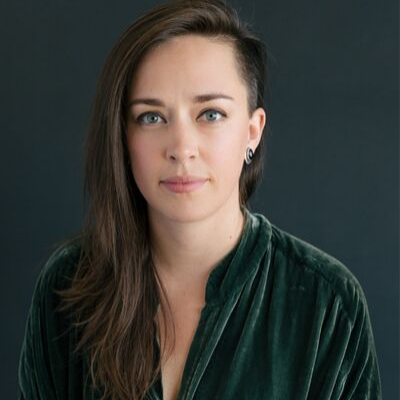 Alexandria Bombach is an award-winning director, cinematographer and editor from Santa Fe, New Mexico. Her feature-length documentary, On Her Shoulders, won Best Directing in the US Documentary Competition at the Sundance Film Festival, was nominated for two Film Independent Spirit Awards and was shortlisted for the Academy Awards. 
Shane Boris, producer, The Edge of Democracy*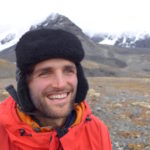 Shane Boris is a creative producer in Los Angeles, California. His most recent films include the Netflix Original and New York Times Critics' Pick The Edge of Democracy, and SFFILM's Golden Gate award-winning The Seer and the Unseen. Other films include All These Sleepless Nights (Sundance, Best Directing) and Fuck For Forest (Warsaw Film Festival, Best Documentary).
Jamie Boyle, director/producer/editor/cinematographer, Jackson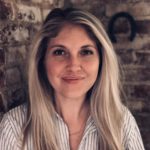 Jamie Boyle is an Emmy-winning documentary filmmaker in New York. She was the editor, producer and cinematographer for Jackson (Showtime), 2018 News & Documentary Emmy winner. She edited Trans In America, nominated for a 2019 News & Documentary Emmy for Best Short Documentary. She is currently directing a feature documentary scheduled for release in 2020.
Jennifer Brea, director/producer, Unrest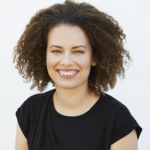 Jennifer Brea is an independent filmmaker based in Los Angeles. Her Sundance award-winning, Emmy-nominated feature documentary, Unrest, has screened in over 30 countries and had its US national broadcast on PBS's Independent Lens. She is also co-creator of Unrest VR, winner of the Sheffield Doc/Fest Alternate Realities Award.
Bryan Chang, director, Brasslands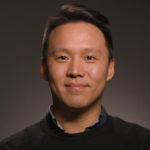 Bryan Chang is a documentary filmmaker whose directorial debut Brasslands screened at over 70 festivals worldwide. He edited Island Soldier (Hot Docs 2017), Narco Cultura (Sundance 2013) and additionally edited Oscar-shortlisted documentary Dark Money (Sundance 2018). He's a founding member of Meerkat Media, a cooperative film production company in Brooklyn, New York.
Ian Cheney, director/producer, Picture Character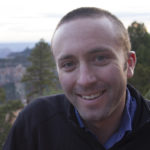 Ian Cheney is an Emmy-nominated and Peabody Award-winning filmmaker. He has completed eight feature-length documentaries, including King Corn, The City Dark, The Search for General Tso, The Most Unknown and Picture Character. A former Knight Science Journalism fellow at MIT and an adjunct at Yale, he lives in Maine.
Lauren Cioffi, programmer/producer, After Maria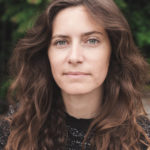 Lauren Cioffi is an award-winning creative producer and documentary programmer working in Los Angeles. She is on the Feature Documentary Programming Team at the Sundance Film Festival, curating and discovering new documentaries. As a producer, her films have premiered on Netflix and in film festivals worldwide, including winning two Webby Awards.
Erika Cohn, director/producer, The Judge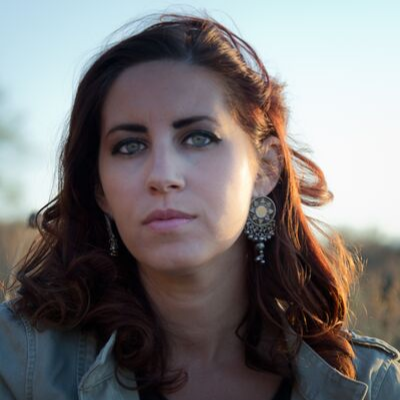 Erika Cohn is a Peabody and Emmy Award-winning filmmaker in Salt Lake City, Utah, recognized by Variety as one of the 10 Documentary Filmmakers to Watch in 2017. Most recently, Erika directed/produced The Judge (TIFF 2017) and co-directed/produced In Football We Trust (Sundance 2015). Her third feature documentary, Belly of the Beast, will be released next year.
Cristina Costantini, director/producer, Science Fair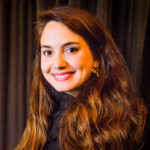 Cristina Costantini co-directed Science Fair, which won audience awards at Sundance and SXSW, as well as a Critics' Choice award in 2018. Cristina previously worked as an investigative journalist, covering detention centers, sex trafficking and the opiate epidemic. Her investigative work has been recognized with Emmy nominations and the duPont Award. She lives in Los Angeles, California.
Trevor Davidoski, producer, The Clinton Affair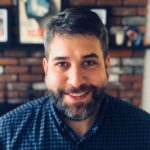 Trevor Davidoski is a documentary filmmaker based in New York. He recently produced The Clinton Affair for A&E Networks. Additional credits include: Before the Flood; Mr. Dynamite: The Rise of James Brown; Ceasefire Massacre; Park Avenue: Money, Power and the American Dream; The Seven Five and George Harrison: Living in the Material World.
Bennett Elliott, producer, Bisbee '17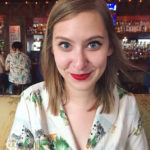 Bennett Elliott is an Emmy award-winning producer based in New York. She is the producer of Robert Greene's Gotham Awards-nominated Bisbee '17, which premiered at the 2018 Sundance Film Festival and co-produced his multiple award-winning 2016 Sundance documentary Kate Plays Christine. She was also selected as a 2017 Sundance Institute Creative Producing Fellow.
Lawrence Everson, sound editor, American Factory*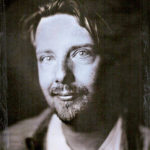 Lawrence Everson is a Golden Reel-nominated sound editor and re-recording mixer in Los Angeles, California, specializing in nonfiction sound design. His work includes the Sundance award-winning and Academy shortlisted Shirkers and On Her Shoulders, the Sundance award-winning American Factory, the SXSW Grand Jury and Independent Spirit award-winning 45365 and the Showtime documentary series Shangri-La.
Rob Hatch-Miller, director/producer, Other Music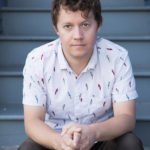 Rob Hatch-Miller is a filmmaker based in Los Angeles. Along with his wife and filmmaking partner Puloma Basu, he's one of Variety's 10 Documentary Filmmakers To Watch in 2019. Rob directed the documentary features Other Music (Tribeca Film Festival 2019) and Syl Johnson: Any Way The Wind Blows (DOC NYC 2015). 
Alan Hicks, director, Quincy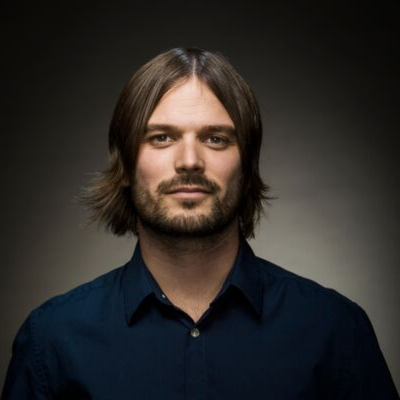 Alan Hicks is a Grammy Award Winning filmmaker originally from Australia and now based in Los Angeles. His first feature documentary Keep On Keepin' On won Best New Director honors at the 2014 Tribeca Film Festival. He most recently directed the documentary feature film Quincy, which won the Grammy Award for Best Music Film in 2018.
Yuqi Kang, director, A Little Wisdom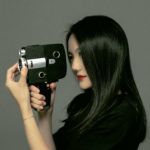 Yuqi Kang is a writer-director. She was born in Inner Mongolia, raised in Beijing and is now based in Calgary, Canada. Yuqi earned an MFA in film at the School of Visual Arts. Her thesis film, A Little Wisdom, has won the Best Canadian Feature at Hot Docs and the Viewfinders Jury Prize at DOC NYC.
Bess Kargman, director/producer/editor, First Position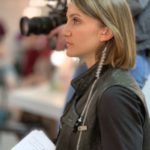 Bess Kargman is an award-winning director/producer/editor in Los Angeles, California. Her credits include the critically acclaimed documentary First Position (Toronto 2011), ESPN Films' 30 For 30 short, Coach (2013 Sports Emmy nomination, 2012 Tribeca Jury Prize winner) and several multi-part series. Kargman also shoots commercials/branded content, and consults as an "edit doctor" for unfinished films.
Sonia Kenneback, director/producer, National Bird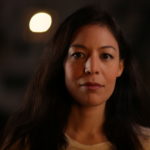 Sonia Kennebeck is an investigative journalist and filmmaker in New York City with more than 15 years of directing and producing experience. She directed eight television documentaries and more than 50 investigative reports. Foreign Policy magazine recognized her as one of 100 Leading Global Thinkers 2016 for her feature National Bird, an investigation into the US drone war.
Sofian Khan, director/producer, The Interpreters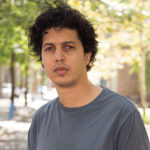 Sofian Khan, based in New York, is the founder of Capital K Pictures. His shorts have appeared on Field of Vision, The Fader, Al Jazeera, PBS, NBC and The Atlantic. The Interpreters, a feature documentary about Afghan and Iraqi interpreters who worked with the US, makes its broadcast premiere on Independent Lens this fall.
Amanda Lipitz, director/producer, Step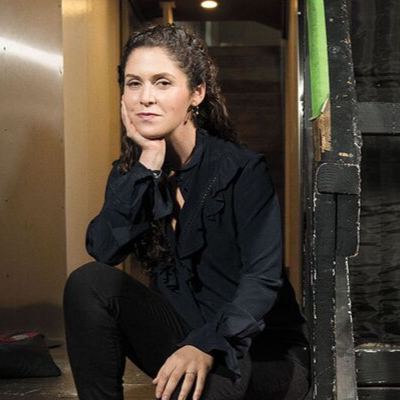 Amanda Lipitz's documentary, Step, debuted at the 2017 Sundance Film Festival and was acquired by Fox Searchlight in a competitive bidding situation. Amanda is working on a scripted podcast that she co-created and directed called Motherhacker with Gimlet Media, as well as another documentary, American Girls, with Hello Sunshine and Kindred Spirit Productions. She is based in New York.
Bing Liu, director/producer/cinematographer, Minding the Gap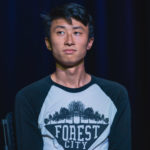 Bing Liu is a Chicago-based filmmaker best known for directing the 2018 documentary, Minding the Gap, which was nominated for an Academy Award, an Emmy, and won a Peabody.
Ivete Lucas, director/producer/editor, Pahokee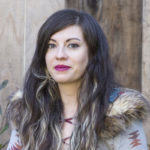 Ivete Lucas is a director, producer and editor born in Brazil, raised in Mexico and working in the American South. Her first feature film Pahokee premiered at Sundance 2019. Her short films played at Berlin, Toronto, London, and won awards including the Cinema Eye Honor and Director's Fortnight Illy Award.
Nicholas Ma, producer, Won't You Be My Neighbor?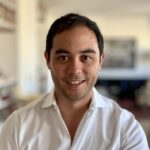 Nicholas Ma is a writer, director and producer based in New York City. He produced the critically acclaimed documentary Won't You Be My Neighbor? on the life of Fred Rogers and his most recent short film Suite No. 1, Prelude is currently playing festivals. He is now developing several documentaries and a scripted project.
Crystal Moselle, director/producer, The Wolfpack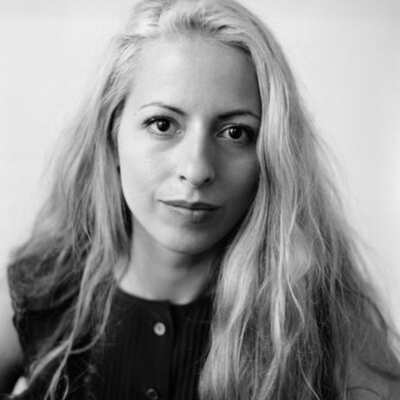 New York-based director Crystal Moselle is best known for her Sundance, Grand Jury Prize award-winning documentary, The Wolfpack.  Her recent feature film, Skate Kitchen, about a group of skateboard girls, just premiered at Sundance in 2018 and she is now working on an HBO series based on it.
Kristina Motwani, co-editor, Midnight Traveler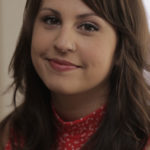 Kristina Motwani is an award-winning editor who is based in San Francisco. She edited for ITVS's Independent Lens and AJ+'s Documentary team and is the editor of the film First Friday and co-editor of the film Midnight Traveler. She is currently editing two feature documentaries: Fruits of Labor and The Most Fearless.
Tadashi Nakamura, director/editor, Mele Murals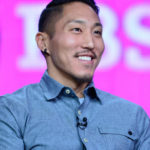 Emmy-nominated, Los Angeles-based filmmaker Tadashi Nakamura was named one of CNN's Young People Who Rock for being the youngest filmmaker at the 2008 Sundance Film Festival. His latest film, Mele Murals, was broadcast on PBS and Al Jazeera. His film, Jake Shimabukuro: Life on Four Strings, was broadcast on PBS and won the 2013 Gotham Independent Film Audience Award.
Anjali Nayar, director/producer, Silas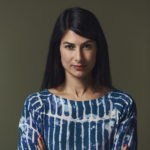 Anjali Nayar is a director and former climate scientist based between Nairobi and Los Angeles. She is currently directing Just-A-Band, a fractionally-fictional documentary about an Afro-electric pop group that goes to space, and working on her first scripted feature. Her feature, Silas, premiered at the 2017 Toronto International Film Festival and her other credits include Escape and Gun Runners.
Nico Opper, director/producer, The F Word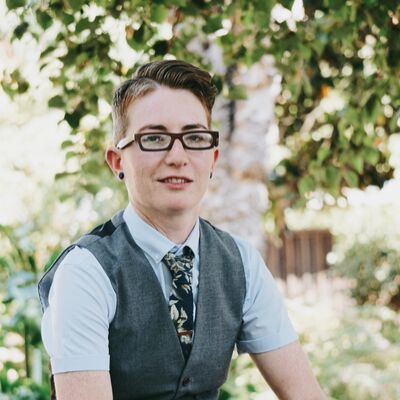 Nico Opper is a Bay Area filmmaker. Their Emmy-nominated debut, Off and Running, aired on POV and recent series, The F Word, was nominated for a Gotham Award. Nico directs the BAVC MediaMaker Fellowship and has been featured in Filmmaker Magazine's 25 New Faces of Independent Film and Indiewire's 25 LGBT Filmmakers on the Rise.
Clair Popkin, cinematographer, Inside Bill's Brain: Decoding Bill Gates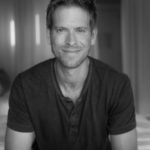 Clair Popkin is a New York and Los Angeles-based director of photography who shot the 2019 Oscar winning documentary Free Solo. He has shot numerous additional award-winning documentaries and commercial projects. When not filming, Clair is often enjoying the outdoors.
RaMell Ross, director/producer/editor/cinematographer, Hale County This Morning, This Evening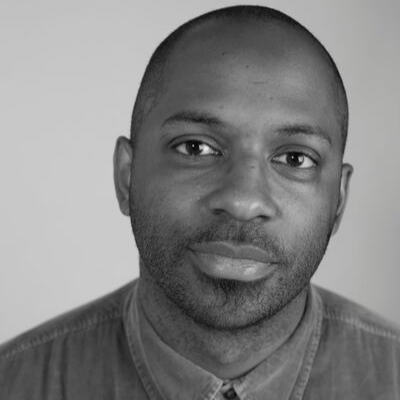 RaMell Ross is a visual artist, writer and photographer based in Rhode Island and Alabama. His feature debut, Hale County This Morning, This Evening, won awards at Sundance and Cinema Eye Honors, and was nominated for an Academy Award. He is an Assistant Professor in Brown University's Visual Art department.
Deia Schlosberg, director/producer, The Story of Plastic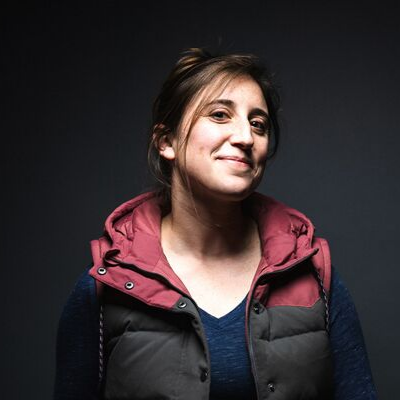 Deia Schlosberg made national news in October 2016 when she was arrested and charged with 45 years' worth of felonies for filming a pipeline protest in North Dakota. She has produced films on HBO, Netflix and PBS, and is currently directing The Story of Plastic and the Bootstraps docuseries. She is based in New York City.
Martha Shane, director/producer, Narrowsburg
Martha Shane is an Emmy Award-winning documentary filmmaker in Brooklyn. This year, her film, Picture Character, premiered at the Tribeca Film Festival, while her film Narrowsburg premiered at the Camden International Film Festival. Her directorial debut, After Tiller, released in 2013, premiered at Sundance and won the Emmy for Best Documentary.
Yvonne M. Shirley, producer, Black 14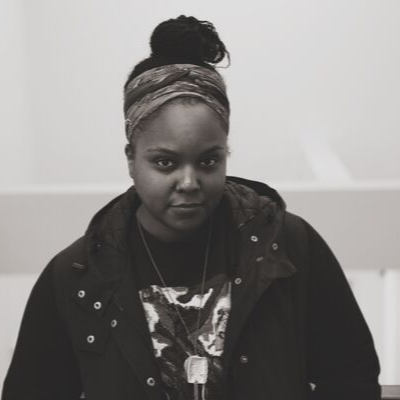 Yvonne Michelle Shirley is a graduate of NYU's Tisch School of the Arts. Her recent work includes producing and directing the Topic web series, Frame by Frame, which premiered at the 2019 Tribeca Film Festival. She is currently directing an archival-driven memoir centered around her uncle, the pianist/composer, Don Shirley. She is based in Newark, New Jersey.
Erick Stoll, director/producer/cinematographer/editor, América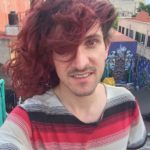 Erick Stoll is a nonfiction filmmaker from Cincinnati, Ohio. Erick co-directed the feature documentary América, the short Good White People and, concerned with the neoliberal turn in documentary, is now looking for other socialists with whom to make films.
Kareem Tabsch, director/producer, The Last Resort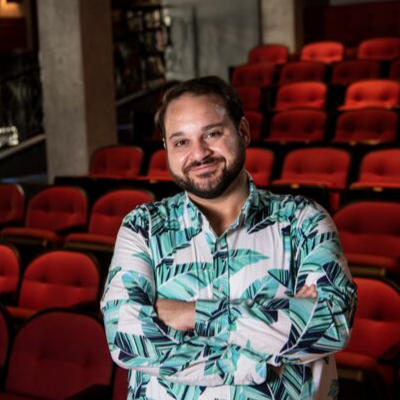 Kareem Tabsch made his feature film debut with The Last Resort, co-directed with Dennis Scholl and released by Kino Lorber. His shorts include Dolphin Lover and Cherry Pop: The Story of the World's Fanciest Cat. He is co-founder of Miami's premiere art house theater, O Cinema.
Izabella Tzenkova, producer, Walking on Water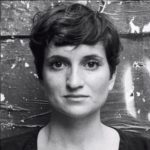 Izabella Tzenkova produced Crystal Moselle's Sundance Grand Jury Prize winning documentary, The Wolfpack, and her narrative debut Skate Kitchen. Her latest film is Walking on Water directed by Andrey Paounov. She is currently producing Aslihan Unaldi's feature debut, Afloat, and Czech director Tereza Nvotova's untitled documentary about Southern Plantations.
Lindsay Utz, editor, American Factory*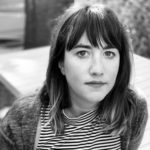 Lindsay Utz's projects include the Oscar-shortlisted Bully, the Emmy-nominated Quest –for which she won Cinema Eye Honors' Outstanding Achievement in Editing–and her most recent film, the Sundance-winning American Factory. She is a member of the Academy of Motion Picture Arts and Sciences and based in Chicago and Los Angeles.
Chase Whiteside, director/producer/editor, América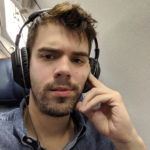 Chase Whiteside is a documentary filmmaker and designer in Brooklyn, New York.
Shuling Yong, cinematographer, The Feeling of Being Watched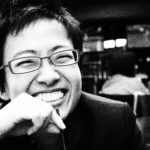 Shuling Yong is a Singapore-born, Chicago-based filmmaker, cinematographer and sound mixer whose credits include The Feeling of Being Watched, which screened at the 2018 Tribeca Film Festival. Her feature-length directorial debut, Unteachable, was selected for Good Pitch² Southeast Asia, TFI Network Market and won Best Pitch at the CNEX Chinese Documentary Forum.