DOC NYC believes Black Lives Matter
June 26, 2020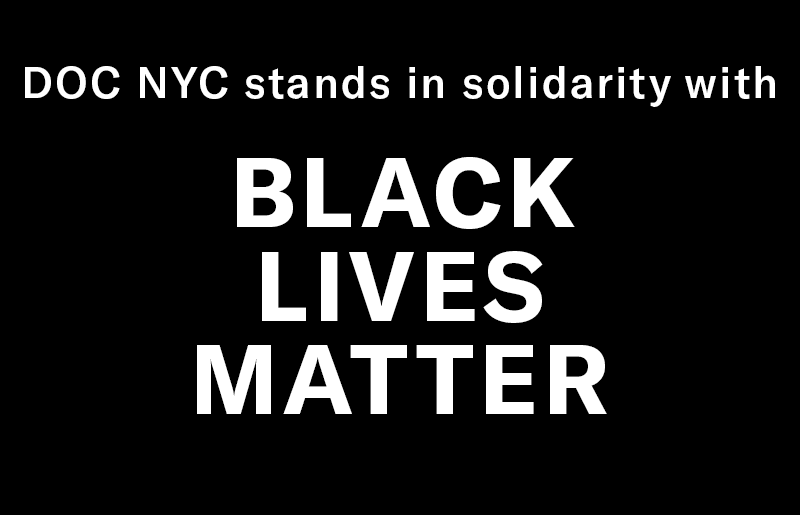 DOC NYC believes Black Lives Matter.
As the killings of George Floyd, Breonna Taylor, Ahmaud Arbery, Tony McDade, Dominique Rem'mie Fells, Riah Milton, Rayshard Brooks, and too many more remind us, anti-Black racism, the silencing of Black voices, and violence against Black communities are pervasive across our country and part of a long and terrible legacy. At DOC NYC, we recognize that a reckoning with that history and a committed inquiry into what we can do to fight systemic racism are long overdue.
DOC NYC aspires to reflect the diversity of New York City in our staff and crew, the films we show, and the audiences we serve. But we've often fallen short of that standard. Our past efforts have too frequently prioritized the views of white artists and executives and overlooked Black members of our community. We have long lamented the barriers that keep Black filmmakers and Black films from reaching audiences, but as a festival, we've also often perpetuated a system flawed by bias and insiderism. Now, our field is experiencing a pivotal moment for bringing historically marginalized voices to the center. We recognize that DOC NYC must be part of this effort and we commit to doing so.
Our team has come together to explore and enumerate the ways that our festival and our year-round programming can more powerfully include and support the voices of Black filmmakers and foreground the stories of communities of color. We want to be transparent about the process we'll take to get there. Listening carefully to our staff and crew and to the broad diversity of filmmakers whose work we want to celebrate is a first step. We're also committed to expanding access to DOC NYC's own professional programs for emerging filmmakers of color, through collaborations with past and new partner organizations, dedicated outreach to film students of color, and a determination to provide resources and opportunities to more works-in-progress that come from communities of color.
Too often, film festivals have acted as another barrier for filmmakers of color, replicating and reflecting systemic inequities in access to distribution, funding, and audiences. As we expand the ways in which DOC NYC can be a better partner to filmmakers of color, we've begun to collate a list of resources for creators of color seeking funding, networking opportunities, and access to distribution, and we will add to it over time.
We also acknowledge that documentary is an indispensable tool for understanding and organizing. Films have the power to galvanize vital discourse and direct action within our communities, and to help drive focus and resources to the places where they are most needed. In that spirit, we've begun to compile lists of documentaries that are crucial viewing, from Ava DuVernay's 13th and Stanley Nelson's The Black Panthers: Vanguard of the Revolution to Raoul Peck's I Am Not Your Negro, Sonja Sohn's Baltimore Rising and more. This is an evolving effort, and there are many other powerful stories—including films being made now, or still to come—that need to be heard. We are committed to championing those films in our festival and industry programming in 2020 and beyond.
Nonfiction filmmaking has long documented the power of grassroots movements for change, and we find both inspiration in these stories—and a crucial call to action. As a platform for and community of storytellers, journalists and filmmakers, DOC NYC believes that transformation in the documentary world is necessary and possible. We are humbled by the determination of protesters across our city, and the world, and we stand in solidarity with their struggle. We affirm our responsibility to racial justice in this moment and into the future.