Friday Fix
Our weekly live series every Friday at 2pm ET
April 27, 2020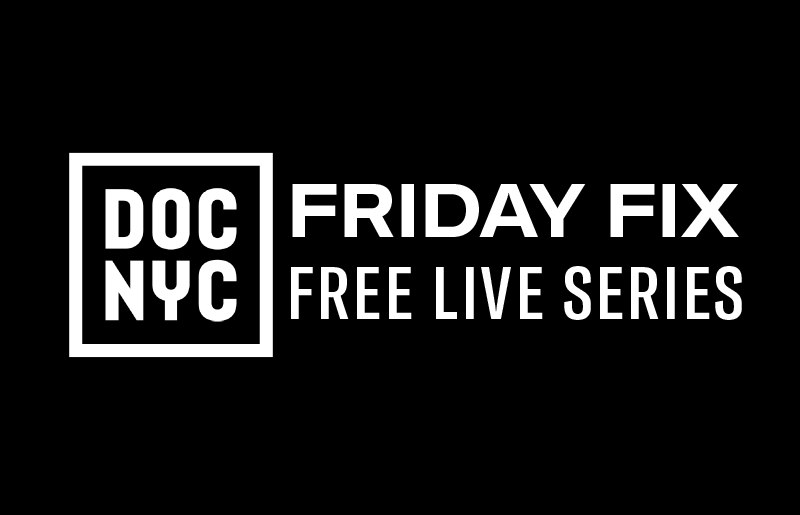 Friday Fix is a new series covering documentary film, hosted by Thom Powers. Viewers are invited to share comments during the live show. The episodes are taped and able for viewing anytime. Find links to recorded webinar content below and on our YouTube channel, in addition to a curated list of resources related to specific themes.
You can still register and view our previous webinars on New Strategies for Distribution, Film Promo & PR in Stay-at-Home Times and Cash Flow for Filmmakers by clicking on the respective names.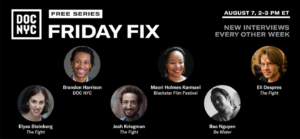 On Episode 12, Blackstar Film Festival director Maori Holmes Karmael discusses the beloved annual event going online in August. The directing trio of Eli Despres, Elyse Steinberg and Josh Kriegman discuss filming with ACLU lawyers battling the Trump Administration in The Fight and filmmaker Bao Nguyen talks about covering the life of Bruce Lee in his ESPN documentary Be Water. Moderated by DOC NYC's Brandon Harrison.
Resources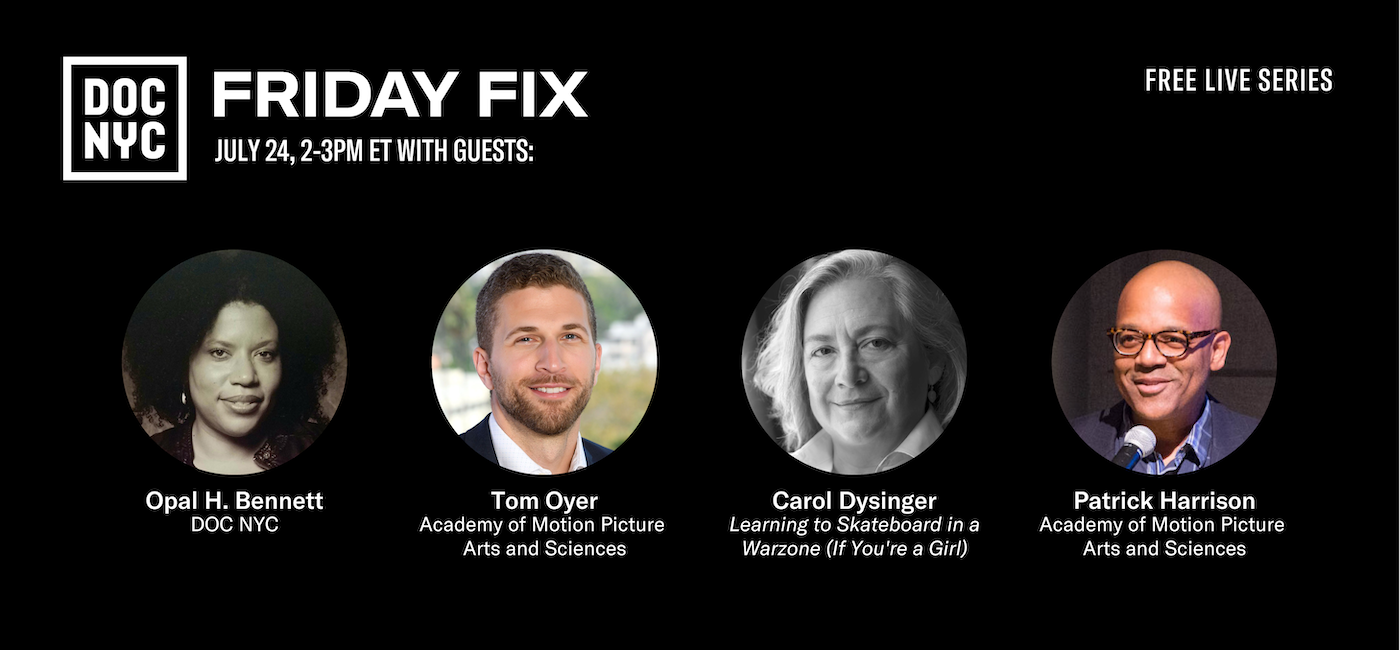 On Episode 11, Tom Oyer, Associate Director at the Academy of Motion Picture Arts and Sciences, joined us to discuss the body's new rules for the 2020 Oscars in the wake of Covid-19. And filmmaker Carol Dysinger, director of Learning to Skateboard in a Warzone (If You're a Girl), 2019 Academy Award-winner for Documentary Short, talks about her journey to Oscar gold and shares advice to short filmmakers. And Patrick Harrison, AMPAS Director of New York Programs and Membership, discussed the Academy's recent push to diversify its ranks. Hosted by Opal H. Bennett, DOC NYC shorts programmer and the festival's new Director of Filmmaker Development.
Resources:
On Episode 10, we talked to director Dawn Porter about her new film John Lewis: Good Trouble about the civil rights crusader. Filmmaker Sam Feder discusses his Netflix documentary Disclosure about transgender representation in film and television. Judith Helfand talks about her film Cooked: Survival by Zip Code examining how poor communities are disproportionately impacted by climate change.
Resources: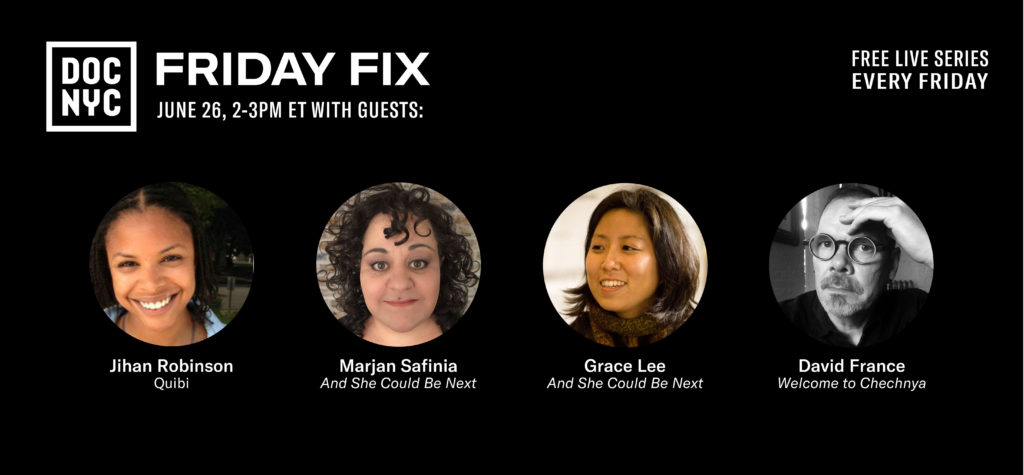 On Episode 9, Quibi documentary head Jihan Robinson discusses the platform's slate of nonfiction programs. Filmmakers Grace Lee and Marjan Safinia talk about their new documentary And She Could Be Next, about women of color transforming politics, coming to PBS. Oscar-nominated director David France discusses his new HBO documentary Welcome to Chechnya about activists who work to help LGBT Chechens from persecution.
Resources: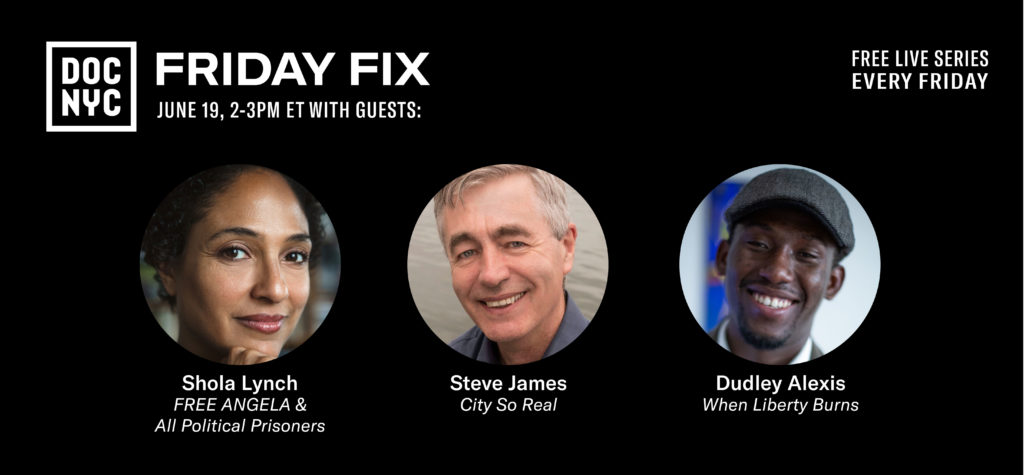 Episode 8 of Friday Fix previews highlights of the AFI Docs festival accessible online throughout the U.S. The festival will show a newly restored version of William Greaves' classic documentary of the 1972 National Black Political Convention, Nationtime-Gary. Greaves' legacy will be discussed by Shola Lynch who directed films about Shirley Chisholm and Angela Davis, and is a Curator at the Schomburg Center for Research in Black Culture. Oscar-nominated director Steve James (Hoop Dreams) will discuss his new series, City So Real, about Chicago's mayoral race, playing at AFI Docs. And Miami filmmaker Dudley Alexis talks about his new film, When Liberty Burns, about the 1980 uprising over a police killing of an unarmed Black man.
Resources: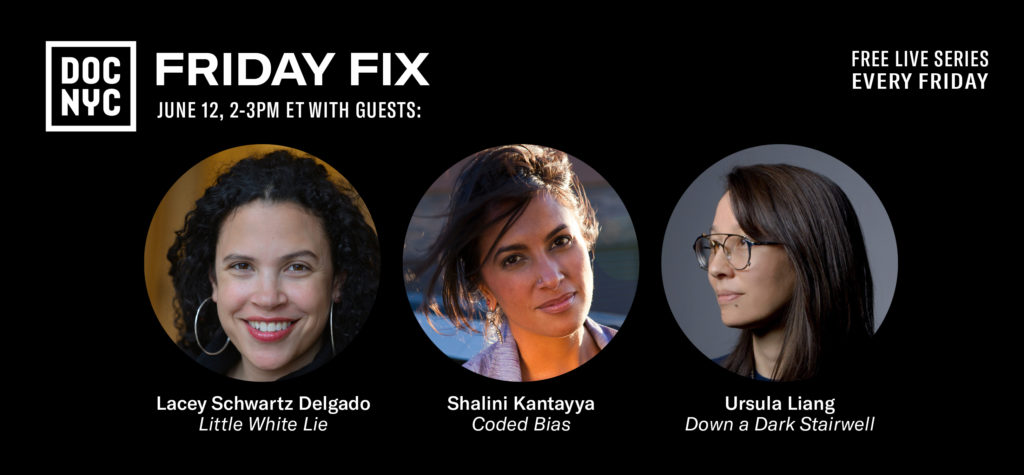 On Episode 7, Filmmaker Lacey Schwartz Delgado (Little White Lie) talks about fostering dialogues about race. Plus two directors with documentaries coming to the Human Rights Watch Film Festival: Ursula Liang discusses the politics of protesting police that arise in Down a Dark Stairwell; and Shalini Kantayya discusses racial discrimination in artificial intelligence, examined in her film Coded Bias.
Resources: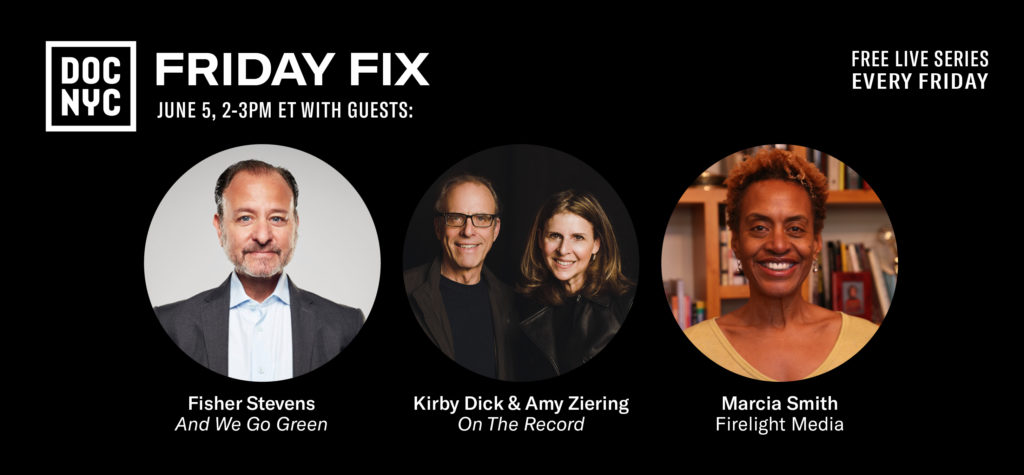 On Episode 6, Oscar-winning filmmaker Fisher Stevens The Cove discusses his new film And We Go Green about Formula E racing with electric cars. Oscar-nominated filmmakers Kirby Dick and Amy Ziering The Hunting Ground discuss their film On the Record, which follows women in the hip hop world as they go public accusing Russell Simmons of rape. Firelight Media President Marcia Smith will discuss new initiatives at the Harlem-based organization that supports filmmakers of color.
Resources: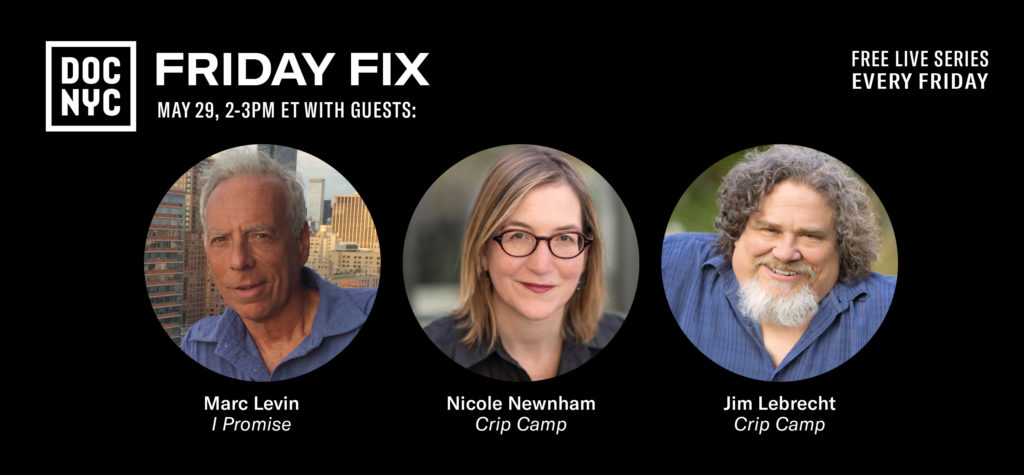 On Episode 5, Marc Levin discusses his Quibi series I Promise about an Ohio grade school backed by Lebron James; and the directors of Crip Camp, Jim Lebrecht and Nicole Newnham discuss their history of the disability rights movement that won the Sundance Audience Prize and is now on Netflix. This episode of Friday Fix is co-presented by NEON Rated.
Resources: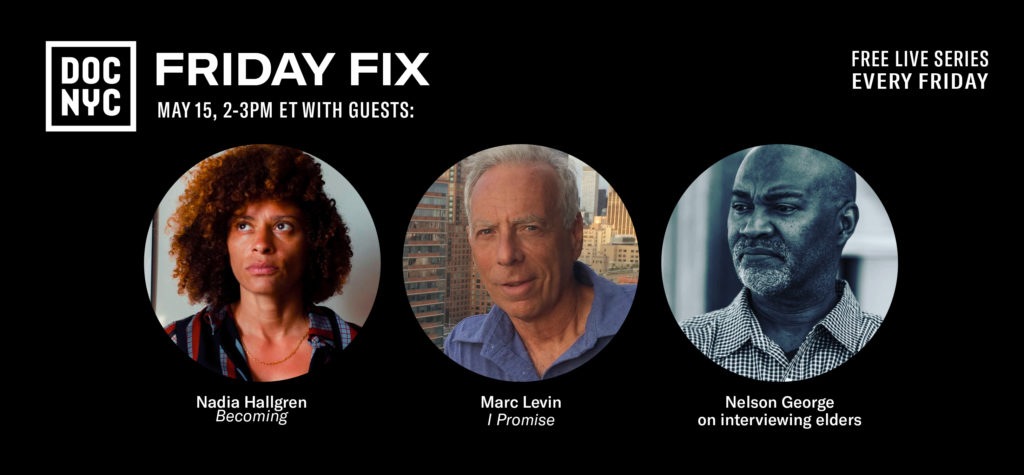 On Episode 4, Nadia Hallgren talks about her Netflix documentary Becoming about Michelle Obama. Marc Levin discusses his Quibi series I Promise about an Ohio grade school backed by Lebron James. And Nelson George reflects on interviewing our elders after his father's death from Covid-19.
Resources: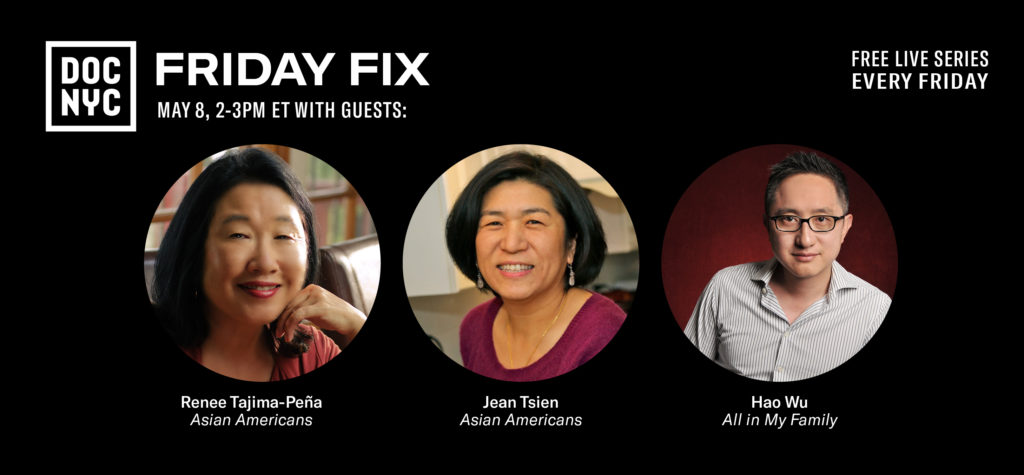 RSVP by clicking here. Friday Fix Episode 3 focuses on PBS's Asian Americans, interviewing two executive producers of the five-part series, Renee Tajima-Pena and Jean Tsien. Plus, filmmaker Hao Wu, director of the Netflix short All in My Family discusses how he witnessed Covid-19 arrive in China, then later in the U.S. The three guests will reflect on rising expressions of racism in the U.S.
Resources:
Friday Fix Episode 2 interviews Janet Tobias, director of Unseen Enemy about pandemics;  Steven Bognar and Julia Reichert, the Oscar-winning directors of American Factory; and Gordon Quinn of Kartemquin Films in Chicago, who was recently hospitalized with Covid-19.
Resources: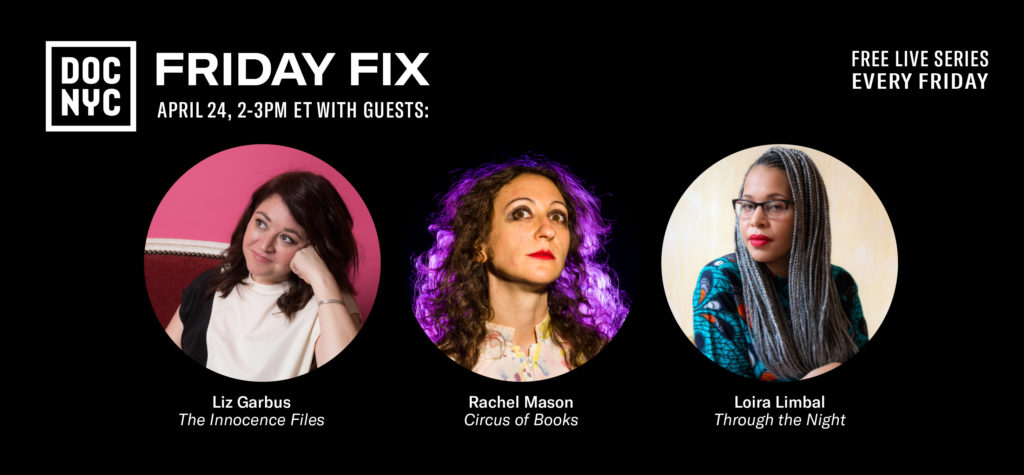 Our first episode features three filmmakers discussing their latest projects. Oscar-nominated filmmaker Liz Garbus discusses the Netflix series "The Innocence Files" about wrongfully convicted prisoners. Director Rachel Mason talks about her doc "Circus of Books" about the gay porn shop run by her parents. Loira Limbal discusses her debut feature doc "Through the Night" about daycare workers was meant to premiere at the 2020 Tribeca Film Festival.
Resources: