Funding Your Doc Boot Camp
Tuesday, April 30 @ IFC CENTER | 10 am - 4pm
April 17, 2019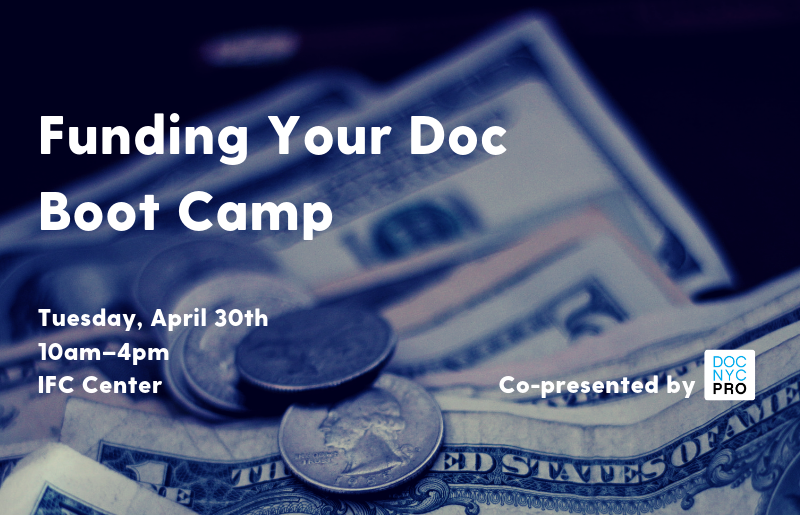 Click here to get a discounted ticket to both "Funding Your Doc" on April 30 and "Launching Your Doc into the World" on May 13. Save 25% off individual tickets— $150 for both events, or only $120 for IFC Center members.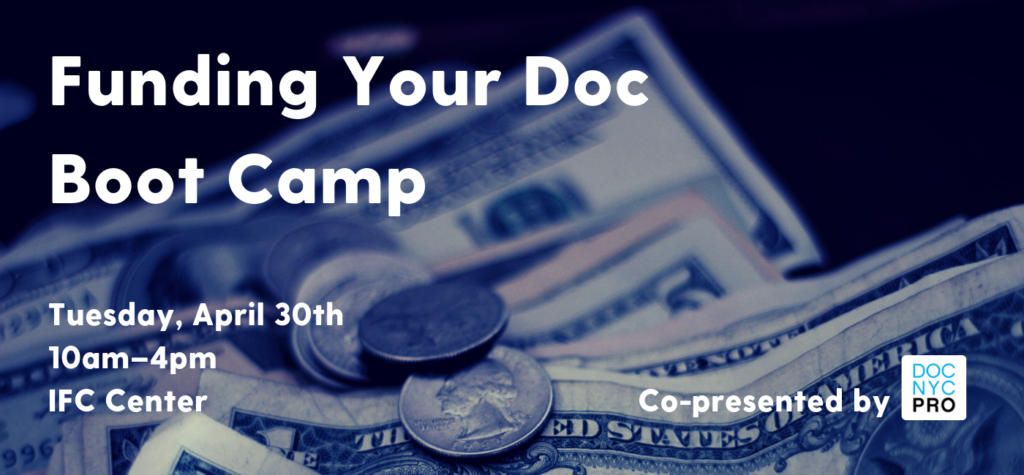 You have your documentary idea ready to go – and now the biggest question is where is the money coming from? Don't be scared – be informed! In this day-long boot camp from IFC Center and DOC NYC PRO, we'll hear from documentary experts about how to find and talk to funders, how to create a budget that works for you, and more! Ticket price also includes admission to and a free drink at a post-workshop happy hour networking session!
Tickets are on sale for $99 for the full day (or $80 for IFC Center members – please enter your member code to redeem). Seating is limited. Buy your ticket today!
Funding Your Doc Boot Camp Schedule
10:00 AM – 11:15AM    BUDGETING
Where to even start with a budget for your project? In this session, we'll talk to filmmakers and budgeting experts Alice Henty (One Day In September), Nicole London (Sammy Davis, Jr.: I've Gotta Be Me), Maureen A. Ryan (Man on Wire), and Caroline Waterlow (O.J.: Made in America) about how to create a budget that works for you, from analyzing logistics of your project, to managing expectations, and intricacies like insurance. Co-presented by Documentary Producers Alliance.
11:15AM-12: 30PM GRANTS
Where do you find out what grants might be available for your project, and once you do, how do you get one? We'll discuss best practices for grant applications with Lucila Moctezuma (Chicken & Egg Pictures) and Kat Vecchio (Fork Films), including what the competition is looking like, and what grantors are looking for. Moderated by Patricia Finneran (Doc Society).  
12:30PM-1: 30PM BREAK
1:30PM-2: 45PM STRUCTURING DEALS
We'll examine case studies around how to set up your deal, get funding, and get appropriate payment for your work. Adam Beasley and Simon N. Pulman from Cowan, DeBaets, Abrahams & Sheppard LLP and Jamie Schutz, President of Stick Figure Studios, will share case studies with best tips for structuring deals.
2:45PM-4:00PM CROWDFUNDING
What if you decide to take fundraising into your own hands? In this final panel, co-presented by Kickstarter, we'll hear from Kickstarter's Director of Narrative Film Elise McCave, as well as Kickstarter filmmakers Puloma Basu and Rob Hatch-Miller (Other Music) who have successfully crowdfunded, about how to build a campaign that will get you the money you need.
4:00PM-5: 00PM HAPPY HOUR
Join us for a free drink and talk about everything you've learned!
Panelists: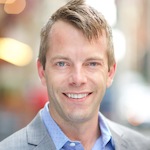 Adam Beasley primarily counsels clients in entertainment and intellectual property matters. His practice focuses on film and television, publishing, and music. In film and television, Adam advises a variety of scripted, reality and documentary productions in financing, production and distribution matters. Services include negotiating financing, rights acquisition, music licenses and talent deals; and advising on clearance and fair use issues; and negotiating distribution and foreign sales agreements ranging from "all rights deals" to complex digital and hybrid deals. Adam also provides packaging services for film and television productions.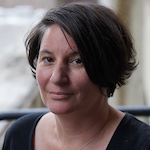 Alice Henty is a British transplant based in New York. She has worked with many of the leading producers and directors in the field for over 20 years. She line produced, among many other, big hitting award winners One Day In September [Dir: Kevin Macdonald], The Tillman Story [Dir: Amir Bar-Lev] and Buck [Dir: Cindy Meehl], and she co-produced Beware Of Mr. Baker [Dir: Jay Bulger] and Skyladder [Dir: Kevin Macdonald] before producing her first documentary feature, The Work, in 2017. Heralded as a masterpiece in verite cinema The Work garnered deep and wide critical acclaim as well as the Grand Jury prize at SXSW, the Audience Award at Sheffield and a nomination for a Gotham Award. Most recently, she produced The Dog Doc, with director Cindy Meehl, which will premiere at Tribeca Film Festival 2019 and is currently producing a feature documentary with David France.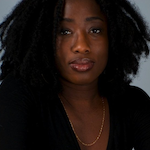 Nicole London is a Brooklyn-based filmmaker and Producer of Miles Davis: Birth of the Cool, a major international documentary on the legendary musician Miles Davis. Recent credits include American Masters: Sammy Davis Jr.: I've Gotta Be Me, The Talk: Race in America, and 16 short films now playing in the Segregation Gallery of the Smithsonian's National Museum of African American History & Culture. Two recent films were both nominated for 2016 NAACP Image Awards: American Masters: August Wilson: The Ground On Which I Stand and Firelight Media's The Black Panthers: Vanguard of the Revolution, the latter of which was also nominated for a 2016 Primetime Emmy.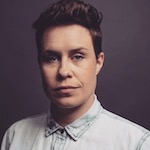 Elise McCave joined Kickstarter in 2016 after a good long stint with Doc Society (formerly BRITDOC) in London and New York. She works with filmmakers & organizations worldwide to bring film projects to life, build communities of support, and ensure the creative voices on Kickstarter come from all areas of the industry, producing work that explores the form to the fullest.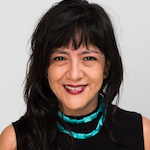 As Program Director of Chicken & Egg Pictures, Lucila Moctezuma oversees the planning and implementation of the organization's programs in support of women nonfiction filmmakers. Lucila is originally from Mexico City. Previous to joining C&E, she was Executive Producing Director at the internationally renowned UnionDocs, Manager of the Production Assistance Program at Women Make Movies, Director of the Media Arts Fellowships for the Rockefeller Foundation, and founded and was Coordinator of the Tribeca Film Institute's Latin America Media Arts Fund. She was Vice-President of the Board of Trustees for The Flaherty. Lucila is a member of the documentary selection committee of the Morelia International Film Festival.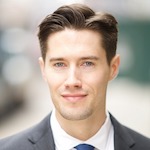 Simon N. Pulman is a transactional attorney primarily counseling clients in entertainment and media law matters, focusing on television, film, and interactive entertainment transactions, including representing digital influencers and esports teams.  Simon also acts as outside business affairs for several high level television studios and production companies, negotiating all forms of development, production, financing and licensing deals. Simon has significant experience in structuring and negotiating digital distribution agreements and other cutting-edge transactions at the convergence of traditional media and emerging technology platforms, with a special interest in digital video, streaming platforms and SVOD. He has worked on a wide range of high profile and award-winning television and motion picture productions, both scripted and unscripted, including many projects intended for exploitation via High Budget SVOD and AVOD platforms such as Netflix, Hulu, Amazon, Apple, YouTube and Facebook.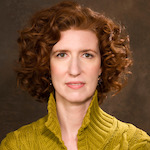 Maureen A. Ryan is a producer based in New York concentrating on feature films and documentaries. She is co-producer of James Marsh's Man on Wire, a documentary that won the 2009 Academy Award for Best Documentary and the 2009 BAFTA Award for Best British Film. She was also the Production Advisor for Making a Murderer (Season 1) for Netflix. Her television credits also include Co-Executive Producer on Stanistan, an hour-long dramatic pilot for the USA Network and Executive Producer on the non-fiction series The Penny Black. Ryan's other producer credits include Project NIM, The Gates, BOMBER, Grey Gardens: From East Hampton to Broadway, The Team, The King, Torte Bluma, Last Hand Standing, and Wisconsin Death Trip. Her Re-Creations producing work includes the award-winning films 1971 and Mea Maxima Culpa: Silence in the House of God. Currently, Director of Production and Associate Professor at Columbia University's Graduate Film program, her books include Producer to Producer: A Step-by-Step Guide to Low Budget Independent Film Producing, 2nd edition and Film+Video Budgets, 6th Edition. Additional awards for past work include two Sundance Awards, two BAFTAs, a Peabody award, an IDA award, three AICP awards, a Billboard award, a Freddie, a CMA award, an ACM award, 11 Addys and 5 Tellys.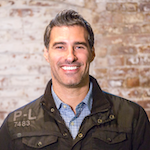 Jamie Schutz is an Emmy Award-winning producer and director, and President of Stick Figure Studios.  Jamie premiered Between Me And My Mind, a film on Phish lead singer Trey Anastasio, at The Beacon Theater during the 2019 Tribeca Film Festival and is also premiering a feature documentary on Holocaust survivor and Westfield Malls magnate Frank Lowy entitled What Will Become Of Us.  Jamie is currently producing a feature documentary on legendary tennis player Arthur Ashe with John Legend, a film with Gatorade and Robert Rodriguez on the Hood River High School Boys soccer team, another film on Venezuelan freedom fighter Oscar Perez, a film about the evolution of India told through the sport of cricket, and Amanda Lipitz' new film about adopted Chinese daughters with Reese Witherspoon.  Last year, Jamie produced Ballet Now, a feature documentary for HULU and Vulcan Productions with Elizabeth Moss on Tiler Peck, principal ballerina at The New York City Ballet and in 2017, Step, a feature documentary on a high school girl's step dance team in Baltimore that won a Special Jury Award at Sundance and was later distributed theatrically by Fox Searchlight. Television credits include Executive Producer on Jason Of Beverly Hills for E! and The Ugly Agency for TLC.  He also served as Co-Executive Producer on Miami Ink and Shalom In The Home for TLC.  Other television producing credits are Supervising Producer on Nanny 911 for Fox and The Miller Show for Oxygen. Jamie currently serves on the Board of Representatives for The Producer's Guild of America East and is a mentor and frequent guest lecturer at various universities and post-graduate programs.  Jamie and Stick Figure Studios are represented by The Paradigm Talent Agency.
Kat Vecchio is the director of grantmaking at Fork Films, where she oversees the day-to-day operations of the company's documentary grants program and serves as the primary contact for Fork Films' supported filmmakers. Kat is also a filmmaker and writer, often exploring popular entertainment in American history. Her first film, This Is How I Roll, takes a behind-the-scenes look into the intense subculture of men's roller derby. Her writing has appeared online at Narratively and Atlas Obscura, and she is currently working on a project about the lives of female circus performers at the turn of the century. She occasionally teaches the course "Launching Your Documentary" at Brooklyn Brainery, a community-driven, crowd-sourced educational space. Prior to joining Fork Films in 2010, Kat worked in theatre, film, television, and commercial production.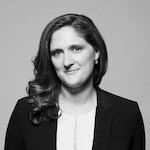 Caroline Waterlow is an Oscar, Emmy & Peabody award-winning documentary film producer based in New York City. Caroline produced O.J.: Made in America, an ESPN Films documentary directed by Ezra Edelman and winner of the Oscar for Best Documentary Feature at the 89th Academy Awards. The film premiered at the 2016 Sundance Film Festival and has been recognized by multiple organizations such as the International Documentary Association, Film Independent, the Producers Guild, the Columbia School of Journalism, the American Film Institute, and was awarded a Peabody.  Recent projects include Qualified for ESPN Films about race car driver Janet Guthrie, the 1st woman to race at the Indy 500; the film premiered at SXSW Festival in March 2019.  Feature documentaries include Supermensch: The Legend of Shep Gordon, the directorial debut of actor Mike Myers which premiered at the 2013 Toronto International Film Festival; and the Academy Award-nominated documentary, Cutie and the Boxer, which premiered at the Sundance Film Festival in 2013 and won Best Director of a U.S. Documentary.  In 2013, Caroline was the senior producer of content for MAKERS.com, the largest video collection of women's stories, produced with AOL and PBS. Between 2006 and 2012, Caroline worked on multiple HBO documentaries, including the Emmy-Award winning films Teddy: In His Own Words and Brooklyn Dodgers: The Ghosts of Flatbush.