IF/THEN X THE REDFORD CENTER NATURE ACCESS PITCH 2021
July 23, 2021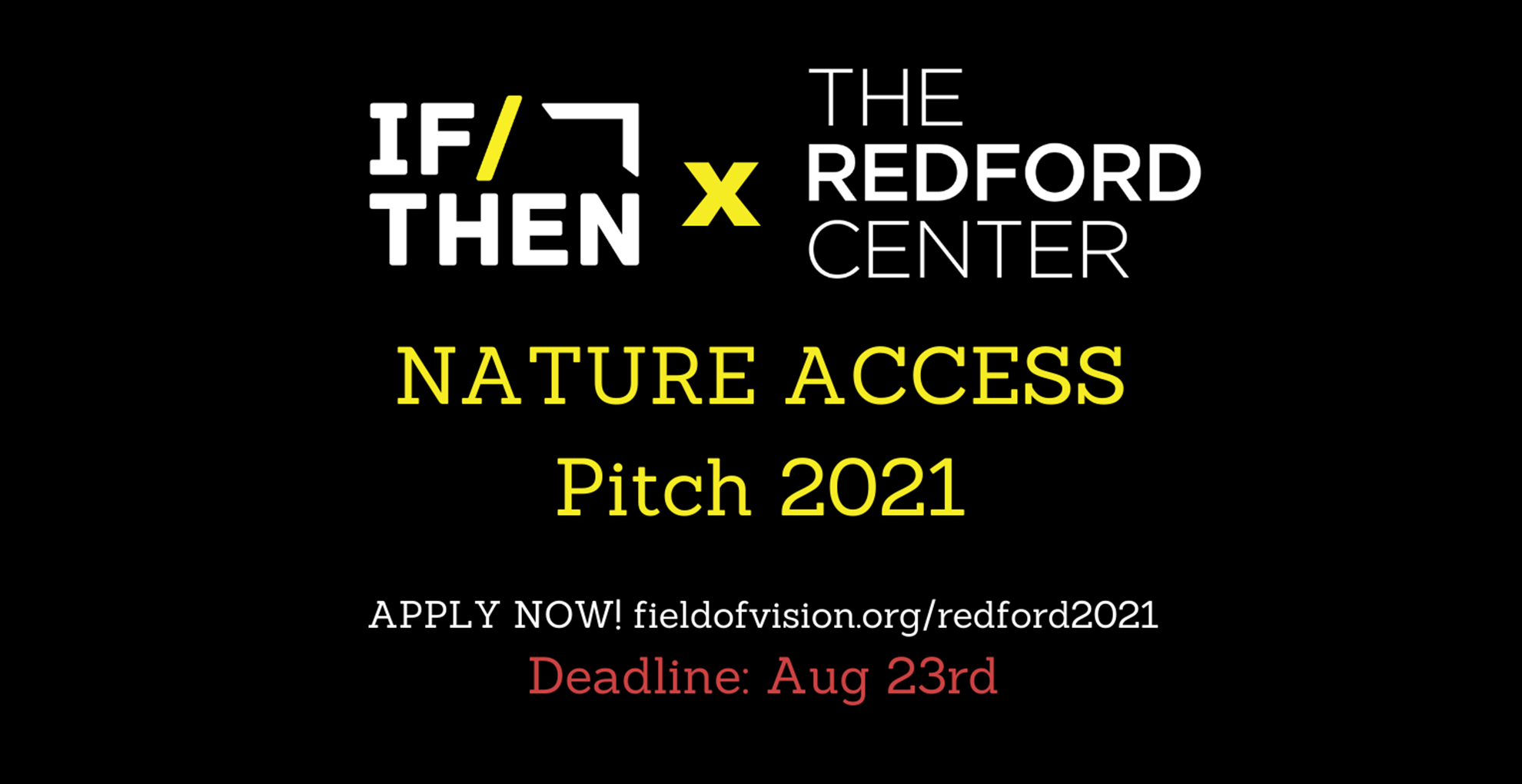 Submissions are closed for this program.
DOC NYC and IF/Then Shorts, in partnership with The Redford Center, calls short documentary filmmakers to take part in the inaugural IF/Then x The Redford Center Nature Access Pitch.
Today, most people spend more than 90% of the time indoors. As disconnection from nature takes a mental, physical, spiritual and social toll, there is an urgent need to mitigate the many ways that a largely indoor existence is reshaping our lives for the worse, and to address the conditions and inequities that led us to where we are today.
Marking the first partnership between IF/Then Shorts and The Redford Center, this pitch celebrates storytellers and stories that spotlight the social, emotional, physical, mental, and community health benefits of time spent outdoors. We invite projects highlighting the complex social, racial, economic, and health inequities related to issues of nature access.
With this project, we aim to increase representation of communities impacted most by environmental injustice, who are not often recognized in mainstream environmental movements. Storytellers with short documentary projects featuring nearby nature or wild nature across all geographic and social contexts are encouraged to participate.
PITCH DETAILS:
The pitch calls for original stand-alone short documentaries in production (no more than 30 minutes) that explore solutions-based environmental stories centered around restoring humanity's connection with nature and the outdoors.
Up to six finalists will be selected to pitch their projects during a live, in-person pitch event at DOC NYC, tentatively scheduled for mid-November 2021. Projects will have 7 minutes to pitch, followed by up to 8 minutes of feedback and questions from a jury panel made up of industry leaders, filmmakers, and environmental experts.
The winning filmmaker, chosen by the jury, will receive a $25,000 production grant along with a year of wraparound mentorship from IF/Then, including production support, creative feedback, distribution consultations, and festival strategy. Two honorable mention prizes will also be selected by the jury, consisting of $5,000 grantsand distribution consultation from the IF/Then program staff.
PROJECT ELIGIBILITY:
Submissions shall be in the form of character-driven, place-based, community-inspired, short-form storytelling that showcases immediate solutions to cope with humanity's disconnection with the outdoors, including issues of access to the outdoors and/or the resulting health inequities.
This opportunity will be open to individuals living and working in the US, prioritizing stories and storytellers representing the communities often most impacted by environmental problems and the challenges of outdoor access, which includes Black, Indigenous, People of Color (BIPOC), LGBTQIA+ people, recent immigrants, undocumented people, people with disabilities, and/or women.
In addition to being on theme, eligible IF/Then Shorts projects must meet the following criteria:
● Be an original short documentary with a final duration of 10-30 minutes
● Be completed within six to nine months of receiving the IF/Then Shorts grant
● Be factually accurate, follow best practices in documentary ethics, and be designed for a U.S. audience
● Be accountable to and authentically represent the people and places featured in the film
● Be driven by (a) compelling character(s), with access to the character(s) secured
● Be presented in English or subtitled in English
● Have no prior distribution attached and be able to participate in the IF/Then Shorts distribution initiative
Please direct any questions to ifthenshorts@fieldofvision.org – Applications are available here and open until August 23, 2021 at 11:59 PM PT.