2015 VISIONARIES TRIBUTE WILL HONOR JON ALPERT, BARBARA KOPPLE & FREDERICK WISEMAN
August 27, 2015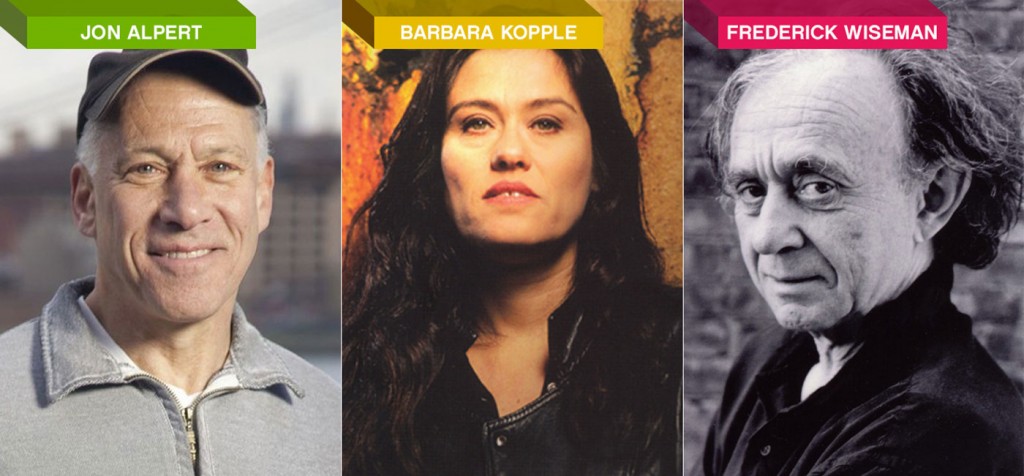 DOC NYC, America's largest documentary film festival (November 12-19, 2015), starts strong on November 12 with the second annual Visionaries Tribute at an afternoon luncheon presenting Lifetime Achievement Awards to Jon Alpert, Barbara Kopple and Frederick Wiseman. The Visionaries luncheon will take place at a New York City restaurant announced in the fall.
"We're delighted to give Lifetime Achievement Awards to three extraordinary filmmakers who continue to dazzle us with outstanding new work," said DOC NYC artistic director Thom Powers. "On November 12, there'll be a gathering of documentary talent like none other."
The event's host committee consists of over 40 documentary veterans, including the Oscar-winning filmmakers Laura Poitras, Morgan Neville, Alex Gibney, and Michael Moore.
HBO Documentary Films returns as the Leadership Sponsor of DOC NYC; and this year will be the co-presenter of the Visionaries Tribute.
Among the career highlights of the Lifetime Achievement Award recipients:
 Jon Alpert co-founded New York's Downtown Community Television (DCTV), the country's oldest non-profit community media center. He is the winner of 16 Emmy Awards and the recipient of four DuPont-Columbia Awards; his documentaries include One Year in the Life of Crime, Baghdad ER, and the Oscar-nominated shorts China's Unnatural Disaster: The Tears of Sichuan Province and Redemption. Alpert's latest film is Mariela Castro's March: Cuba's LGBT Revolution.
Barbara Kopple  is a two-time Academy Award-winning filmmaker, having won for both Harlan County USA and American Dream. In 1991, Harlan County USA was named to the National Film Registry by the Library of Congress. Kopple's other celebrated films include Fallen Champ: The Untold Story of Mike Tyson, Wild Man Blues, Shut Up & Sing, Running From Crazy, A Conversation With Gregory Peck, Hot Type: 150 Years of The Nation, and her latest, Miss Sharon Jones!
Frederick Wiseman is a pioneer of observational documentary filmmaking, starting with his acclaimed 1967 debut Titicut Follies. He is the recipient of the George Polk Career Award and the Venice Film Festival's Golden Lion, among many honors. Wiseman has directed dozens of films, from early classics such as High School and Law and Order to recent works La Danse, Boxing Gym, Crazy Horse, At Berkeley, National Gallery, and his latest, In Jackson Heights.
Last year's Lifetime Achievement recipients were Albert Maysles, DA Pennebaker and Chris Hegedus.
Additionally, the Visionaries Tribute will give out two other awards to be announced in the fall: The Robert and Anne Drew Award for a mid-career filmmaker concentrating on observational cinema, and the Leading Light Award to a mid-career professional who has shown exemplary service to documentary in a role other than filmmaking.
The full Host Committee for the Visionaries Tribute consists of Amir Bar-Lev, Amy Berg, Joe Berlinger, Rebecca Cammisa, Marshall Curry, R.J. Cutler, Kate Davis, Carl Deal, Nick Doob, Lewis Erskine, Heidi Ewing, Susan Froemke, Leon Gast, Alex Gibney, Julie Goldman, Rachel Grady, Bill Jersey, Ross Kauffman, Rory Kennedy, Peter Kinoy, Murray Lerner, Tia Lessin, Cara Mertes, Michael Moore, Morgan Neville, Laura Poitras, Alan Raymond, Susan Raymond, Richard Rowley, Sam Pollard, Kevin Rafferty, Bob Richman, Deborah Shaffer, Enat Sidi, Morgan Spurlock, Ricki Stern, Robert Stone, Annie Sundberg, Roger Ross Williams, and Pamela Yates.
DOC NYC Visionaries Tribute ticket information:
Tables for the DOC NYC Visionaries Tribute luncheon are currently on sale. For inquiries, please contact Eric Johnson at eric@docnyc.net. A limited number of individual tickets will go on sale in October.
The Visionaries Tribute is co-presented by HBO Documentary Films.