Eddie Adams: Saigon '68
November 16, 2012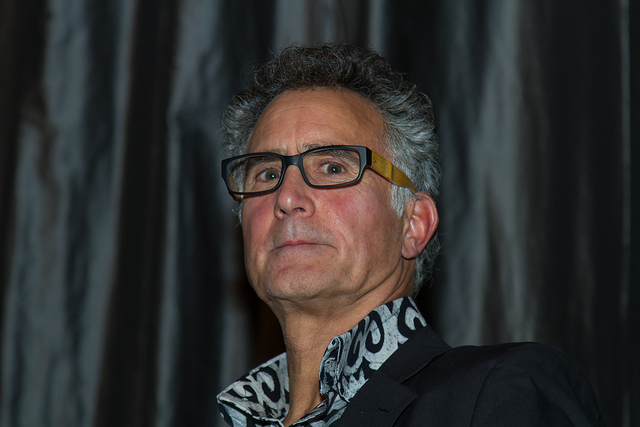 This post was written by DOC NYC blogger Megan Scanlon

Filmmaker Douglas Sloan at the DOC NYC screening of his film.
Encapsulating a story described as "easily as fascinating as the picture itself," filmmaker Douglas Sloan's EDDIE ADAMS: SAIGON '68 had its world premiere at DOC NYC on Wednesday evening. The "freshest film in the festival," it was finished and delivered just days before the screening. The documentary tells the back story of the Vietnam War's most iconic photograph: a point blank execution of a communist guerrilla on the streets of Saigon that seared itself into a nation's collective consciousness.
Sloan set the tone for an interactive evening by humbly thanking the eager audience and everyone involved in the making of the film, which was created on a volunteer basis. In attendance to provide context for their relationships with Adams, his famous picture, and its lost backstory, were Hal Buell, Bill Eppridge, James S. Robbins, Richard Pyle, and Walter Anderson. (Morley Safer, Bob Schieffer, and Peter Arnett are also featured in the film but could not attend the screening.)
The steady, even-handed execution of the speaker's testimonies–set against the backdrop of frenetically delivered images of the Vietnam War–spoke to the brutality, stress, intensity, and vulnerability of the time. EDDIE ADAMS: SAIGON '68 powerfully contextualized Hal Buell's opening remark: "The image summed up the whole war."
Adams is described by those who knew him as tough, lovable, and highly self-critical–his work demonstrative of an eclectic and unstoppable genius. Not pro-war, but pro-military, Adams "had no agenda except to make good pictures." Used to seeing someone being "threatened with a pistol as a normal interrogation device," Adams could not have predicted the impact of capturing "the most powerful image to come from conflict," when General Nguyen Ngoc Loan pulled the trigger that killed Vietcong assassin Nguyen Van Lem, who had been caught executing people and dumping their bodies in a ditch that same day.
Loan was a hero to the South Vietnamese; a man with an honorable reputation, he was known for leading his troops from the front. However, the Adams' iconic photograph spread like a virus, and "Loan became the personification of evil." The story behind the photo trailed it by a day or two, and by that time it was "lost because you just saw a guy shooting a person." Adams felt fortunate to get the unexpected shot, but later said "he killed Loan with his camera." He often defended Loan by asking others if they wouldn't have done the same thing. Walter Anderson pointed out that "understanding what someone does not mean supporting it." Bill Eppridge thoughtfully and eloquently explained why the photo is so prominent: "This picture is the decisive moment of almost every decisive moment I have ever seen–it stays in your memory, it's a shared moment, horrifying in about seventeen different directions–used over and over again I believe it stopped the war–it was the moment."
The evening made clear that the "strengths and contradictions of photography are not fully understood." The discussion after the film circled out in several different directions, particularly about the moving image vs. the frozen image, prompting Sloan to pause the conversation and ask the audience, "This is a documentary about how two people's lives were affected; Loan's life was changed by the photo and it followed him until the day he died—did that come through?" Sloan's next question reflected the idea that "pictures may be black and white but reality is not." He asked, "Does your interpretation of the photo change once you hear the backstory, and do you think about it differently?" Rows of hands shot up, illuminating the argument that "when you don't understand context you cannot make a moral judgment."