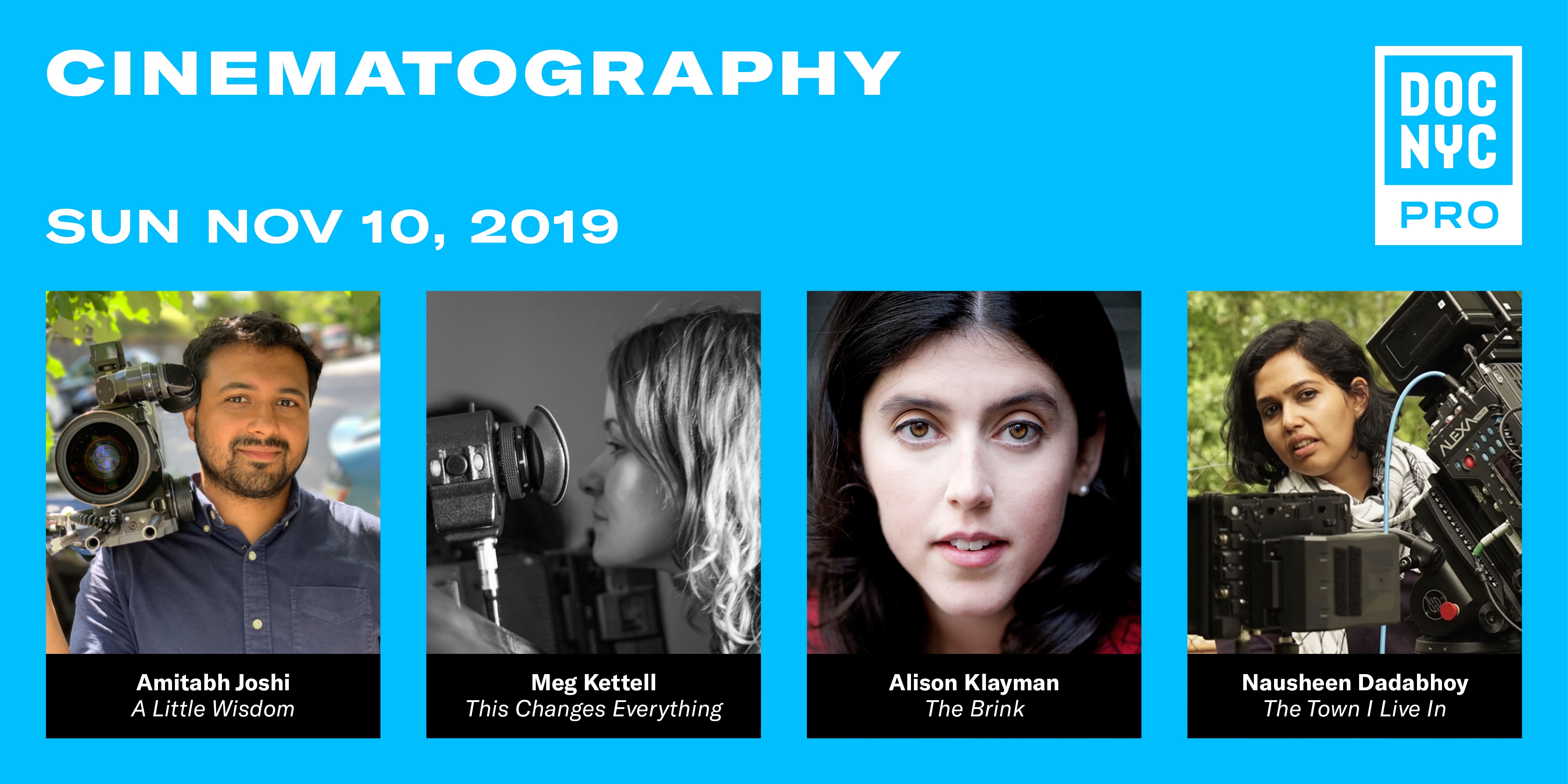 DOC NYC PRO: CINEMATOGRAPHY
To experience the DOC NYC PRO lineup, purchase an individual PRO Themed Pass to hone in on a specific subject, or benefit from discounted pricing when you purchase Multi-Pass Packs to an assortment of topic strands. Or, buy an All Access Pass, which also includes admission to all festival screenings. Purchase passes here.
DOC NYC PRO is co-presented by Kanopy.
Documentary cinematography covers many areas from observing human interaction to visualizing a stunning landscape. Leading practitioners share their secrets and also reflect on building a career. Co-presented by Sony.
9:00 AM – 10:00 AM Breakfast
10:00 AM – 11:10 AM Building Rapport
How do cinematographers practice the art of observation in intimate settings, tense situations or with subjects in an emotional state? We hear hard-won insights from filmmaker Amy Goldstein (Kate Nash: Underestimate the Girl, DOC NYC 2019), cinematographer Meg Kettell (Free Range) and filmmakers Alison Klayman whose subjects span Ai Weiwei and Steve Bannon (The Brink) and Katy Scoggin who's worked with filmmaker Laura Poitras on CITIZENFOUR and Risk. Moderated by artist and curator Nathan Kensinger.
11:30 AM – 12:45 PM Imagery as a Character
The visual approach to a film can be as vital as the characters. How the cinematographer captures a location or nature or other visual elements. This conversation explores how much cinematography brings to storytelling with filmmakers Feras Fayyad (The Cave) and Samir Ljuma (Honeyland), both from the 2019 DOC NYC Short List, and filmmaker Richard Ladkani with Sea of Shadows, a 2019 DOC NYC Winner's Circle selection. Moderated by artist and curator Nathan Kensinger.
Co- presented by National Geographic Documentary Films
1:30 PM – 2:40 PM Building Your Career: Cinematography
Two cinematographers from DOC NYC's 40 Under 40 list in 2018 – Nausheen Dadabhoy (The Town I Live In) and Jenni Morello (One of Us) – and Amitabh Joshi (A Little Wisdom, DOC NYC 2018 Grand Jury Prize) share their insights on how to build a career as a cinematographer. Moderated by Philip Shane (Dancing in Jaffa)
Co-presented by SVA MFA Social Documentary Film
3:00 PM – 4:10 PM In-depth with Nanfu Wang
Years ago, as a frugal graduate film student, Nanfu Wang volunteered to film DOC NYC PRO panels to gain knowledge from the people on stage. Since then, she went on to direct three acclaimed documentaries including Hooligan Sparrow and this year's One Child Nation on the festival's Short List. She shares her experiences as a director/cinematographer, including her experiences working in China under difficult conditions. Ross Kauffman (Born Into Brothels, E-TEAM) moderates the conversation.
4:30 PM – 5:30 PM Happy Hour co-presented by Cinépolis Luxury Cinemas
Join us in the PRO Lounge to gather with fellow attendees and panelists to discuss the day.
See the full schedule of 2019 PRO programs or
Purchase passes here.
">