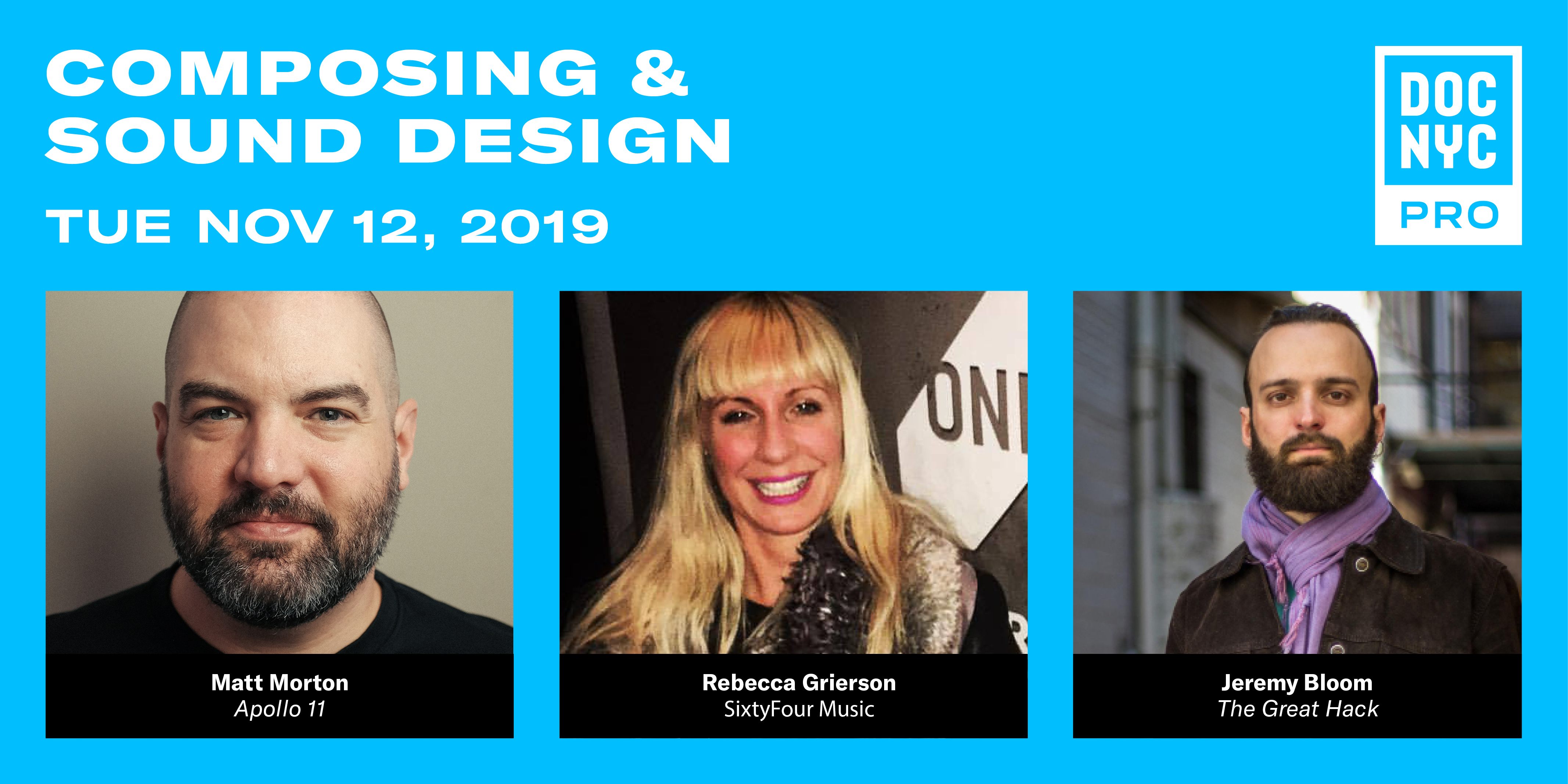 DOC NYC PRO: COMPOSING AND SOUND DESIGN
Showtimes
To experience the DOC NYC PRO lineup, purchase an individual PRO Themed Pass to hone in on a specific subject, or benefit from discounted pricing when you purchase Multi-Pass Packs to an assortment of topic strands. Or, buy an All Access Pass, which also includes admission to all festival screenings. Purchase passes here.
DOC NYC PRO is co-presented by Kanopy.
Composing and sound design are the least understood components of filmmaking and the most neglected in film education, yet they are as essential as cinematography or editing. Learn how to elevate your film from master craftspeople behind films such as the DOC NYC Short List titles The Great Hack and Apollo 11.
9:00 AM – 10:00 AM Breakfast
10:15 AM – 11:25 AM How to Prepare for Post Audio Success
Time is money and even more so when the clock is ticking in post-production. You need extensive preparation to achieve your goals. Learn how to plan for creative success and cost efficiency from veterans of the process Samara Levenstein (The Armstrong Lie) and Coll Anderson (LA 92). 
11:45 AM – 12:55 PM Sound Design Case Study: The Great Hack
We go behind the scenes with producer Pedro Kos and the team for The Great Hack, where sound design was a critical component in telling the story.
1:45 PM – 2:55 PM How to Score and License Music for Documentaries
Music in documentaries can be a legal minefield especially in 2019 with more media and streaming platforms affecting licensing deals and fees. With panelists including Music Supervisor at Vice Media Ricki Astin, Composer Agent Jenna Fentimen (Manners McDade) and Director Amanda Lipitz (Step) we will tackle the common problems filmmakers face with music and our panelists will advise you on how to navigate the process on budget and stress free. The panel will be moderated by Rebecca Grierson, EP and Music Supervisor at SixtyFour Music.
3:15 PM – 4:25 PM Composing Case Study: APOLLO 11
Apollo 11 composer Matt Morton discusses his unique approach to scoring one this year's highest performing docs at the box office.
4:30 PM – 5:30 PM Happy Hour
Join us in the PRO Lounge to gather with fellow attendees and panelists to discuss the day.
See the full schedule of 2019 PRO programs or
Purchase passes here.
Section:
DOC NYC PRO
Themes:
Composing & Sound