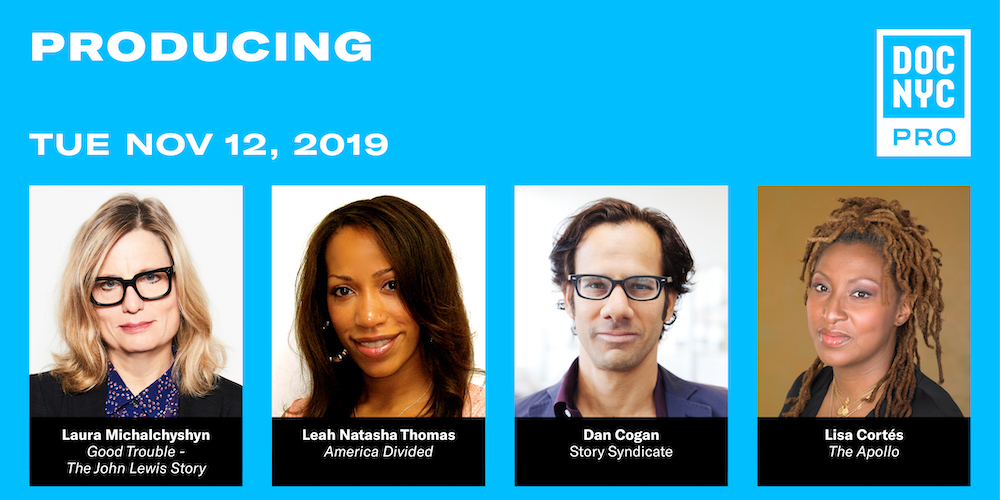 To experience the DOC NYC PRO lineup, purchase an individual PRO Themed Pass to hone in on a specific subject, or benefit from discounted pricing when you purchase Multi-Pass Packs to an assortment of topic strands. Or, buy an All Access Pass, which also includes admission to all festival screenings. Purchase passes here.
DOC NYC PRO is co-presented by Kanopy.
Leading producers de-mystify the role and provide strategies for contributing creatively, negotiating co-productions, and creating a robust career.
9:00 AM – 10:00 AM Breakfast
10:00 AM – 11:10 AM Creative Producing
What does it mean to be a creative producer? How do producers contribute to shepherding and guiding the story? Veteran producers describe their varied experiences. Impact Partners' Jenny Raskin leads a conversation veteran producers Erika Cohn (The Judge), Lisa Cortés (The Apollo), Leah Natasha Thomas (America Divided) and Beth Levison (Made in Boise).
Co-presented by Impact Partners
11:30 AM – 12:40 PM Building a Career
How do you build a career as a producer, manage multiple projects and balance your labors of love with earning an income? Veteran filmmakers Julie Goldman (One Child Nation), Kristi Jacobson (SOLITARY: Inside Red Onion State Prison), Farihah Zaman (Ghosts of Sugar Land) and Lise Zumwalt (Crazy) discuss lessons for maintaining longevity in an ever-changing field. Moderated by Teo Bugbee (Writers Guild of America, East).
Co-presented by Writers Guild of America, East 
1:30 PM – 2:40 PM Navigating International Co-productions
Oscar-winning producer Dan Cogan (Story Syndicate), Laura Michalchyshyn (Good Trouble: The John Lewis Story) and Jason Ishikawa (Cinetic) share their expertise in international co-productions.
Co-presented by the Consulate General of Canada in New York
3:00 PM – 4:10 PM In-depth with Sheila Nevins
Sheila Nevins is the Queen of Documentary, earning more awards than any other producer during her long reign at HBO Documentary Films. Currently she is an Executive Producer of documentaries at MTV, which has begun their documentary foray with two acquisitions: Gay Chorus Deep South and the short film St. Louis Superman that made the DOC NYC Short List. Thom Powers (DOC NYC Artistic Director) will moderate.
4:30 PM – 5:30 PM Happy Hour
Join us in the PRO Lounge to gather with fellow attendees and panelists to discuss the day.
See the full schedule of 2019 PRO programs or
Purchase passes here.