Only in New York is an opportunity for filmmakers with works-in-progress (either features or series) to have intimate roundtable meetings with industry figures from the fields of distribution, financing, festival programming, and more. Only in New York is part of DOC NYC PRO (presented by Kanopy), the festival's industry programming component, and aims to curate the most promising documentaries of the future for industry consideration. Last year, participating companies included HBO, A&E IndieFilms, Amazon Studios, Sundance Institute, and over 40 others. Past Industry guests include representatives from HBO Documentary Films, Discovery, Netflix, National Geographic, Sundance Institute, and A&E IndieFilms.
For a complete list of past participants, please visit our 2019, 2018, 2017 and 2016 Only In New York pages.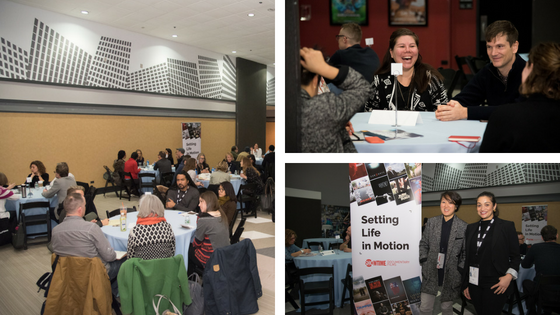 Filmmakers whose projects are selected for Only in New York will be able to participate in meetings over four days, November 11-14. Projects will also be featured on the DOC NYC website. Between 20 to 30 works-in-progress will be selected.
Submissions are open to nonfiction works-in-progress features or series proposals in any genre or style. Works-in-progress must be on track to be completed within 1-2 years, with at least 50% of their budget already in place. Filmmakers must submit a 2-5 minute video work sample, one-page description, and simple budget. Note: Only in New York is NOT for films that are nearly finished but finalizing post-production. Any soon-to-be-completed films intended to make their public screening debut at DOC NYC should be submitted as Features or Shorts. Works selected to participate in Only in New York do NOT screen publicly.
Projects will be selected based on their artistic merit, ability to engage an audience, and potential for success in the marketplace. Projects that are selected may have up to two representatives participate in Only in New York.
If selected for Only in New York, each participant will need to purchase a DOC NYC PRO badge, which will be offered at a significantly reduced rate, and provides entry to all DOC NYC PRO events, a robust program of daily panels and workshops, as well as networking events from November 7 – 14.
Additionally, projects chosen for Only in New York automatically will be considered for potential participation in Pitch Perfect, a pitching event that provides a nurturing environment for filmmakers to present works-in-progress to influential industry figures.
Filmmakers whose projects are selected for Pitch Perfect will be given 10 minutes to pitch, including trailer or clip, and 15-20 minutes of feedback from an industry panel. In addition to putting filmmakers in front of funders, Pitch Perfect seeks to connect projects to mentors such as producers,post-production supervisors, sales agents, publicists, outreach coordinators, marketing directors, and others to strengthen the film's potential in the marketplace.
Only in New York applicants who are not accepted will also be provided a discount on select DOC NYC Passes, to be determined.
Please email info@docnyc.net with any questions regarding OINY.
Only in New York is presented by: