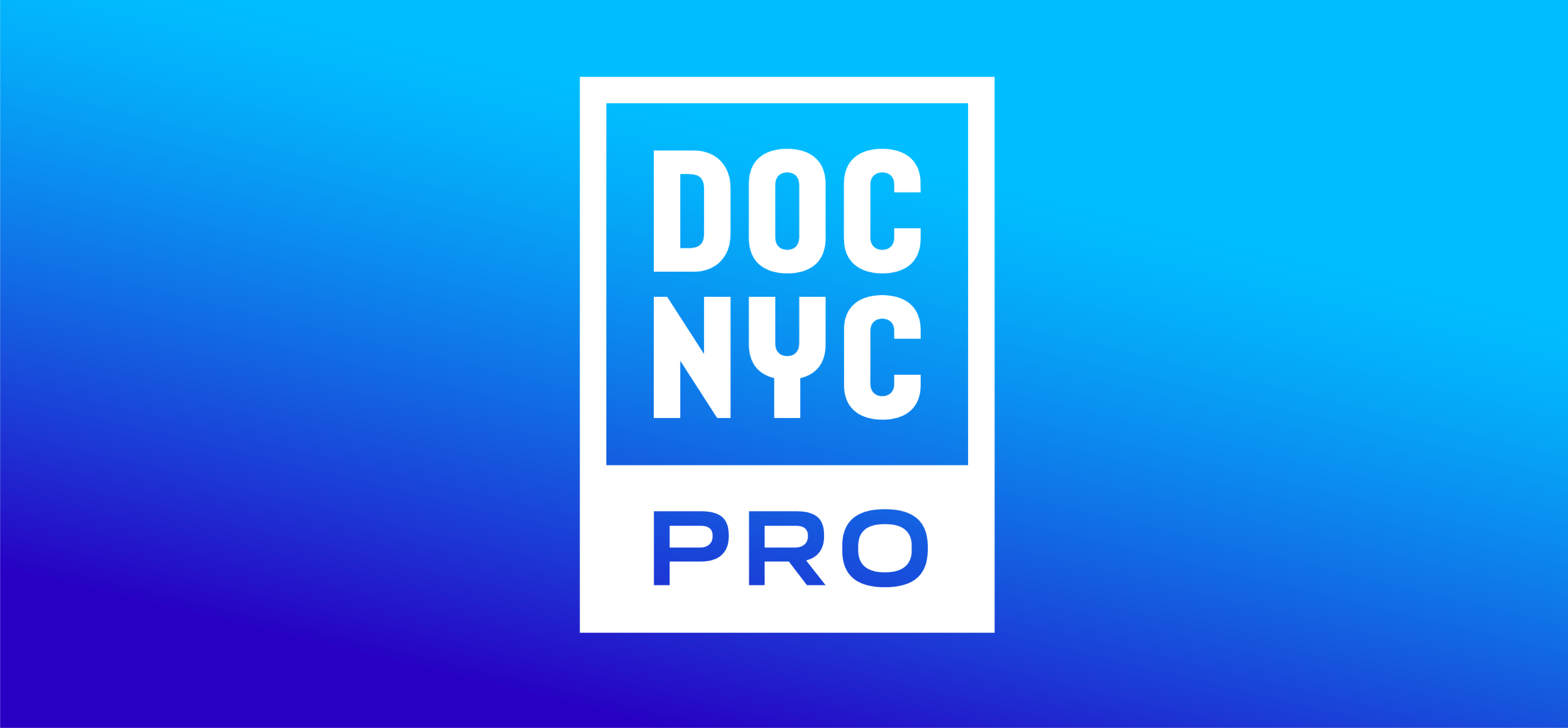 DOC NYC PRO's 2020 Summer/Fall Season featured a robust lineup of online classes on all aspects of documentary filmmaking, with 16 online classes on production, audience engagement, fundraising, editing, distribution and more.
Summer / Fall 2020 Season Pass: $150
Individual Classes: $15-$40
Registrants receive indefinite access to recorded events, plus a transcript of the live sessions. Participants may purchase access to recorded classes a la carte at list prices, or receive access to the entire 2020 season of offerings for a flat pass fee of $150.
Summer/Fall 2020 Season
Creating Highly Clickable Content
With Ryan Davis and Amie Simon from digital marketing firm Smarthouse Creative; Olivia Awad from ViceNews; and Kirt Eftekhar, one of the distributors behind the cult doc hit Fantastic Fungi.
Editing & Finishing Your Film Remotely
With editor Carla Gutierrez (RBG, Pray Away); director/producer Alysa Nahmias (The New Bauhaus); Eric Johnson of Raleigh's Trailblazer Studios; and Joe Beirne from Technicolor – PostWorks.
Social Impact When the World is Inside
With Mariana Ribeiro in Brazil (The Edge of Democracy, The Nightcrawlers); Ani Mercedes in Miami (Looky Looky Pictures) and Gwendolyn Alston from MocaMedia, in Spain. Other guests include those forwarding social impact from inside organizations: Darcy Heusel at NEON; Tricia Finneran at Good Pitch Local; Denae Peters at Perspective Fund; and Max Steinman from Exposure Labs.
Safe and Secure Production
With Brenda Coughlin from Sundance Institute, independent filmmakers Michael Premo, Stephanie Wang-Breal, and Cecilia Aldarondo, IDA's Carrie Lozano, and Filmmaker Magazine's Scott Macaulay.
Funding Your Documentary
With Merrill Sterritt of Cinereach, Chi-hui Yang of JustFilms, Ford Foundation; Lucila Moctezuma of Chicken & Egg Pictures; Jenny Raskin of Impact Partners; Steve Cohen and Paula Froehle of Chicago Public Media; and filmmakers Erika Cohn and Angela Tucker of Belly of the Beast.
Advancing Equity and Inclusion in the Documentary Field
With DOC NYC programmer Karen McMullen, Nicole Tsien, board member of Brown Girls Doc Mafia; Denise Greene of Black Public Media; Day Al-Mohamed, independent filmmaker and founding member of FWD-DOC, Karin Chien, independent producer and President of distributor dGenerate Films; Caty Borum Chattoo of The Center for Media & Impact at American University; and Paulina Suarez, Executive Director of Ambulante, Mexico's traveling documentary film festival. All proceeds from this event go to the NAACP Legal Defense Fund.
The First-Time Filmmaker
With Meredith Chin and Sian-Pierre Regis (Duty Free); Jasmín Mara López (Silent Beauty): Lindsay Lindenbaum (Tomboy); and Yuqi Kang (A Little Wisdom). Additional speakers include Adam Piron, co-founder of the filmmaker collective, COUSIN; Set Hernandez Rongkilyo, co-founder of the Undocumented Filmmakers Collective, and Leah Meyerhoff, founder of Film Fatales. Moderated by Anya Rous (Always In Season, The Feeling of Being Watched), Courtney Sheehan of Context Moves, and Rose Vincelli Gustine from SVA's MFA Social Documentary film program.
Documentary Cinematography
Co-presented by Sony. With director/DP Rachel Lears (Knock Down the House, The Hand that Feeds); cinematographer Iris Ng (A Better Man, Stories We Tell); cinematographer Jerry Henry (Netflix's forthcoming High on the Hog, The Rachel Divide, Exit Through the Gift Shop); DP Shana Hagan (The Kingmaker; 63 Up; Generation Wealth); DP Bryan Chang (Brasslands, Island Soldier, Into the Streets), and director Mo Scarpelli (El Father Plays Himself, Anbessa). Moderated by DOC NYC Features Programmer Jessie Fairbanks.
Spotlight on Documentary Series
With Jyoti Sarda, producer of POV's first miniseries And She Could Be Next; Michele Josue (Matt Shepard Was a Friend of Mine), director of Netflix's five-episode docuseries Happy Jail; Rudy Valdez (The Sentence), director of the a soon-to-be-released Netflix youth football series; Tyler Measom (I Want My MTV, An Honest Liar, Sons of Perdition), and Nanette Burstein, director of Hulu's Hillary miniseries.
Documentary Editing
With Sabrina Schmidt Gordon (BaddDDD Sonia Sanchez), Jaime Meyers Schlenck (9to5: The Story of a Movement), Tyler Walk (Welcome to Chechnya), Miranda Yousef (The New Bauhaus), Glenfield Payne (Sweetbitter), Annette Kudrak (Boardwalk Empire) and Nicole London (Miles Davis: Birth of the Cool).
Journalism and Documentary
With director Ursula Liang, discussing her 2020 film Down a Dark Stairwell; New York Times journalists Catrin Einhorn and Leslye Davis, (Father, Soldier, Son); Editorial Director for Film & Television at The New York Times, Kathleen Lingo; Steve Byrne, Executive Director of Detroit Free Press's Freep Film Festival in Detroit; Erin Brethauer, co-director of the San Francisco Chronicle's feature doc Last Men Standing; and Charlie Phillips, Head of Video at The Guardian. Moderated by Columbia Graduate School of Journalism Professor Nina Alvarez.
Realities in Distribution & Audience Engagement
Co-presented by Participant. With Dori Begley, EVP of Magnolia Pictures; NEON's EVP of Nonfiction Dan O'Meara; Chris Lane, the Director of Sales and Distribution at Participant; Variance Films's founder and president Dylan Marchetti; Fork Films COO Jess Kwan; Columbia School of the Arts's Alece Oxendine; Orly Ravid, founder of The Film Collaborative; Nick Savva, Director of Content Distribution at Giant Interactive; Robin Smith, CEO of Canada's Blue Ice Docs; Participant's SVP of Social Impact Melinda Arons; Frontline's Impact Producer Erika Howard; POV's Director of Community Engagement Asad Muhammad; Shontina Vernon, Creative Director of the Visionary Justice StoryLab, director Daniel Roher; Magnolia Pictures President Eamonn Bowles; Neal Block, Head of Marketing and Distribution at Magnolia Pictures; Justin Wilkes, President of Imagine Documentaries; and Peter Raymont, president of White Pine Pictures.
Documentary Producing
With Razan Ghalayini (Full Frontal with Samantha Bee); Alice Henty (Welcome to Chechnya); Diane Quon (Minding the Gap); Jameka Autry (Through the Night, Ernie & Joe); David Felix Sutcliffe (Black Mothers, (T)error), DPA members Susan Margolin and Beth Levison;attorney and investor Brenda Robinson,Impact Partners Executive Director, Jenny Raskin; Executive Vice President of Imagine Documentaries, Sara Bernstein; Suhad Babaa, Executive Director of the nonprofit Just Vision; Jannat Gargi, VP, Head of Documentaries at VICE Studios; and Multitude Films producer Jessica Devaney (Pray Away, Always in Season).
The Art of Archival
Co-presented by Shutterstock Editorial. With Shola Lynch, independent filmmaker and curator of the New York Public Library's Schomburg Center for Research in Black Culture; Lia Jusino, director of archival research at VICE Media; Candice Murray, Vice President of Editorial at Shutterstock; filmmaker and artist Mariam Ghani (What We Left Unfinished), and editor Carla Gutierrez (RBG, Pray Away).
Documentary & The Law
With entertainment attorneys Marc H. Simon, Daniel Benge and Daniel Spencer from Fox Rothschild LLP; Nicole Page and Michelle Lamardo from Reavis Page Jump LLP; and Nancy Wolff and Novika Ishar from Cowan, DeBaets, Abrahams and Sheppard, LLP. Featured filmmakers include Kirby Dick (On The Record, The Hunting Ground), Kristin Lazure (The Devil We Know, Fed Up); Jana Edelbaum (Us Kids); Brian Knappenberger (The Trials of Gabriel Fernandez); Lyric Cabral ((T)error); Geeta Gandbhir (Why We Hate); and Jamie Shutz (Between Me and My Mind).
Podcasting for Doc Makers
With Imani Mixon and Paige Wood (Just Cities Narrative Shift Project), Reva Goldberg (Amended, Mothers of Invention); Julia Lowrie Henderson (Bikram, The Sterling Affairs), and Stitcher's Natalie Mooallem.
Accessibility
Live ASL interpretation or CART services are available upon request. To inquire about accessibility for any DOC NYC events, please email accessibility@docnyc.net.